otívar
Take me to Otívar Apartments page.
There are two main attractions to this village located between the Baja Alpujarra and the Costa Tropical: its natural environment, ideal for outdoor sports; and its village centre, in typical andaluz style with many interesting buildings. For this reason, Otívar has become a popular destination.
Although Otívar is considered a part of the Costa Tropical, the village is set slightly inland but still just a short drive from the coast. Whether you stay in a hotel or rent a holiday apartment… More →
History
Some say that the origins of this village lie in the route taken by fishermen from Almuñecar to Granada, and that calle Venta is where the merchants rested, and calle Cargadero is where the goods were unloaded from the pack animals. Whether this is true or not, the village centre has a typically Arab feel, with narrow, winding streets, and whitewashed houses with balconies and windows adorned with flowers.
Hotels in Otivar
Book Hotels in Otivar
Things to see
There are three important buildings: the Iglesia de Nuestra Señora de la Concepción, from the 18th century; the Iglesia parroquial de San José, from the 16th century and with an interesting mudéjar framework; and the Casa Principal de Cázulas, also known as the Casa de la Marquesa, an Arab mansion which was once a stately home.
It is also worth visiting the Mirador Vista Verde viewpoint, located next to the Ayuntamiento, offering a great panoramic view over the río Verde valley. Alos worth finding is the Tío Caridad monument. This is to commemorate Juan Fernández Cañas, who was mayor of the village in 1810-1812, and is very well known for his exploits against the occupying Napoleonic troops during the War of Independence.
Countryside

Otívar, situated at the foot of the Sierra de Cázulas and Almijara, on the banks of the river Verde, offers a spectacular landscape, ideal for hiking, canyoning and hang-gliding. One of the best places for hiking is the Junta de los Ríos.
GASTRONOMY
Those who wish to try the most typical delicacies of Otívar should ask for morcilla (black pudding), chicharrones (pork scratchings), longaniza (spicy pork sausage), carne a la brasa (barbecued meat) and arroz del carbonero (a rice-based dish).
FIESTAS
Otívar has three main celebrations: the patron saint's festival in honour of the Virgen de la Inmaculada on 6- 9December; el día de San José (19 March); and Noche de San Juan, which takes place on the night of 24 June.
DIRECTIONS
Otívar is 60km from Granada city. Take the A-44 (direction Motril) and leave at exit 139 to join with the A-4050, which takes you directly to Otívar.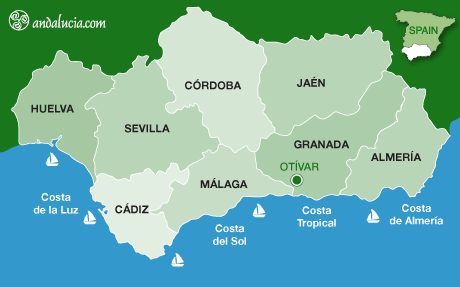 Destinations