Motril
Take me to Motril Hotels page
Motril is the largest town on the Costa tropical with 50,000 inhabitants. Is it a commercial town that benefits from the tropical fruit and flower producers in the area. The town of Motril is located just off the main coast road between Almeria and Malaga where the N325 turns inland for Granada. Most tourists by pass the town but is a good place to go shopping for necessities perhaps in one of the out of town hyper-markets. Whilst in the town take a look at one of the interesting sights.
THINGS TO SEE
Casa de las Palmas
Originally built for a wealthy Moorish convert, the 16th-century Casa de la Palma was then used as a sugarcane refinery and is now a cultural centre. The principal exhibits relate to the sugar industry and guided tours are offered.
Plaza Trinidad. Tel. 958 600 064
Casa Consistorial - Town Hall
17th-century town hall building which presents remarkable examples of mudéjar architecture. Some rooms are open permanently to visitors who can see artwork and period furnishings.Occasional art exhibitions are held here
Plaza de España. Tel. 958 838 300
Sanctuary of Ntra Sra de la Cabeza
Stands on a hill overlooking the Park of the people of the Americas. This baroque shrine was built on the former Moorish palace of Aixa, mother of Boabdil. The well kept park itself is a pleasant place for a quite stroll.
Pueblos de América Park
In this Park we will be able to see more than 50 types of exotic and subtropical trees and bushes brought from different American countries, each one displayed with its explanatory board. In the entrance, it is located the Information Tourism Office and the Sugar Cane Interpretation Centre headquarters.
Plaza de las Comunidades Autónomas s/n (below Nuestra Señora de las Cabezas Sanctuary).
Pre-industrial Sugar Cane Museum
This museum illustrates the manufacturing and commercialisation sugar processes between the 13th and 18th centuries. The museum contains reproductions of mills and wooden presses as well as the rooms for cooking and purging. It preserves the oldest mill in Europe and its tool collection is unique.
Calle Zafra, 6. Tel. 958 822206
Opening times: Tuesday to Saturday, from 09:00 to 14:00 and from 16:00 to 19:00 h. Sundays 09:00 to 14:00 h.
Calderón de la Barca Theatre
It is an Italianate building with neo-classic decoration which dates back to 1880. Nowadays, it is totally renovated preserving its original appearance. It has also been declared as Heritage of Cultural Interest monument. Regarding its size and beauty, the building could be similar in appearance to a sweet box. From September to June, the cultural activity of our township is performed in these wonderful facilities.
Plaza Paulino Bellido, s/n. Tel. 958 604713 - 958 838450
The visits must be booked in advance.
Casa de la Condesa de Torre-Isabel
This lordly Andalusian building was built during the second half of the 18th century. Restored and converted into a museum-house, it is nowadays the headquarters of the town cultural centre. It must be mentioned its central courtyard decorated with a tiling classical style ceramic.
Plaza de la Libertad, s/n. Tel. 958 838450
Monday to Friday from 8 to 15 h.
The History Museum of Motril
In the History Museum of Motril, the local history is told with scientific rigour in a didactic and direct way. Various communication and information systems based on the use of new technologies, gain prominence as a way to reach the visitors. The History Museum of Motril has a consistent approach to the present times, new in its resources and contents, in its language and communication strategy, and, definitely, a new way to see and feel history. The MHIMO (The History Museum of Motril) takes us on a tour which will help us discover a changing Motril, protagonist and persistent, definitely a place rich in History. It is located in the building known as the "Casa Garcés" (Garcés' House), where the history of the city can be discovered from the first settlers until nowadays, with a future perspective.
Calle Cardenal Belluga, 14. Tel. 958 603224
Tuesday to Saturday mornings 10:00-14:00 h & 16:00-19:00 h.
Rum Montero Bodega (Wine Cellar)
This museum was founded in 1963 by Mr. Francisco Montero Martín. It belongs to a family who has a great tradition in products derived from sugar cane and owner of important sugar factories and distilleries (Guadalfeo Sugar Factory and Montero Sugar Factory). Rum Montero Bodega has access to the highest quality alcohols in order to produce its rums, aged using the traditional method of Soleras and Criaderas.
Camino de la Vía s/n (Ctra. De la Celulosa). Tel. 958 600183
Opening times: Tuesday to Saturday at 12 h for a guided tour in Spanish, and at 13 h in English.
For visits outside these hours or groups, please contact the Rum Montero Bodega.
Mining Centre of the Cerro del Toro
The mining centre of the Cerro del Toro, located to the north of the town, shows us different mining eras through the remains from that period when this place worked as a mine. Every single detail can be seen through an interesting multimedia exhibition. The Centre takes its visitors in one of the most important geological area of the mining region in Motril. The visit to the mine shows an interesting teaching talk which revolves around geology and industry as well as the mining industry and the environment which goes around the whole mining forest land in the Cerro del Toro.
Camino Cerro Del Toro. Tel. 958 838450
Temporarily closed.
Municipal Market
Building with a clear, simple and useful structure, with two floors and a central stairway which is the symmetry axis of both patios. It is place for the market of the town. We can find here butchers', fish markets, greengrocers, coffee shops and other types of shops. It was opened on 29th November in 1955. In the adjacent square there are flowers stalls.
Plaza de San Agustín, 1
Mondays to Saturdays in the mornings.
Palma House
The origin of this house dates back to the existence of the sugar factory, which had belonged to a Moorish. Then, it was confiscated by the Crown, and afterwards it was rented by Lucas Palma, a Genoese trader, after a revolt in 1569. From the second half of the 17th century to half of the 19th century, it was property of the entailed estate of the Victoria family. In 1983, this house became municipal property and after its restoration, it turned into a cultural centre. At present, it hosts the UNED headquarters (Spanish Open University), the Library and the Public Files office of Motril. It is a U-shaped building with a height of three levels. On the central part of the front of the building, one of its owners added a clock tower in the middle of the 19th century, therefore it is known as "Casa del Reloj de la Victoria" (Victory Clock House). This sugar factory is partially preserved, and it has been turned into the Pre-Industrial Sugar Cane Museum.
Avda. Marquesa de Esquilache, 4. Tel. 958 789872
Sugar Warehouse (Nuestra Señora del Pilar Sugar Factory)
A magnificent temporary exhibitions room with more than 800m2 (8,611.13 ft²) located in the Ntra. Sra. Del Pilar Sugar Factory. In the same site there is a restaurant "Museo del Azúcar". In a near future, everybody will have the opportunity to enjoy the Industrial Sugar Cane Musuem.
Ronda de Poniente.
Open when there are exhibitions.
Sugar Cane Interpretation Centre
This centre shows a complex and ancient elaboration process of sugar. This fact led Motril to become the capital of this product in Europe and it is mainly focused on botanical and scientific aspects of the sugar, using the cane as the main raw material.
Plaza de las Comunidades Autónomas s/n. Tel. 958 838450
Casa de los Bates
Visitors can enjoy the unique colonial small palace from the 19th century as well as the historical, botanical gardens from the 18th century and a guide is available. Rural visits are also offered around its tropical vegetable garden with an opportunity to taste seasonal products. In the restaurant, lunches and dinners are served with reservation. This site gives name to a famous botanical English garden with Jewish origins called Bates, who worked for the Catholic Monarchs according to the 15th century files studied by the local historian Mr. Manuel Domínguez. From the scenic lookout, you can stare at incomparable views of the sea, Sierra Nevada and our famous agricultural plain known as "La Vega". The Generalife Garden from the 18th century and the Winter Garden from the 19th century are amazing treasures to be discovered by our visitors. There you will find a wide variety of centenary trees such as: araucarias, magnolias, cypresses, a Lebanon cedar and different types of palm trees. Apart from different kind of plants, like bougainvilleas, jasmines, mock oranges and gerberas. There is a beautiful stairway connecting the two gardens and it ends with two coral fountains. These and other fountains in the garden embroider the strolls and the sound of water with peace and harmony.
Ctra. Nacional 340km. 329,5. Tel. 958 349495
Monday to Friday, from 11 to 16 h.
Please note that visits must be booked in advanced.
Carmen Church
Built during the 17th century in honour of Saint Roque, declared Patron Saint of the town during the epidemic in 1583. In the 18th century, the church started to be dedicated to the Virgen del Carmen. It is a pre-baroque style church with a single nave, a hemispherical dome over the main chapel and a niche decorated with Baroque plasterworks.
Camino de las Cañas.
Victoria Church (Agustinos)
This church dates back to 1604 and it was founded by Mr. Alonso de Contreras for the Mínimos de la Victoria friars who were living there until they were expelled during the first third of the 19th century. The most outstanding of the building are its original façade, from 1610, with a grey-stone mannerist style, work of Pedro Cano, and the original main door of the convent.
Plaza de San Agustín, 7.
Señor de Junes Hermitage
Located in the town centre, part of the city which used to be the Jewish quarter from Motril, whose Jewish inhabitants were expelled from 1492. Although it is a very small building, it has suffered from many changes. Due to its decoration and structure, it seems to be built before the 18th century. The unique value is the Nazarene statue which is adored in this incredible hermitage.
Calle Señor de Junes, s/n.
San Antonio Hermitage
Located to the north of the town, it was erected during the 17th century and it was dedicated to San Antonio, declared Patron Saint of the town due to the plague in 1679. Its architectural style is Baroque.
Camino de San Antonio, s/n.
Capuchinos Church (Divina Pastora)
This church is a clear representation of the convent architecture of this ecclesiastic Order and it was built during the second half of the 17th century. It shows a very stark Mudejar style having a single nave without any type of decoration, an upper place for choir and a main chapel covered by a hemispherical dome. It conserves some interesting statues from the 18th century.
Avda. Pío XII, s/n.
Nazarenas Convent Church
It is located in the south side of the convent and it has a Latin cross floor, with a simple transept. It has a covered atrium with two levels widely separated by an impost. The limited main nave is covered by a barrel-vaulted ceiling with lunettes. The transept nave has a pendentive vault with an oculus and decorated with the same frieze found in the main nave. The semi-circular main chapel is on the top of the three steps and it is covered by a semi-dome with unique cornices and Tuscan pilasters.
Calle Monjas, s/n.
Gibraltarillo Museum
An area dedicated to popular arts and traditions. Calle Señor del Paño. Tel. 690 793 936
Monday to Saturday.
Please note that visits must be booked in advanced.
Hernández Quero Art Centre
The Centre of Art Hernández Quero reflects the commitment of Motril to keep the local cultural heritage and allow people to know the work made by one of the most important artists from Granada during the second half of the 20th Century. Located in the Palace House Ruiz de Castro, which belonged to one of the most important local families from the 17th Century, this cosmopolitan art centre combines tradition and modernity. This new art centre is located near the Municipal Market accessible by a side entrance. You will be placed in front of an astonishing façade with a relief made of bronze smelting known as "Señora tumbada" [Laid down lady] by the artist José Hernández Quero. On the ground floor, from the patio, the visitor can access to the temporary exhibition room where there are masterpieces from his collection. On the first floor, around the patio, there are three rooms which contain a collection of engravings, drawings and oil paintings from Hernández Quero. On the second floor, you will have the opportunity to see a valuable collection of books and documents from the artist. The lightning makes it a special place during the night.
Calle Ruiz, s/n. Tel. 958 833018
Tuesday to Saturday from 10 to 14 h & 17 to 20 h.
Motril Port
Motril is best known for its busy commercial port. There is also a fishing port and a yachting Marina. There are ferries from here to Morocco.
Book excursions from Motril port
Golf courses
Los Moriscos Golf Club is in Motril.  Read more>
Restaurants
If you feel like trying the Andalucían cuisine it's worth going to "Tropical Restaurant". Lunch & Dinner. Closed Sundays & June. Avda. Rodríguez Acosta, 23. Motril. Tel: +34.958.600.450.
Beaches
Motril has a number of fine beaches. Read more >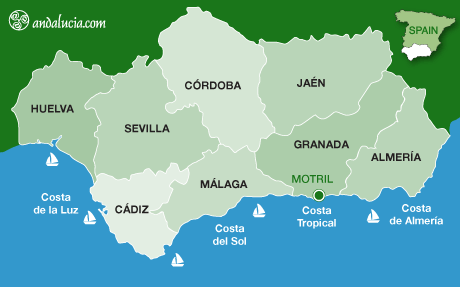 Destinations