<< West to Salobreña beaches                                           East to Calahonda beaches >>
Motril BEACHES
Take me to Motril Home page
Motril's coastal strip has several beaches, the two closest to the town itself being Playa Granada and Playa Poniente. The latter is better developed, but the area is not aesthetic enough for discerning international tourists. The Gran Hotel (****) is the best on the coast, very comfortable and reasonably priced but its location lacks inspiration. Ideal for a night halt or a business meeting.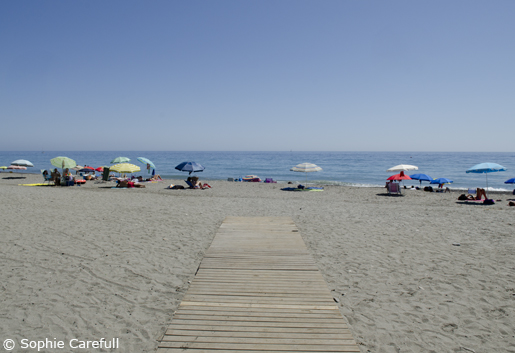 Playa Granada has a mixture of sand and small pebbles.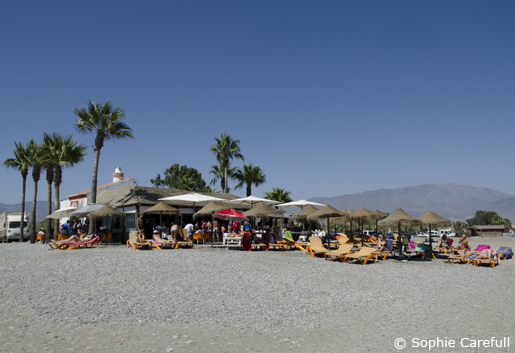 Chiringuito Tuareg on Playa Granada.
A kings palace
Taking the little coast road west from Playa Poniente we pass Casa Astrida, formidable looking with its heavy security. If you see a lot of police standing guard then the King is probably in residence. It was here where the late King Baldwin of Belgium was staying when he died in 1993. Nextdoor we find Motril's 'Los Moriscos' Golf course.
Playa El Cable in the urban area just to the west of the port is officially recognised as a dog beach. 
A little further east you will find the town of Torrenueva which has a 2km long beach called Playa Torrrenueva with showers, lifeguards, restaurants and pedalos for hire.
Torrenueva is great for families as the water is not too deep.
Beyond this, among the vast green plains is the village of Carchuna which boasts Playa Carchuna a 4km long beach with showers, lifeguards and several chiringuitos. Playa Carchunga was awarded Blue Flags up to 2016.
Playa de Carchuna is long so has plenty of room for sunbathing even in the summer.
Destinations