<< West to Nerja (Costa del Sol) beach                                  East to Almuñécar beach >>
La Herradura
La Herradura beach has a mixture of dark sand and small pebbles.
LA HERRADURA BEACH

Impressive large (2km) bay sheltered and dominated by two large headlands. The beach is supported by a typically Spanish town which started out as a fishing village. Popular with the young and old alike, La Herradura is a bastion of national tourism, and is a popular summer retreat for residents of Granada city. It is less well-known among non-Spanish visitors.
The beach has plenty of chiringuitos where you can try some locally caught fish and seafood, as well as many restuarants on the road alongside the beach, so you don't need to worry about packing a picnic. Pedalos and small boats are available for hire and there is a play area for children.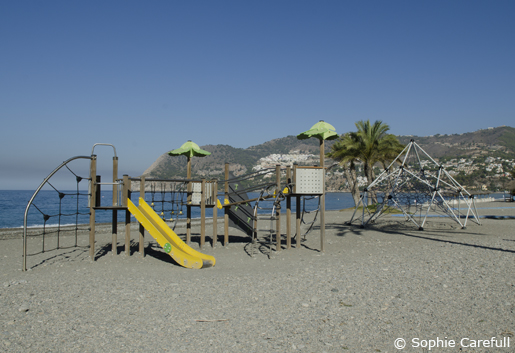 La Herradura beach is great for families, it has a play area for kids and pedalos for hire.
Cantarriján naturist beach is situated in the Acantilados de Maro-Cerro Gordo Natural Area just west of La Herradura near Almuñecar. Access is down a steep windy track and from mid-June to mid-September you must leave your vehicle in the car park (free) at the side of the N-340 and take the minibus (€1 each way). You won't regret the hassle or the expense: the two shingle bays are protected by vertiginous cliffs and the sea is Caribbean clear. The first beach has sunshades, sunbeds, showers, two restaurants, and tends to be a naturist-textile mix, while the second is wilder, stonier and nuder.
Coming from Nerja on the N-340 coast road, the turn-off to Cantarriján naturist beach is well sign-posted, just past the 'Provincia de Granada' sign and before the Cerro Gordo tunnel. Alternatively, follow the A-7 motorway until the Almuñecar Oeste-La Herradura exit and then backtrack 8km along the N-340 towards Nerja. Cars are not allowed in this protected area so you should park along the A-7 road and catch the authorised shuttle bus down to the beach.
<< West to Nerja (Costa del Sol) beach                                  East to Almuñécar beach >>
Destinations