Health Spas in Andalucía
Spending your leisure time or holidays caring for your health is becoming more and more popular nowadays. This may be a cure for a medical condition, or an escape from the stress and anxiety that is ever far from modern urban life. There is nothing better than a period of rest and quiet. Andalucian spas have been becoming popular again over the last decade and the result has been a modernisation of facilities and introduction of the latest technical innovations. Other spas have maintained their traditional methods.
BEAUTY CLINICS AND SPAS
 These modern beauty spas have the latest in the quality of the service and treatments. Many are located in the coastal resorts and some use the sea water as an integral part of their treatment. They are often attached to one of the luxury hotels so that they can offer complimentary services. You don't have to be a resident to enjoy the facilities and be pampered for the day. You will come away feeling a new person. More about Beauty Spas
Traditional Spas
There are, eleven traditional spas in lovely natural surroundings in Andalucía. If your strict definition of a Spa is a source of natural mineral water these are for you. All of them are in or near picturesque villages, in mountain areas, by rivers and sources of flowing water. Several of them have their own accommodation and the villages they are in, or near, have hostels or hotels for visitors. They are not all luxurios, indeeed some are very basic and their Victorian image may not suit the demands of the descerning visitor. Their treatments have withstood the test of time however. Normally they are only open from spring to autumn and offer programmes from two to four weeks. More about Traditional Spas
Health Clinics
There are a number of health clinics that specialise in natural treatments. Here the facilities are modern and luxurious More about Health Clinics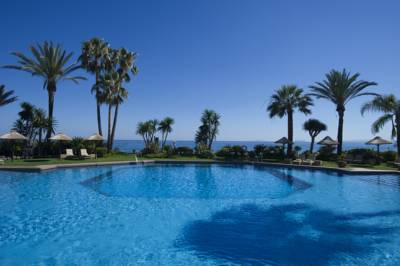 Healthouse Las Dunas Health & Beach Spa
The Healthouse method contains not only to lose weight, but also teaches you to acquire better eating habits and a healthy lifestyle!.
Shanti Som
The Shanti Som is a luxury retreat that combines Far Eastern decoration with the beautiful surroundings nestled within the Sierra de las Nieves Nature Reserve. It has a spa and outdoor pool, and offers yoga classes. Rooms have been built out of natural local materials and follow Feng Shui guidelines.
Hotels with Spa facilities in Andalucia
Book Hotels Hotels with Spa facilities in Andalucia