Andalucia retreats
by Catherine Cunningham
According to the Times English Dictionary, the word retreat is to "withdraw or retire, as to seclusion or shelter".
In this busy hectic world, as the desire augments to stop your own personal race track and just "be" for a while is becoming increasingly more common. It seems that everyone is stressed. Go to the doctors about anything and the avoidance of stress is nearly always mentioned.
Stress has arrived worldwide and the idea of a retreat could just be the counter balancing answer. Faith Popcorn tend forecaster and the best selling author of "The Popcorn Report" predicted that we would all be wanting to Cocoon years ago. Now its so true and a retreat is the perfect location to undergo your very own cocooning experience.
Now just to add a little pleasant dilemma to this issue, there are various types of retreats, so you need to decide which one is the best for you.
Retreats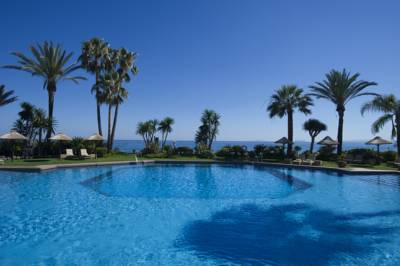 Healthouse las Dunas
A healthcenter where we take care of your well-being and your comfort! Healthouse Las Dunas is a luxury hotel located in Estepona. Set in a traditional Andalusian-style building, the property offers a health and wellness centre, beauty spa, and various outdoor swimming pools.
Shanti Som
The Shanti Som is a luxury retreat that combines Far Eastern decoration with the beautiful surroundings nestled within the Sierra de las Nieves Nature Reserve. It has a spa and outdoor pool, and offers yoga classes. Rooms have been built out of natural local materials and follow Feng Shui guidelines.
Health Retreats
These can include anything from a week at a salubrious sap with an abundance of pampering normally with massage and alternative health programmes to fasting retreats where you will undertake a detox program to eliminate toxins from the body and often include colonic cleansing
Nature & Activity Retreats
Here not only can you enhance or expand a current skill. These courses are a honey pot of interesting folk and new like minded friends, which really adds to the holiday.
Spiritual Retreats
This can range from Buddhism to Christianity. The objective is to create a closer harmony between oneself and "God". Some of these retreats are carried out in pure silence, so any talkaholics be warned.
Yoga retreats
There are so many versions of Yoga and meditation retreats all taking you on that essential inner journey to peace.
Personal Development Retreats
Business retreats, think-tanks and self awareness courses.
There are courses tailor-made to suit the needs of anyone from burnt out CEO´s to the merely inquisitive.
Travel Destination Retreats
Andalucia with its rich cultural history is an ideal destination for
Visiting, mountain hideaways and scared lands.
The End Results!
Its always great to see someone after a retreat they are invariably bounding with energy and have a huge desire to "hug the world". They have normally have an undergone an amazing journey and will return to their normal life more evolved and enthusiastic, for some it can be a crossroads, a time to change direction, for others just an amazing uplifting experience.
Retreat Venues