Me Vuelves Lorca 2016
  A couple of years ago on this blog, I interviewed a dynamic and enterprising Brit called
Anna Kemp
, who was organising a project to build a mountainside open-air theatre in the tiny Alpjuarras village of Laroles (population: 600). The aim was to bring visitors to a stunningly beautiful, if forgotten, mountainous corner of Granada province, as well as providing seasonal work, including traditional artisanal skills, for local people. Jobs are not easy to come by in Andalucia, and even less so in rural areas, so many people have abandoned centuries-old Moorish villages to move to the cities. Inspiring projects like Anna's play an essential role in helping to prevent isolated communities from dying out. The boutique theatre, whose stage is an old wheat-threshing circle, with hand-carved stone seating built into the hillside, is now about to start its second summer season. With views across the Alpjuarra mountains, Un Teatro Entre Todos is one of the most spectacularly located theatres in Spain; it seats 250. The 2016 summer season is called "Me Vuelves Lorca" (a pun on
me vuelves loca
- you drive me crazy - and the Spanish playwright Federico Garcia Lorca). The programme, which starts later this month and runs at weekends until mid-August, covers music, dance and theatre. Shakespeare and Cervantes are both featured, as part of the commemorations for the 400th anniversary of the deaths of both writers - arguably the most famous in England and Spain, respectively.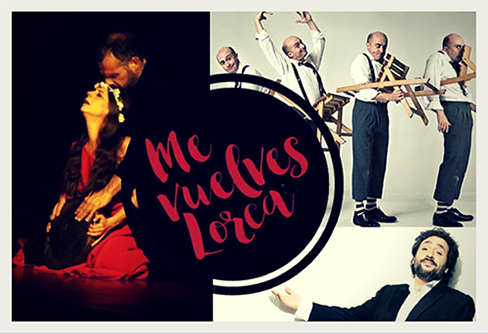 Me Vuelves Lorca 2016
As always, Anna has brought together an eclectic and entertaining group of works and performers, including one of Lorca's most famous plays, the
House of Bernarda Alba
 (16 July) by award-winning Madrid theatre company, Tribueñe; a homage to Cervantes on (23 July); and The Tempest - in English (30 July), being performed by a group from near my home town in England, Sudbury Drama Society. Music lovers will enjoy the night of tango with guitarist and singer Osvaldo Jimenez (22 July), and how could any cultural festival in Andalucia be complete without flamenco? In this case, Las Migas, a female dance and singing quartet from Barcelona influenced by latin, folk and jaz (12 August). You can also see a Weekend of Monologues, on 5-6 August featuring political and social commentary on Spain today, including España Ingobernable (Ungovernable Spain). On 13 August there's a night of improvised theatre and comedy from Jamming Compañia, while those who like to take part can enjoy a workshop with this Madrid theatre company the same day.
Me Vuelves Lorca
takes place in Laroles (Granada) from 16 July to 13 August 2016. For full details of the programme with timings and how to book tickets, as well as places to stay and eat in Laroles, see
Me Vuelves Lorca
. To read about how the theatre was built, see
Un Teatro Entre Todos
.   [embed]https://youtu.be/zlskbFAISSk[/embed]