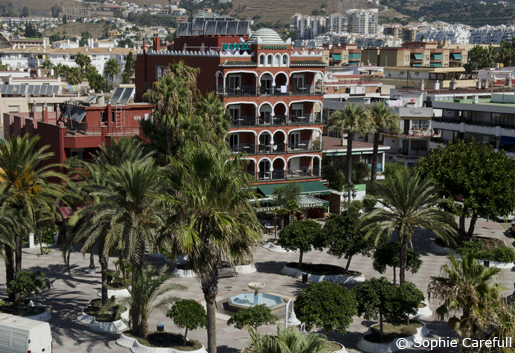 Now a popular tourist destination, Almuñécar has plenty of accommodation options to choose from.
hotels - almuñécar
Take me to Almuñécar Hostals or Apartments page.
Almuñecar is one of the most popular destinations on the sublime Costa Tropical and for good reason. You can find many hotels and apartments right on the beach, or alternatively you can venture more inland and enjoy mountainous views to get a feel for rural Andalucia. The beaches comprise of a mix of smaller coves and long sandy straights and attract thousands of tourists every year who come to experience the authentic Costa Tropical.
Feed your inner tourist by visiting some of the 'must sees' all in and around Almuñécar from museums and castles to a Roman Aqueduct (some 4km from the town centre). Loro Sexi bird park is a popular destination for all the family and can be found on Calle Bikini. Find out more about the town here
With many new builds and high competition in Andalucia and specifically Almuñécar, you can be sure that the hotel, apartment or other accommodation that you stay in during your time in Almuñécar will be of a good quality and well maintained. Almuñécar has a great range of hotels and accommodation from high class hotels and apartments to hostels and self catering facilities
Below is a small selection of the great offering of hotels and accommodation the Almuñécar has.
Almuñécar hotels
Book Hotels in Almunecar

Hotel Suites Albayzin Del Mar
The luxurious Hotel Suites Albayzin del Mar is set within Isla del Ocio, in Almuñecar. Located 82 km from La Alhambra, Granada, this complex features a large outdoor pool complex.

Bahía Tropical
Set on the Playa del Pozuelo's beachfront, this elegant hotel is 2 km from the centre of Almuñécar. It features a spa area, free Wi-Fi and outdoor pools with sun terraces.

Hotel Carmen Almuñécar
Hotel Carmen Almuñécar is 100 metres from San Cristobal Beach, on Spain's Costa Tropical. It has a terrace with a small swimming pool and wonderful views of San Miguel Castle.

Hotel Casablanca
Hotel Casablanca is shown in the photo at the top of this page, the red building. Very close to  Almuñecar's San Cristobal Beach, on the Costa Tropical. It offers superb Mediterranean views and free Wi-Fi, and is just 10 minutes' walk from the town centre.

Hotel Victoria Playa
Located just 200 metres from San Cristóbal Beach, this hotel is 15 minutes' walk from Almuñécar's shopping and historical areas. It offers a gym and a large garden with an outdoor pool.
Destinations