Mijas Pueblo  - Restaurants
Mijas Pueblo (town) is located away from the coast and has a wide variety of restaurants and places to eat, including authentic, traditional Spanish restaurants as well as international ones. Fresh seafood is brought from the coast on a daily basis. 
There are also a number of restaurants situated in La Cala de Mijas or Mijas Costa, giving spectacular views over the med from the dining table. Expect good, fresh fish and seafood, as well as delicious tapas dishes whilst sitting on a terrace enjoying the fresh, sea breeze.
In between the town and the coast are a number of good restaurants, especially along the road that connects the Mijas Costa and Mijas Pueblo.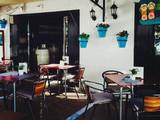 Koco Bistró
A central restaurant with very attentive and friendly service, as well as tasty food. It also offers unique tapas and other homemade dishes.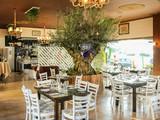 Enrique's
Enrique's restaurant offers a combination of Moroccan and Italian cuisine. The restaurant has a terrace which is perfect for enjoying the warmth of the Costa del Sol, when the weather is favorable.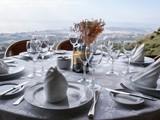 La Alcazaba
Since 1996 La Alcazaba has been a benchmark of international cuisine that you can find throughout the province of Malaga. It is located in the centre of Mijas and is divided into three rooms and a terrace, all with an inviting and friendly atmosphere.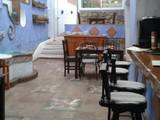 Casa5
A unique and original restaurant in the middle of Mijas Pueblo which offers a variety of well prepared meals, professional service and a pleasant atmosphere.

El Capricho
A good value restaurant located in the main square in Mijas pueblo, El Capricho serves well-presented international cuisine, as well as some authentic Spanish dishes. Features a wonderful outdoor terrace. c.c´s accepted. Lunch & dinner, Closed Sundays.
Calle los Canos, 5, 29650. Mijas
Tel: +34 952 485 111

La Alcazaba
Serving traditional Spanish cuisine, including fish and seafood dishes and a number of meat dishes, this restaurant is set in a Moorish style setting, offering spectacular views and even better service. Lunch & dinner. Closed Mondays.
Plaza La Constitucion, LOCAL 306, 29650. Mijas
Tel: +34 952 486 397. 
Finca Las Brasas
Serving authentic Spanish cuisine, Finca las Brasas is set just off the main road into Mijas pueblo, offering a good location and outdoor seating area. Good food and a very good price.
Carrettera Fuengirola Mijas | Entre Autopista y N 340. Mijas
Tel: +34 952 580 513.  

Valparaiso
Opened in 1984 by Raffaele Morelli and his brother Vittorio, The Valparaiso Restaurant in Mijas, Malaga, on the Costa de Sol, Spain has created a reputation for excellent food, memorable evenings and great entertainment.
Crta de Mijas km 4. Mijas
Tel: +34 952 485 975.  

Molino del Cura
Molino Del Cura is a spectacular, charismatic Thai restaurant offering an irresistible menu of over 80 dishes. A friendly waiting staff and well-presented interior make for a pleasant dining experience.
Ctra de Fuengirola-Mijas | Mijas, 29650. Mijas
Tel: +34 952 485 813.  
Little India
A very good quality Indian restaurant with a great atmosphere. Well presented, innovative traditional Indian cuisine. Friendly staff and well-decorated interior. 
L 21 - 22 Avenida de Espana, Sitio de Calahonda. Mijas
Tel: +34 952 931 829.  
Destinations