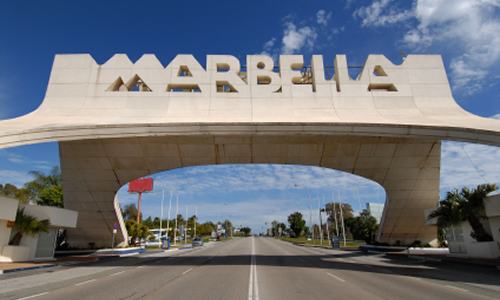 Getting around Marballa
As with any popular holiday destination, transport in and out of Marbella is abundant, and easy. On this page you will find links to our transport information pages specific to Marbella, and information on the best ways to see Marbella, and its surrounding areas.
Walking
Walking is possibly the best way to see the sites of Marbella, it is free, and it allows you to take whichever route you want with as many stops as you please, allowing you to view only the things you really want to see and spend as long as you wish doing so. Especially the Old Town, as streets are narrow and sloping so you cannot pass with cars, and maneuvering a bicycle can be difficult. Walking also means allows you to stop off at as many bars and cafés as you like along the way!
Horse and Carriage
Another popular and traditional way to travel around Marbella is the horse and carriage. This is a unique and relaxing way to travel around the town.
You can find horse and cariages on many street corners in Marbella. They are a lovely eco-friendly way to travel (the horses are well cared for) and are a romantic way to spend an evening if you are having a romantic gettaway. As a bonus that they can take you where cars cannot. Popular carriage spots include the parks and the port.
Taxi
There are many taxi ranks scattered throughout Marbella, and if you are not near to one of these, you can hail a passing taxi from the road, they are happy to stop and pick you up. Travelling in Taxi's can be expensive, but if you're going a short distance it can save time and energy. Be aware though that in Spain, Saturdays are charged at the same rate as holiday taxi fares, so they will cost you more. Taxi fares also increase after 22:00 on week days and 21:00 Friday - Sunday. Marbella taxi´s have recently installed meters, and some credit/debit card machines.
If you are taking a taxi to the airport then it is better to book in advance, or arrange to travel with an airport transfer company, to get the best prices.
Car hire
There are car hire offices located in Marbella so there is also the opportunity to hire a car whilst in Marbella, Ideal in case you wish to take an excursions into the countryside or along the coast. Favourite destinations are Ronda, returning via Gaucin and Casares. Along the coast favourite destinations are Sotogrande, Ginraltar and Tarifa. More info on our Marbella Car hire page.  
Another option is to collect you car at Málaga Airport or Gibraltar when you arrive. Others prefer to fly in, take a transfer, rest for a few days and then hire a car locally in Marbella.  

There are also offers on our main car hire pages.
Bus
Marbella has many local bus services to connect you to areas surrounding the town - Puerto Banús, Nueva Andalucía, San Pedro etc. Marbella Bus Station is located on Avenida del Trapiche, North of the town centre, just off the A7 motorway. For more information on services from Marbella Bus Station see the Marbella Bus Station page. Marbella Bus Station has services that link directly to Málaga Airport, and Madrid.
For travel times and timetables of services from Marbella Bus Station click here.
Boat
The Fly Blue catamaran offers daily cruises between Marbella and Puerto Banús. The journey takes around 30 minutes and costs 15 euros for a return ticket or 8,50 euros one way (8,50 euros return and 5 euros one way for children). Tickets can be purchased at the entrance to the Puerto Deportivo in Marbella from a stand on the pavement and the boat leaves from the outer wall of the port. Those boarding at Puerto Banus can buy tickets once on the boat which leaves from the marina.
Timetable:
Leaving from Marbella Puerto Deportivo – 10.30, 11.30, 12.30, 13.30, 14.30, 15.30, 16.30, 17.30, 18.30 (only in high season)
Leaving from Puerto Banús – 11.00, 12.00, 13.00, 14.00, 15.00, 16.00, 17.00, 18.00, 19.00 (only in high season)
Tel: 663 827 986
Destinations