Marbella Restaurants
As a popular holiday destination it is no surpirse that Marbella is teeming with restaurants, in Marbella you can find anything from Latin American to Morrocan to Oriental cuisine as well as the traditional Spanish and Andalucian, there is something for every palette.
Reserve Online: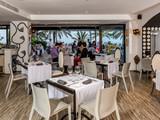 Garum
The only thing that´s old in Garum is its name, which refers to an ancient fish sauce used in Rome. This restaurant has a modern and innovative decor, which makes it an ideal destination for holiday makers looking for a trendy and cosmopolitan place to eat.
Buenos Aires Steak House
The Buenos Aires Steak House is a fantastic opportunity to try the authentic taste of Argentine cuisine in Marbella. You´ll find it in the center of the town, on Tetuán street.
Marbella Club Grill
Historical dishes delivered with panache in a romantic setting. The menu features classics such as soufflés along with innovative dishes created by award-winning chef, Juan Gálvez. Dine under the stars surrounded by the scent of jasmine or in the dining room with its rich interior centred by the legendary grill. Dress code: Smart casual, no shorts or jeans.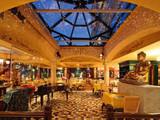 Da Bruno Sul Mare
Amongst the wide range of restaurants in Marbella, the seafront offers one of the most tempting proposals: Da Bruno Sul Mare. Here you will have the opportunity to enjoy authentic Italian cuisine made with the freshest ingredients of each season to create high quality dishes.
More Restaurants
Finca Besaya
There are three main dining areas at the Finca Besaya, the first being on the ground floor that has an enormous fireplace and bar and then upstairs you can choose from 'the blue room' or 'the library' that is filled, surprisingly with old books. Spectacular setting in this villa especiall in summer evening with decoratively lit terrace. Founded by legend restauranteur Francis Butler. Many love it others hate it here.
C/ Rio Verde Alto s/n, Marbella.
Telf.: +34 952 86 13 82. Map
Garum
Garum's goal is to stimulate the palate, by creating a memorable dining experience that will linger on the guests' memory for a long time. The creative array of cosmopolitan-inspired cuisine continually challenges both the eye and the senses of their patrons. Fresh, New & Innovative, perfectly presented gourmet cuisine and spectacular surrounds, Garum restaurant is a breath of Modern European fresh air in Marbella.
Pº Maritimo. Avda. de la Fontilla, Marbella.
Telf.: +34 952 85 88 58. Map
Villa Tiberio
Imagine a Mediterranean palazzo surrounded by lush vegetation, a menu with such a wide choice it suits all palates, a cellar that brings a sparkle to wine lovers' eyes. That's Villa Tiberio, the 18-year old restaurant known for its high standards and faultless service, where owner Sandro Morelli looks after clients as if they are guests in his own home.
Carretera Cadiz - KM 178, Marbella.
Telf.: +34 95 277 1799. Map
Restaurante Santiago
Specializes in frish, seafood and meat.
Lunch & Dinner. c.c's accepted. rec. Reservations
Paseo Marítimo, Nº 5, Marbella.
Telf.: +34 952 770 078 or +34 952 774 339.
Da Bruno
Lunch & Dinner. Italian cuisine.
Closed Sundays. Visa & M.Card.
Popular & well located
Avda. Ricardo Soriano 27, Marbella.
Telf.: +34 952 903 318
The Marbella Club Grill
Dinner only. International cuisine.
c.c.'s accepted.
Marbella Club Hotel Ctra. Cádiz Km. 178, Marbella.
Telf.: +34 952 822 211 
Marisquería La Pesquera
Breakfast, Lunch & Dinner.
specializes in seafood. c.c's accepted.
Plaza de la Victoria, Marbella Old Town.
Telf.: +34 952 765 170 
Zozoi
ZOZOÏ is the trendiest restaurant in the Old Town of Marbella. Set in an old converted house the décor is modern but also there is a large terrace amidst a courtyard that offers superb surroundings for al fresco dining.
Plaza Altamirano 1, Marbella.
Telf.: +34 95 285 8868. Map
RESTAURANTS - LISTING
Consult our listing of about 40 well established restaurants in Marbella.
Destinations