It's unusual for this blog to have three posts in a row about politics, but then this has been quite a week. First of all, the PP failed to win
its widely-predicted majority
in the Andalucian Parliament in
last Sunday's elections
, leaving the regional president in a political no-man's-land, since he has no clear mandate to form a government. Andalucia won't be so quick to abandon socialism. Now, just five days later, there's a 24-hour
huelga general
(general strike) throughout Spain, called in protest against the labour reforms proposed by PP President Rajoy. It started at midnight last night (Wednesday/Thursday), and lasts till midnight tonight (Thursday/Friday). Most transport services are operating at minimum capacity - buses are at 25%, a trains at one third of their normal services. Many flights are affected - Iberia has cancelled more than 400, Ryanair 44 and EasyJet 28. In Andalucia, Granada-Jaen airport is closed, Malaga has 34 flights cancelled (16 arrivals and 18 departures); Almeria has just two cancellations; and Seville and Jerez are both operating normally. Health services and schools are also affected. For example, in my son's school, two of the four teachers in his year of
infantil
(3-5 years) came to work today, and five out of the 25 pupils in his own class turned up. Of course, it's hard to know if this is because the parents were staying at home in suopport of the strike; because they assumed there would be no teachers and therefore didn't send their children to school; or because they wanted to show solidarity with the teachers. In the three-year-olds' classes, there were no teachers at all. In terms of how successful it is - in other words levels of participation by all the different sectors of workers, especially public sector ones - it is always extremely hard to get an accurate idea, as
the numbers
provided are angled towards the agenda of the interested party. Trade unions tend to exaggurate the participants, while employers play down involvement.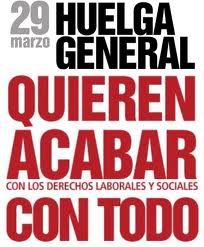 The police were out in Malaga this morning, when picketers tried to stop lorries from entering the city's main food warehouse. Officers had to escort the vehicles past the picket line. The two main unions, UGT and CCOO reported 85% of workers have taken part, so don't be surprised if some of the shelves in your local
supermercado
are a bit empty for the next few days. In construction, the level is 90% apparently (Torre Pelli in Sevilla and the Metro in Granada being two of the key examples); in metalworkers, participation is said to be 95%. F Update: for the final figures from the trade unions, see
here
. The unions have also claimed that higher participation than in
the last general strike
. Electricity consumption is down by a quarter. Here in Andalucia, Canal Sur is not emitting programmes today, and the Renault factory is Seville has shut down for the day. Until the dust settles tomorrow, we can't tell how much support this strike will have had, not to mention its effect on popular feeling, public services and the economy.