A few months ago, ex-guest blogger Rebekah wrote about a new edition of a book called
In Hiding: The Life of Manuel Cortes
, by the late Ronald Fraser. It's the extraordinary story of the socialist mayor of Mijas, a small town in Malaga, who stayed hidden in his house for 30 years to avoid capture by Francoist authorities. That can't be true, I hear you say - three decades?
Last night I saw a film about Manuel Cortes and his long self-imposed incarceration, called 30 Años de Oscuridad. This "documentary graphic novel" was showing as part of the Seville Film Festival, but it isn't new; released earlier this year, it has already won awards at the Malaga Spanish Film Festival; the film was also nominated for best documentary in the 2012 Goyas (Spanish Oscars).
Consisting of static drawings dramatised by actors' voices, interviews with family and historical experts, including Ronald Fraser, and archive footage, this moving film reconstructs the story of Manuel Cortes.
In early 20th-century Andalucia, where most of the rural poor were illiterate, Manuel was one of the few who learned how to read and write. From the time of Primo de Rivera, in the 1920s, he was fighting to set up a socialist trade union and a branch of the PSOE in his village, Mijas, marking him out as a troublemaker to the local
caciques
(landowners).
In March 1936 Manuel was elected Mayor, promising education for the children and support for day workers on
fincas
(estates) of the
caciques
. Four months later, the Civil War started, and as Italian and Moroccan troops approached, many fled - including Manuel, his wife Juliana and their baby Maria. They climbed over the mountains to the
vega
(plain) of Malaga, where they decided he should go on alone, and the rest of the family would return home to Mijas.
Many civilians, especially women and children, were massacred by Nationalist gunships off the coast while fleeing Malaga. Manuel managed to make it to Valencia, the Republican capital, and he fought on the frontlines. When the war finished, in 1939, he took the train back to Malaga, expecting to be sent to prison for six or seven years. Being cautious, he entered Mijas discreetly from the rear of the village, and slipped into his father's house, where he was joyously reunited with Julia. At first he wanted to hand himself in, but then news arrived of the fate of other Republican mayors from nearby towns in Malaga province: tortured and executed.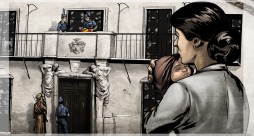 So began his 30-year stay behind walls - decades of silence, anonymity, powerlessness. As Ronald Fraser himself puts it: "The war for Manuel lasted not three years, but 30 years." For the first year, hiding in a tiny space behind the wall of his father's house, he didn't dare even have contact with his little daughter; later they had their own house, where there was a little more freedom to move about.
Juliana had to support the family - unusual for wives then, who were always supported by their husbands: she wove baskets of
esparto
grass, and eventually Manuel was able to help her with this. But she also had to bear the huge strain of never revealing to anyone - even her neighbours - that her husband was living in her house, and the constant worry that he might be caught. There were several heart-stopping moments of near-discovery, but thanks to Manuel's resourcefulness and Juliana's courage - plus a good dose of luck - he stayed safely hidden. As he grew older, Manuel became obsessed with the idea of dying in his prison. How would they dispose of his body? What would happen if they were caught?
On 31 March 1969 a general amnesty was announced, for all of those who had "committed crimes" before 1 April 1939, the date the war finished. With Juliana still worried it was a trick designed to catch him, together they went to Malaga where Manuel was officially pardoned on 12 April 1969, and came home a free man. He died in 1991, and one of the most vivid accounts comes from his daughter Maria. Also fascinating are stories of other
topos
(moles), as the men who stayed in the darkness for so many years were called. Some studied, using their time alone to read endless books; another, in Huelva, went blind from spending so long without light; while others committed suicide out of desperation.
One important point about the Andalucian film industry. Before the screening, the producer and director came up onto the stage to introduce the film. They said that "pillars which have supported this industry are falling" - that they've been lucky enough to tell stories about Andalucia, made by Andalucians, but if the economic situation continues, they will no longer be able to.
This movie was made in Seville last year by a collaboration of production companies, some Seville-based; it is voiced by two Sevillano actors, who play Manuel and Juliana; and was funded from many regional bodies, including Canal Sur, the Junta de Andalucia, and the Ministerio de Cultura. Their pots must be close to empty now, and the future for films in Andalucia looks bleak.