As I mentioned in a recent preview 
blog post
, last Tuesday 9 June saw the world's foremost sherry-pairing culinary contest: the Copa Jerez.
Copa Jerez 2105 winners, Sommelier Ian Adams and Chef Michelle Matthews, of 16 Romolo in San Francisco, in front of the judging panel.
Teams of chefs and sommeliers from restaurants in eight countries - seven from Europe, plus the US -  each had to produce a three-course meal, every dish paired with a sherry. The event took place in the cradle of the sherry industry: Jerez de la Frontera. The idea of the competition is to show the extraordinary versatility of
sherry
; how the different types of fortified wines pair beautifully with every type of dish, from seafood to beef, cheese to chocolate. Each team had already won the national final in its country.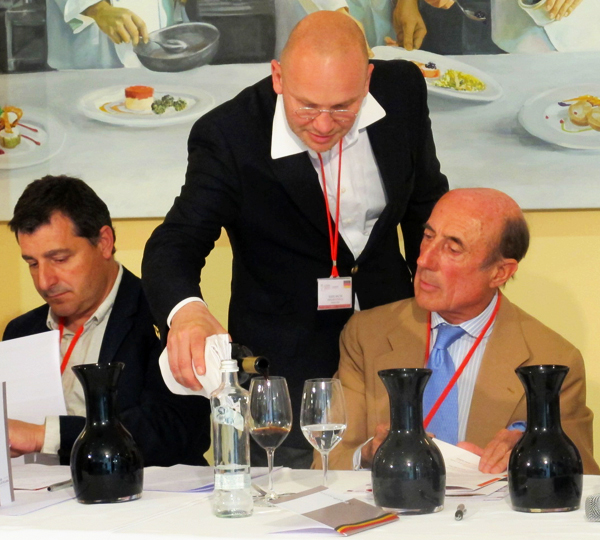 German sommelier, Guido Walter, pouring sherry for judge Beltran Domecq, president of Sherry's Regulatory Council.
Judges for this sixth biannual event were a glittery array of culinary and wine professionals:  
Pita Roca
, sommelier of El Celler de Can Roca, holder of three Michelin stars and recently voted (again) the World's Best Restaurant;
Pedro Ballesteros Torres
, Master of Wines, and member elect of the Governing Council of the Institute of Masters of Wine;
Michael Weiss
, Dean of the Wine Studies Department of the Culinary Institute of America in New York; and
Beltran Domecq
, winemaker and president of the Regulatory Council of Jerez Wines. A day of hectic action, drama, tension, highs and lows, ended with victory for Team USA:
sommelier Ian Adams and chef Michelle Matthews, of 16 Romolo in San Francisco
, won the competition, with Ian additionally taking home the prize for Best Sommelier.  As well as presenting - and justifying - each sherry, and how it matches the dish, along with the chef who explains their choice of recipe, the sommeliers have to explain each wine to the press. A charming, articulate and self-assured wine professional, who isn't even 30, Ian did an excellent job of explaining his sherry choices to an audience which was far from captive, or even static - we journalists were constantly moving between the kitchens, the judging room and the press area itself to watch the finalists in action.
Belgian team, who won Best Starter Pairing, working in the kitchen.
The winning menu from 16 Romolo was: Starter:
lightly poached prawn (looks more like lobster or crayfish in the photo below) in escabeche, with shaved mojama infused in cold saffron tomato broth, garnished with chive oil and chives, paired with Manzanilla Pasada Pastrana Hidalgo La Gitana
Main course:
Pan-seared sweetbread and roast porcini-filled fresh pasta, liquorice-infused veal demisec, creamy artichoke puree, shaved black truffle, paired with Amontillado from Bodegas Gutierrez Colosia
Dessert:
Toasted orange and Marcona almond semifreddo with warm Amontillado-infused chocolate ganache, finished with sea salt, paired with Palo Cortado VORS Apostoles from Gonzalez Byass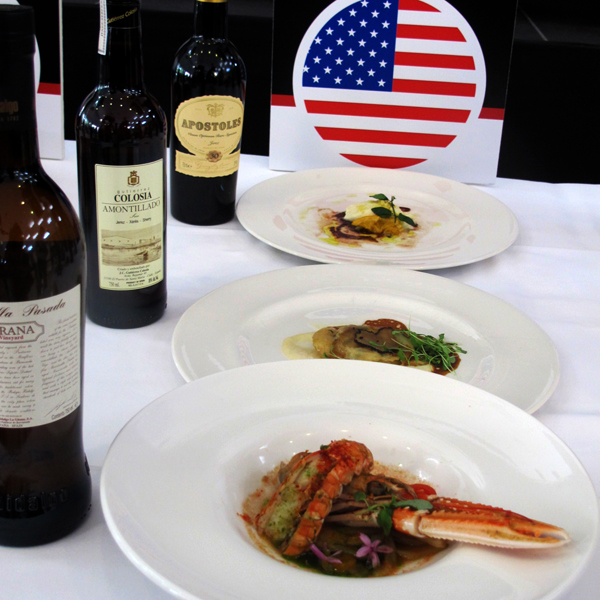 Winning combinations: the three USA pairings.
Due to logistical problems (our driver couldn't find the venue), the Seville press group missed the first course, and as a non-meat-eater I couldn't try the main, but I can tell you that the pudding was phenomenally good - tangy, sharp citrus; rich, sherry-soaked chocolate; and a savoury touch from the salt, paired with a complex Palo Cortadot. Ian explained that the Palo Cortado which he chose to match the dessert was very well-balanced, including all the flavours from the orange to the savoury finish. Ian told the judges that "it had been fun to begin the day with a wine from Sanlucar, then change gears and go to El Puerto de Santa Maria, before closing it out and coming home to Jerez" for the final sherry.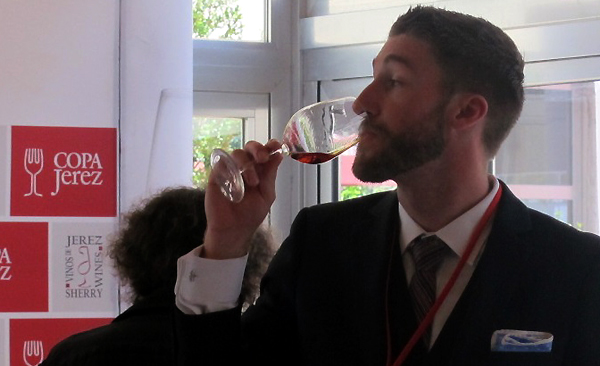 Ian Adams, winning sommelier, testing his chosen sherry.
I grabbed a few minutes with Ian after he presented his main course sherry. When I asked him where he had studied to become a sommelier, he told me that he had no formal training, but had "trained in the nightclubs of LA and the steakhouses of Texas." Ian moved from being a bartender in Los Angeles to the world of fine dining in his native San Francisco, where he was introduced to the world of port, madeiras and sherries. "Sherry was one of the things I thought was really cool," he says. Great to see the new generation taking up the mantle of sherry ambassadors - in the US, sherry is very popular as a cocktail ingredient. Ian also explained how he fell in love with the story of sherry, partly through learning about the history of the land where it's made. He made his first trip to Spain in April this year, to visit the sherry bodegas.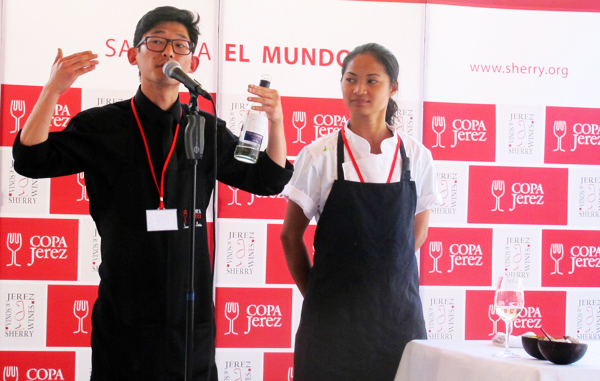 The Danish team, who are both from Thailand, won Best Creative Pairing; here they're presenting their dessert, with matching sherry.
The other winners of Copa Jerez were: Best chef: Adrian Zarzo (Holland) Best starter pairing: Belgium -
Salted cod with crunchy skin, Belgian asparagus salad with oyster sorbet, botargo (cured fish roe) with yoghurt cream, paired with Tio Pepe Fino en Rama 2015
Best main course pairing: Holland -
Lamb sweetbreads, lentils and shrimps, paired with Oloroso 1930 Almacenista Lustau.
Best dessert pairing: Spain -
Chocolate and Pedro Ximenez cream, with aniseed, orange, nutmeg, coffee and cinnamon, paired with Pedro Ximenez Antique Bodegas Rey Fernando de Castilla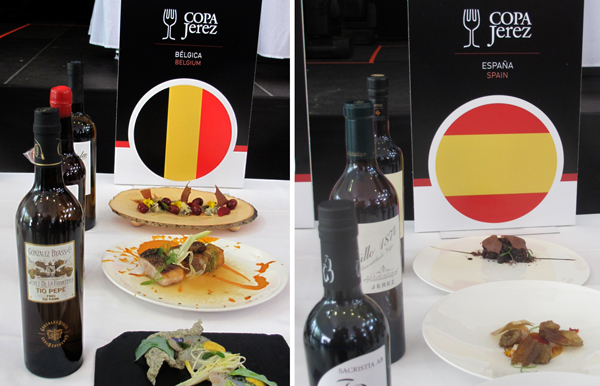 Belgian (Best Starter Pairing, in front) and Spanish (Best Dessert Pairing, at back) offerings.
Best creative pairing: Denmark - this team were a Thai chef and sommelier, whose first course was so complex, consisting of many different elements, that it caused a delay which nearly had them disqualified. I tried their dessert and, while it looked exquisite, in a beautiful bowl, the flavours were not to my taste - the salt was overpowering, and the muscatel wine with which they matched it tasted chemical. Some interesting pairings from teams included Holland's starter: 
beef tartare with horseradish and quinoa, paired with Bota de Fino 35, Saca de Junio 2012 from Equipo Navazos
- the first time I've ever heard of red meat being paired with fino; normally it would be served with a more full-bodied sherry such as an oloroso. Competing for the first time this year was Russia, whose dessert was superb -  a chocolate mousse with smoked nuts and a raspberry-basil sorbet paired with Pedro Ximenez - but sadly this team, which had the only woman sommelier out of the eight countries, did not win any categories; Germany and the UK also went home empty-handed (the German dessert was yet another chocaholic's dream, while the British offering was a new take on the classic bread and butter pudding). Chef Carlos Martinez, of the Lyttelton restaurant in London, is Spanish - he hails from Valencia. You can watch a video about Copa Jerez 2015 here.
[embed]https://youtu.be/GuMogGxPwCs[/embed]