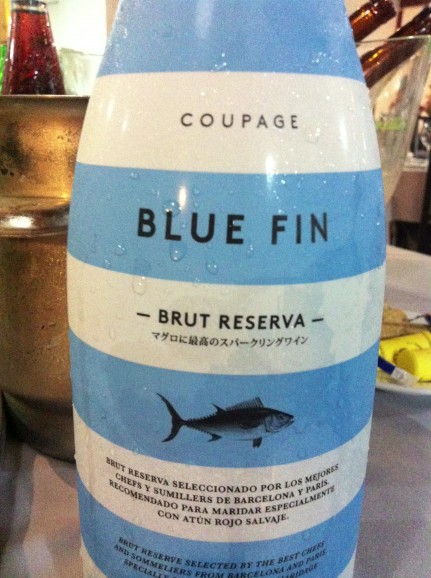 A new cava designed to accompany atun de almadraba, caught off the Cadiz coast.
The other night, I was fortunate enough to eat a meal which was based entirely around
atun de almadraba
. This is
atun rojo
, or in English, blue-fin tuna, which is caught using a traditional system of nets, the
almadraba
, where the fish swim inside and are then caught in a central area surrounded by a group of fishing boats. The largest are selected and killed, and within hours the finest cuts (belly, or
ventresca
) are sent off to Japan to be used for sushi. This method is used in the towns of the southern Cadiz coast: Barbate, Conil, Tarifa and Zahara.
In the wine world, which I am starting to get to know after nearly 10 years in Spain,
maridaje
is a big thing - pairing of wines with food. When you're eating a specialist menu, each course will come with its own wine.
We ate three tuna dishes, of fish caught in the Barbate
almadraba
, each accompanied by its own paired wine - tuna with a light, crispy sea vegetable called wakame (with a Barbadillo wine); marinated tuna with guacamole (with a rose tempranillo); and grilled tuna loin fillet with wild mushrooms. It was my first experience of eating this renowned delicacy, and I wasn't disappointed. The flavour was rich and the texture dense - a full-bodied fish, so to speak.
The cap of the cava bears an imprint of two fish, after a Phoenician coin - these people started the almadraba system thousands of years ago.
This final dish was eaten with a new cava, designed by the top chefs in Barcelona and Paris, specifically to accompany almadraba tuna. The design is pale blue and cream stripes, so you can't see the contents of the bottle, and it brings to mind Cornish blue and white china.
The cava is called Blue Fin Cava Brut Reserva, and it's produced by Bodegas Mestres in Catalonia. We weren't drinking it in a fashionable restaurant in Seville, Malaga or Marbella, but in a small beach town next to Algeciras which I had never even heard of, on a trip with the excellent
Toma Tours
. The combination of the juicy chunk of tuna, with its meaty texture, with the light cava was surprisingly successful. What an excellent gastronomic adventure.