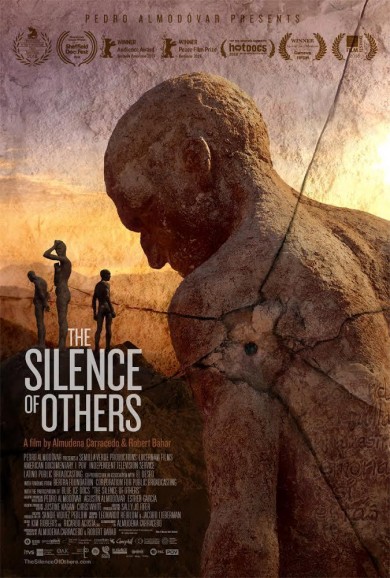 The film is released in Spain on 16 November, and has been shown at various film festivals around Europe and beyond.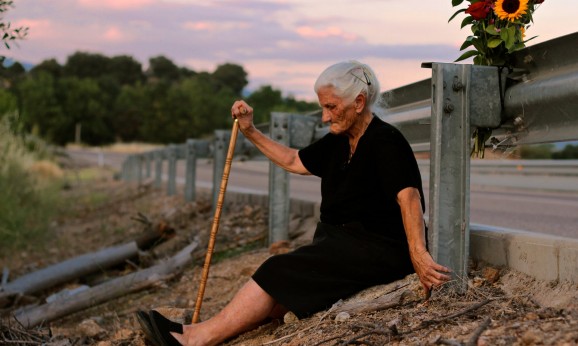 Maria leaves flowers for her mother, killed under Franco's dictatorship.
The Seville Film Festival, which is on until 17 November, always offers a broad range of movies, from drama to documentary, shorts to animation.
The films shown in this festival, now in its 15th year, do not shy away from difficult subjects, and a good example from this year's programme of a film which tackles sensitive territory is El Silencio de Otros.
The documentary, which has already won two awards at the Berlin Film Festival, and is nominated for an EFA (European Film Award), follows a group of brave and determined people who are seeking justice for crimes committed under General Franco's dictatorship. It was filmed over a six-year period, and is directed by Spanish filmmaker Almudena Carracedo and her American partner Robert Bahr.
Under Spain's 1977 Amnesty Law, which included a "Pact of Forgetting" (Pacto de Olvido), you cannot bring a prosecution in Spain for a crime committed during those 40-odd years. So the group, which starts off as a few people and finishes with over 300, takes its lawsuit to Argentina, under "universal jurisdiction", whereby a national court may prosecute individuals for any serious crime against international law, regardless of where the alleged crime was committed, and regardless of the accused's nationality or country of residence.
If that makes the film sound dry, it's anything but – however it's essential to understand the context for the fight being waged by this group of Spaniards, undertaken an Argentinian judge. The case started in 2010 and is still ongoing.
The human aspect is what carries such a powerful impact in this film. Elderly Maria, dressed in her simple black dress, leaves flowers by the road in memory of her mother, killed by Falangists in her town when she was a small girl. Faustina, Maria's mother, is buried in a mass grave, and Maria wants to inter her properly in a Christian graveyard. Maria's voice is a hoarse whisper, yet her force of spirit as she stares at the camera is unmistakeable; around her neck she wears a necklace with a photo of her beloved mother.
Chato Galante sits in the cell where he was imprisoned for seven years on charges of "illicit propaganda and illegal association" at the end of the dictatorship. While incarcerated, Chato was beaten and tortured by a policeman, he claims, who still lives 10 minutes away from him in Madrid, and who has never been charged.
Another woman speaks of how she was told her baby had died, after she gave birth as a single mother in Le Linea de la Concepcion. The stolen babies scandal  is thought to have affected at least 200,000 mothers from 1940s to the 1980s (systems set up under Franco continued after his death), with some estimates as high as 300,000.
These stories are told honestly and plainly, with painfully raw emotion, yet without falling into sentimentality or mawkishness – a remarkable feat.
Each of the victims and survivors – still traumatized by events that took place decades ago, but keen to seek justice, desperate to find their relatives' remains, or bring their aggressor to account - represents thousands more who are in the same situation, but haven't yet started the painful and difficult process, due to not wanting to open old wounds, or to cause conflict within their own family. It is thought that 100,000 bodies still lie in unmarked mass graves around Spain.
They haven't dared speak out until now, as the fear that accompanied life under a dictator is not easily forgotten. As the Argentinian judge, Maria Servini de Cubria, was quoted in an interview, "What you see is people's fear and terror of giving testimony. Sometimes they want to omit names, or they won't provide details of the circumstances in which the events took place." So far, no prosecutions in this case with 311 plaintiffs, known as the Querella Argentina, have been brought.
This is a film with a clear agenda, an aim - to "break the silence": crimes were committed on a astonishingly widespread scale, with total impunity. Few people outside of Spain are aware of the depth and extent of Spain's murky past, until now ignored or forgotten, yet still a source of terrible suffering for so many.
Since the film was made, the enquiry has been broadened to include further offences committed during the Franco era, such as sexual assault and forced abortion. Another recent development is that Pedro Sanchez's Socialist party is now in government, and it is thought that under the Historical Memory law - introduced in 2007 by Sanchez's fellow socialist Zapatero in order to help locate missing bodies among other processes, but ignored by the subsequent Rajoy administration – the group may have more success, especially in tracing the remains of victims.
For anyone with an interest in Spain's recent past, this is a fascinating and moving account of a painstaking and tremendously difficult search for justice. However readers should be aware that the past remains a highly divisive issue in Spain, and should be approached with extreme caution when talking to Spaniards.
El Silencio de Otros is on general release in Spain from Friday 16 November.
UPDATE 19/12/18: The film has been included in the Academy Awards shortlist for Best Documentary Feature . The next stage for the 15 documentaries which have been shortlisted, out of 166 entries, is the Oscar nominations - these will be announced on 22 January 2019.