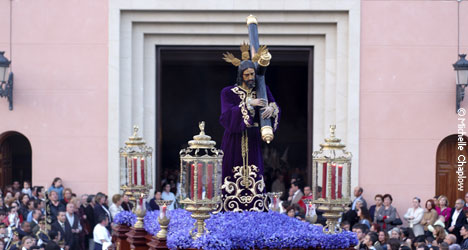 This year's Semana Santa was a bumper one for Malaga. Photo: Michelle Chaplow
All over Andalucia, this year we enjoyed a Semana Santa to remember, as most, if not all, of the processions in cities and towns all over the region were able to come out as planned, with blue skies and sunshine all around. A complete, uninterrrupted run of the Holy Week programme is a rarity, though with Easter falling later this year - it's usually in March - the rain was less likely to put a dampener on the occasion.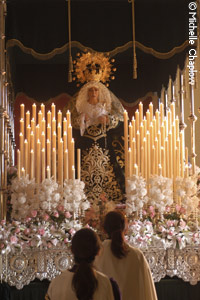 Semana Santa is one of Malaga's most important festivals. Photo: Michelle Chaplow
In Malaga, they enjoyed the most successful Semana Santa ever - the mayor of Malaga announced last week that it was la "mejor Semana Santa de la historia" - the best Semana Santa in history. Hotel occupancy over the ten-day period, from Viernes de Dolores (12 April) to Domingo de la Resurreccion (Easter Sunday, 20 April) was 90%. From Miercoles Santo (16 April), the figure was 97%. The added attraction of spending a week by the seaside in glorious weather probably helped the spectacle of Semana Santa in the Costa del Sol's capital seem even more unmissable. Bar takings were up between 10 and 12%.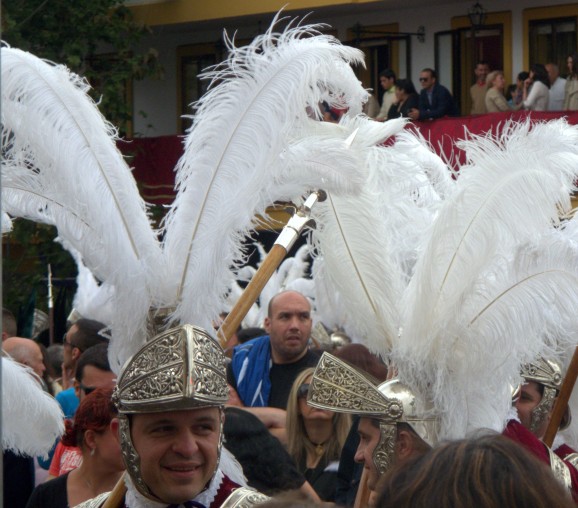 Roman Centurion Band from the Macarena hermandad in Seville, which enjoyed an excellent Semana Santa.
Here in Seville hotel occupancy was over 90% too, with Cruzcampo/Heineken reporting sales increased by 20% during the Palm Sunday weekend, at the start of Semana Santa 2014 ((11-13 April). Hotels in the Andalucian capital were at full capacity over the holiday weekend (17-20 April), with 100% of rooms taken from Jueves Santo (Holy Thursday) to Easter Sunday. On the past three years, rain on Martes Santo has caused those day's processions to be cancelled; this year, while all
cofradias
went out, one - La Sagrada Resurreccion, on the last day - had to return to its church due to a shower.
The mayor said that the figures were back to those of pre-crisis times, with "la mejor Semana Santa de los ultimos años" - the best Semana Santa in recent years. A report, commissioned by the Ayuntamiento from the University of Seville, found that Semana Santa's economic impact on the city was valued at 240 million euros. One interesting fact was that Alcazar visits were up almost 20% on last year.
Although such data should always be taken with a pinch of salt, there's no doubt that a sunny Semana Santa was a welcome boost to the Andalucian economy.