Tortilla al whisky with a glass of fino - the perfect match.

Look out for this badge in bars around Seville.
If you're going to be in Seville over the next couple of months, you're in for a tapas treat.
Until this Sunday 17 November, you can try a specially-selected tapa with a matching glass of
sherry
in 62 different bars around Seville as part of
La Ruta de la Tapa y el Vino de Jerez
. You don't pay for the sherry, just the tapa, so for as little as 2.50 euros you get a tasty tapa and a glass of
fino, manzanilla, oloroso, amontillado, palo cortado
or cream.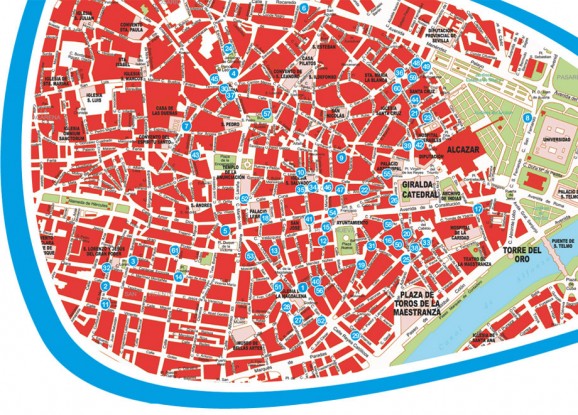 Map of Seville showing locations of bars offering tapa and sherry pairings.
Yesterday I did a mini-tapas crawl and tried four of these tapas-plus-sherry pairings with a local expert on the topic of tapas. We started off with
tortilla al whisky
with
fino
at Bodeguita Casablanca (17), which was a relevation as I'm not normally a fan of tortilla except as a handy fill-me-up tapa. This one had a deliciously chunky texture, and came with a side of roasted, mashable garlic, perfectly offset by the tangy
fino
. Then we had
salpicon de marisco
, a salad of seafood with onions and peppers, which was dull and disappointing - especially as the restaurant, La Isla (38), is reputedly the finest seafood locale in Seville. This restaurant has recently been refurbished, with elegant decor given a funky edge by some groovy lights. The
manzanilla
was served straight from the barrel and had an unpleasant metallic edge - not to my taste. Furnishings 8/10, sherry 2/10, tapa 2/10.
Other tapas we tried were
atun encebollado
(tuna with onions) with
oloroso
, which were both rich and tasty, although the location, Mordisco (50), lacks ambience; and excellent
albondigas de choco
(cuttlefish meatballs) with one of my favourite
finos
, Tio Pepe (brings back happy memories of
Ferias
) at Los Mercaderes (47), which had bizarre silver baroque chairs and a waiter in 17th-century fancy dress. Go figure.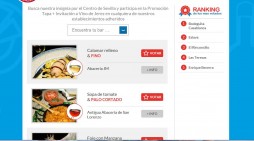 Find out which bar serves which tapa and sherry - great for planning a tapas crawl!
There's a complete list of bars, with the tapa and sherry they're offering, on
the website
, where you can also vote for your favourite tapas and enter the draw to win a sherry tasting kit, and see what the current top ranking bars are. Established classics like El Rinconcillo, Eslava, Enrique Becerra and Las Teresas tend to figure large, rather than the new gastrobars.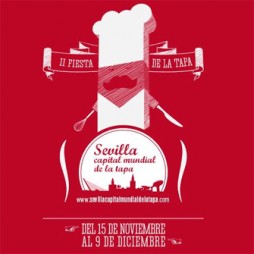 Sevilla Capital Mundial de la Tapa until 9 December.
However if you're not going to be in Seville over the next few days, fear not: The
II Certamen Sevilla, Capital Mundial de la Tapa
starts tomorrow (15 September) and lasts till 9 December. This is another competition with more than 140 bars throughout the city offering a tapa with drink for 2.50 euros, or 4 euros for the gourmet version. Again, you vote - this time for at least 10 bars to win prizes. The four participants with the most votes will win a Samsung Galaxy Tab each. On the website bars are
listed by area - 13 of them in total
. There's even an app,
SCMT
, showing you where your closest bars are, and what tapa they're offering, available for iPhone and Android.
This is a short video about the previous Certamen, when 25,000 tapas were served. Buen provecho!