Last weekend was the second edition of Ecosevilla, following
the launch event
last October. There were more stands - 100, up from 70 - and the hall at FIBES Conference Centre looked and felt busier and fuller. There were stalls with organic food, drink, sustainable energy, handmade toys, environmental organisations, charities and transport. Like last time, they had an impressive programme of workships and activities, including brick-making and flamenco for children, as well as a climbing wall, while adults could partake of Chi-King, Gestalt and vibration therapy, among others.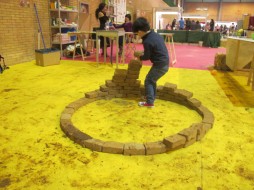 As usual, I was seduced by a) the food, and b) the kids' stuff, although my reach was limited, compared to the last edition, by having a small child in tow. A new addition from last time was Doña Manuela cured goat's cheese, which is made in Aracena in Huelva province. It is extremely tasty, though not for those who prefer a mild flavour - I thought it was one of the best
queso curado de cabra
I've tasted. Get thee to El Corte Ingles Club Gourmet, it's well worth the mark-up, although she has plenty of suppliers elsewhere, especially here in Seville.
A catering company from Madrid provided wonderful vegan meals (below), and Seville's organic suppliers, notably La Gallina Clueca (which stocks Doña Manuela's cheeses and yoghurt) had a strong presence. This excellent shop, which also has an
abasteria
, specialises in small and medium-sized local and regional producers - most of its products come from Huelva, Sevilla, Cordoba and Badajoz provinces - as well as just
ecologico
, since some organic products, such as jamón, are not economically viable (apparently organic iberian ham, on the bone, costs around 60 euros per kilo). More organic wines and beers were also on offer.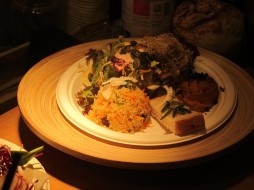 When I get my children a fancy dress outfit for Carnaval or Halloween, not being a dab hand with a needle and thread, like most of my mum friends I head for the nearest
chino
. So I was delighted to see a stall selling the most exquisite
disfrazes
, made of natural materials such as wood, wool felt, and silk. Not a jot of plastic or nylon in sight. They weren't Spanish, but they were well made and fab to look at. One look at the pink princess/lady knight outfit and my daughter was hooked. My son got a pirate hat and eye-patch (also made of wool felt).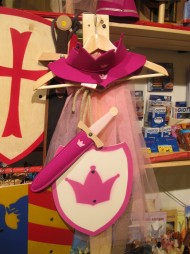 One of the biggest excitements for me, as someone who is fascinated and intrigued (if not personally convinced) by the concept of
electric cars
, was seeing the Renault Twizy for the first time. I wrote about this crazy-looking (and sounding) little car when it was first launched; last October, Renault chose Seville as
the location
for their sales people to test-drive the new ZE electric range.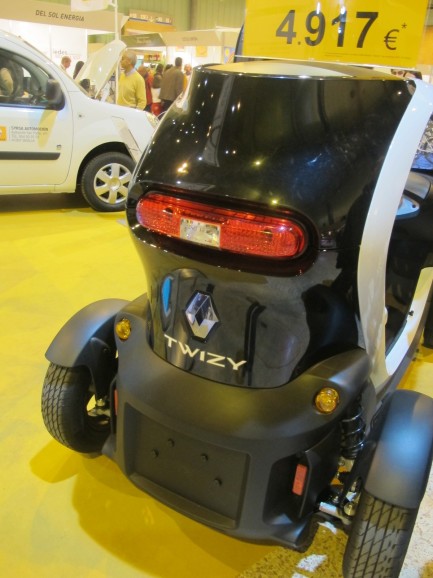 This little zero-emission number has doors which open upwards, like a McLaren F1 racing car. Narrow (it's basically the width of the driver's seat) and looking more like the top from one of those covered motobikes, stuck onto the base of a moon-landing vehicle, with its curved windscreen and protruding wheels, the Twizy fits one person in the front, with a small space behind the driver's seat.
From what I could make out from a conversation with the not-overly helpful salesman, this was first Twizy in Seville, and one of the first in Spain. Ten models in total have been ordered for Spanish customers; the price shown on the car is misleading, since it actually costs from 6990 euros, not including the battery price.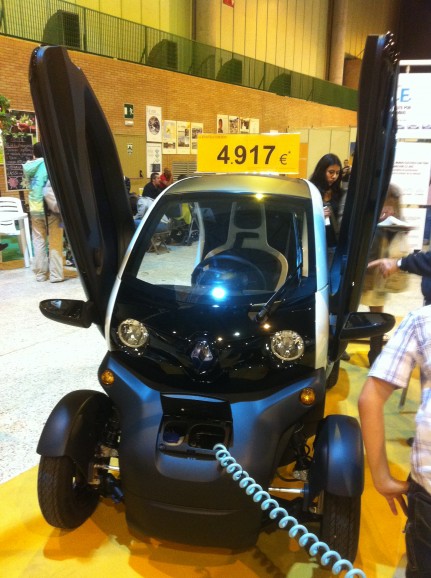 This event goes from strength to strength, and it is encouraging, in this economic climate, to see so many (mostly) small, local, organic producers flourishing.