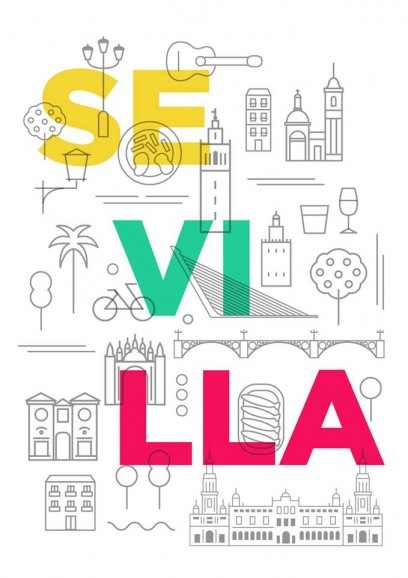 Written by Sevillanos, the guide covers places to eat, listen to live music, and see the city as enjoyed by locals.
Last week, the first-ever guidebook compiled using content provided by Facebook users was launched. The 52-page guidebook to Seville features places for tapas, dancing swing and tango, and hunting ghosts, all suggested by more than 20 Sevillano Facebook communities and pages. Interestingly, the branding is fairly discreet, with just one logo on the introduction page, as well as wide use of the corporate blue.
It is divided into six sections: Gastronomia; Musica; Libros, Poesia y Recitales; Rincones; Una Sevilla Desconocida; and Naturaleza (Gastronomy; Music; Books, Poetry and Recitals; Corners; Unknown Seville; and Nature). The introduction says (translated from the Spanish): "With this guide, we wanted to show Seville as seen by its own people, through the communities which exist in various areas of the city. Groups created by Sevillanos who use Facebook to connect through common interests and causes, or to meet up and see each other in person... The cultural richness of Seville is reflected in the communities which have participated in this guide, bringing their vision and advice so that anyone can discover a city with many interesting traditions, but also modern and innovative, and constantly changing...
" At the launch, I spoke to one of the sources of tapas bar suggestions, Chencho Cubiles of the eponymous Facebook page De Tapas Con Chencho. His 13 picks range from simple restaurants which only open at lunch time, serving typical local dishes, to the latest fusion joints, as well as non-Spanish cuisine, including Mexican and Japanese. How did he pick them from the huge choice available? "These are the places which I love eating at - my own favourites," he says.
The music section of the guide covers a wide range of genres, from rock and roll, with suggestions for live music venues, bars and festivals, offered by the Facebook group Rock Sevillano, to jazz, plus dance - salsa, tango and swing. One of the most interesting sections, for those wishing to venture off the beaten tourist path, is the one on the Macarena barrio, compiled by the Associacion de Comerciantes Macarena Facebook page. This mentions some fabulous medieval churches, flamenco peñas (clubs) and shops, in this area to the north-west of the city centre, straddling the ring road which marks where the old city walls once stood. Another quirky, off-the-beaten-track section is Haunted Seville, by the Facebook group Sevilla Ghost dare to enter a church crypt which hides a pantheon of famous Sevillanos, or an abandoned American military hospital.
Below is a video of the launch, featuring some of the contributors, as shown on Andalucia Directo TV programme.
You can see a pdf copy of the guide in Spanish here.