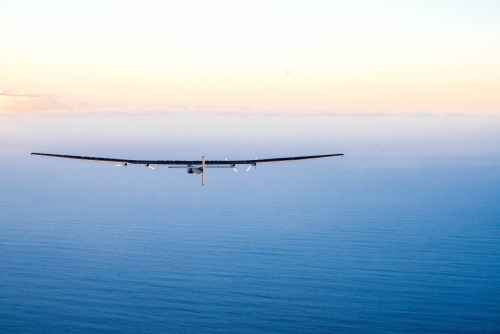 Solar Impulse 2 is a solar-powered electric plane currently crossing the Atlantic.
  In a few hours, at around 5am tomorrow, Thursday 23 June, a historic event will take place at Seville's San Pablo airport. The first ever flight in a solar-powered electric plane across the Atlantic, with no fuel and no emissions, is due to touch down after a three-day flight from New York. Solar Impulse 2, also known as Si2, left JFK airport at 2am local time (8am Spanish time) on Monday 20 June, piloted by doctor and explorer Bertrand Piccard. The journey was expected to take around 90 hours, but will be considerably shorter - less than 72 hours. The plane weighs less than a car, but has the wingspan of a Boeing 747. Its wings are covered in solar panels, which power the aircraft. The total distance to be covered is 5726km, and is the 15th leg of a 35,000-km round-the-world journey. The plane was designed and built by Solar Impulse, a Swiss-based company. The other pilot, engineer and technical team head Andre Borschberg, has flown various legs of the epic voyage. You can follow the plane's progess on their excellent
website
, which has live coverage of the cockpit and  control centre, with live information on altitude, distance travelled and time taken, and battery charge remaining, as well as on Flight Radar 24, a website tracking every commercial flight in the air at any one time.