Last Saturday, I went to my first football match in Spain - and I've been living here for nearly ten years.
You might gather by my non-attendance that I'm not much of a footie fan, and you'd be right. But when someone offers you a free pass, for a match with a British connection, it's hard to say no. Even if kick-off isn't till 10pm.
On Saturday night, Sevilla FC was playing at home to Real Sociedad, the San Sebastian team. Don't ask me if they're any good, as I don't have a clue. But I can tell you that Sevilla have a very beautiful piece of artwork on the front of their stadium, Sanchez Pizjuan, which is in the Nervion area of Seville, to the east of the centre. The stadium is very close to Nervion Metro station, always an advantage for sporting events when parking locally is horrendous and to be avoided at all costs.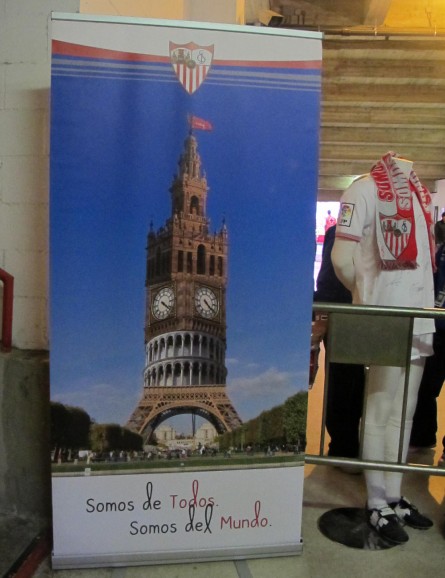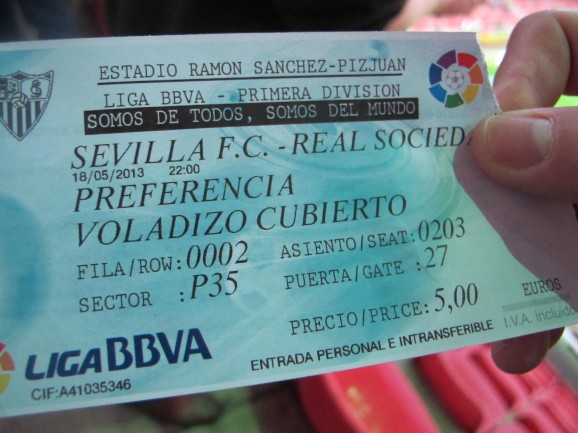 So what was the British connection, I hear you ask? Well, for every home match this season, Sevilla FC is inviting one nation as special guests, as part of their "Somos de Todos, Somos del Mundo" promotion. The idea is "to integrate different nationalities that live in our nation, with football being the motor of integration". You get tickets for 5 euros (with proof of nationality), a free scarf, and entry into a competition to win a signed shirt. So far nationals of Uruguay, the US, and Ireland have enjoyed this promotion.
Last Saturday was the turn of Great Britain, and I was asked to help spread the word using my favourite method (short of haranguing people in the pub): Social Media. I didn't have much advance warning to gather the troops - and hangovers from a music festival the night before featuring Fatboy Slim, plus the lure of a night in watching the Eurovision, both played havoc - but I know that a few of the 300+ Brits in attendance came due to my efforts. I know, because I talked to two of them and asked them how they'd heard about it - thanks to an email I'd sent out the previous day to a language school where I used to work. British TEFL teachers are always up for some well-priced footie of a Saturday night.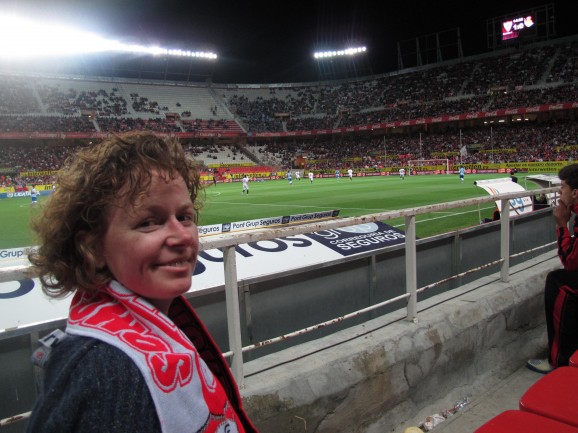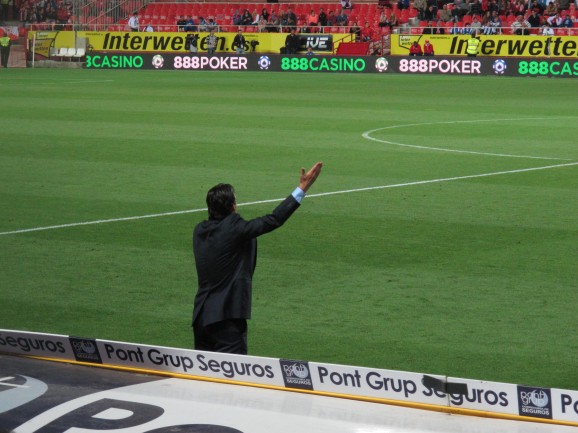 With my press pass, I was able to move freely around the stands, watching much of the match right next to the pitch, wherever a free seat was available. I did feel a bit guilty, as I didn't appreciate the experience as much as a true football aficionado, but I certainly valued being able to see the action up close and absorb the excitement, hear the chants and watch as the manager, standing a few metres away, went apoplectic about his team's poor performance.
Before kick-off, the Honorary Consul here in Seville, Joe Cooper, was interviewed on Sevilla FC TV (yes, they have their own channel), and he welcomed everyone in English. Joe has lived in Seville for decades, and is well-respected in the Seville business world - he watched the match sitting in the President's Box, and snuck me in at half-time to scoff some of the M&S iced gingerbread men - best of British for the lucky Sevilla FC bigwigs.
For half-time, Joe had arranged for a bagpiper to play some Scottish tunes on the pitch. John Adam Mascharenas isn't quite Scottish, though; he is a Gibralteño of mixed Spanish, Portguese, English and Gibraltan descent, who came all the way from The Rock to play at the match (probably some Scottish blood in there somewhere). A retired policeman, John performs with the Sea Scouts Pipe Band, and has been playing the bagpipes for nearly 40 years. He was decked out in kilt with sporran, and hat, and looked most dashing. You can watch him playing
here
.
Sevilla FC lost 1-2 in the end, so the crowds weren't exactly jubilant afterwards. But for my part, I was happy that the Metro whisked me away - eschewing the opportunity for some post-match interviews with Brits, I heeded my bed's siren call, and was home half an hour after the final whistle. Would I repeat the experience? Most definitely - let's hope Sevilla FC repeats this generous offer for other nationalities to enjoy a football match for such a bargain price next season!