Foro La Zagaleta
Foro La Zagaleta - The Culture of Art
by Chris Chaplow
The fourth edition of Foro La Zagaleta was held on Friday 5 June 2015, with the theme of the Culture of Art. As with previous years it was held in the Marbella Palacio de Congresos and coincided with the Marbella Town Hall's tourism initiative called Marbella Luxury Weekend.
Opening
The opening addresses were by Chairman of La Zagaleta, Oswald J. Grübel and Marbella Mayoress, Angeles Muñoz.
Oswald Grübel joined Credit Suisse Group in 1970 as a Bond Trader and, after a distinguished career, he was called to the Executive Board of Credit Suisse in 1991, serving as CEO of Credit Suisse Group from 2004 until his retirement in 2007.
Oswald announced that 2014 had been La Zagaleta's best year for sales since it was founded in 1991. Turning to art, Oswald jokingly referred to La Zagaleta's relationship with art, suggesting that many of the houses were indeed works of art. On a more serious note, he suggested that western Governments wanted to keep interest rates low for the sake of their budget deficits. "We all feel this is not going to end very well." He had our attention and continued "Money will depreciate and art will be an excellent investment," but added a caveat "one has to have expert advice". At least we were in the right place.
Angelez Muñoz @AngelesMunoz_ thanked La Zagaleta for hosting the fourth forum and expressed a hope that it would continue for many more years to come. She reflected back to when the idea was first floated; to bring to bring some of the best speakers to Marbella. Marbella Luxury Weekend had been inaugurated the year before and now the whole even made Marbella a "referente turistico" (tourist point of reference).
Presentations
Borja Borrero @BorjaBorrero1 opened the presentations as Head of Creativity for Interbrand EMEA. Borja has led creative projects with global impact such as the repositioning of Movistar, Bankia, Iberia and Repsol so he was worth sitting up and listening to.
Borja talked about the intersection of Art, Branding and Luxury. Great brands are an art - he demonstrated this with images of the design trade marks (logos) of Coco Cola, Mickey Mouse and General Electric. The Picasso signature is now a design mark.
"Why is one brand worth more than another?" Borja asked. "The mark has a separate value from the product," he answered, and somewhat uncomfortably reminded us that "When you by a luxury product, you are buying 70% or 80% the brand."
Borja added. "We are in the era of 'you', where the brand is integrated with the consumer"
Nuria de Miguel @Nuriademiguel was the second speaker. She had a career in publishing and in 1989 she joined La Fundación Amigos Museo del Prado in Madrid where, since 1993, she has been Secretary General. In this position she reports to both the museum board and the museum director on behalf of the Amigos.
Nuria, an accomplished presenter, gave us an overview of the museum itself, which has 33,000 works, 2.5 million visitors a year, 400 employees, and an annual budget of €38m. She then explained the work of this 30-year-old foundation, known simply as 'Amigos', whose membership numbers 28,000 individuals, companies, groups and corporations who fund the foundation's programme with sponsorships and donations.
Nuria outlined the work of the Amigos. An annual programme of activities, including both offline and online courses; book readings, including those for children; conferences; and the production of publications and initiatives such as "La Obra Invitada" to bring works from other national and international museums to the Prado.
The role of the Amigos is much more wide-ranging than I had expected and covered areas that I had assumed were within the remit of the museum itself.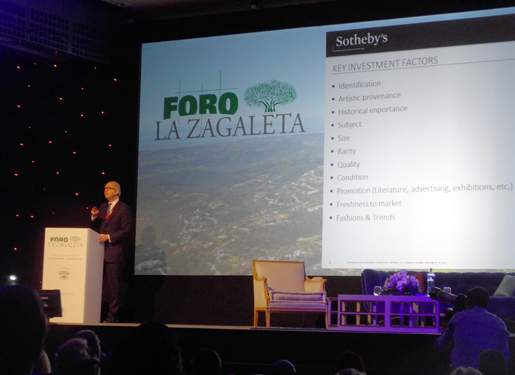 Lord Mark Poltimor, Deputy Chairman of Sotheby's Europe and Chairman of Sotheby's Russia
Lord Mark Poltimore, Deputy Chairman of Sotheby's Europe and Chairman of Sotheby's Russia, Mark has over 30 years' experience in the art market and is the auctioneer for Russian paintings sales. He works with Russian private collectors and institutions. He has been at Sotheby's in 2002, and specializes in Old Masters, English, Victorian, 19th Century and Modern and Impressionist works.
Lord Poltimore opened his very natural style presentation by telling us the art marked had changed dramatically in the last 20 years. There is currently a trend to go for brands (Artists have become brand names), and headlines and hype.
In true British style he apologized for talking about money but as an auctioneer at a business event he had little choice. Lord Mark explained the golden nugget of the Key Investment Factors, some obvious and others less so. They are: Identification, Artistic provenance, Historical importance, Subject, Size, Rarity, Quality, Condition, Promotion (literature, advertising, exhibitions, etc.), Freshness to market, and Fashion & Trends.
"L' Allee des Alyscamps", the autumnal scene painted by Vincent Van Gogh in 1888 shortly before he cut off his own ear, must have ticked the key investment factors as it sold on 5 May to an Asian buyer for $66m (auction record for Van Gogh is $83m). The painting had sold for $2m in 2003 and $11m a few years ago; it's a classic trophy picture with an upward investment record.
"The world has gone modern," explained Lord Mark after a recent $22m sales for a contemporary work that had sold for $12m in 2002. He explained the rationale, "Modern makes a statement, and people like to be seen as trendsetters, they like it when a visitor to their home says 'I hate that painting ...you paid how much?'
"The Sothebys Deputy Chairman gave examples of how good wines can have an impressive investment record. A case of a rare 1982 wine worth $2k in 1990, and $15k in 2010, sold last month for $47k. Apparently "there are still great drinkers out there buying this wine".
Lord Poltimore showed us a black and white photo of Jacqueline Kennedy Onassis wearing an imitation pearl necklace with John Kennedy Junior pulling at them. She bought these from Bergdorf Goodman in the 1950s for $35. They sold at auction in 1996 for $211,000, a phenomenal bargain, as owning the 'original fakes' gave credibility to sell copies of fakes. The buyer sold 130,000 copies at $200 each, grossing $26m.
He showed us with a photo of his sturdy Victorian dining room table (valued at £5,000 in a 2005 valuation), recently valued at only £800, to remind us that not all objects increase in value with age. Some items, he demonstrated, go up and down as fashion changes.
Lord Mark also mentioned a recent high-growth sector, which he felt would go up in value - classic cars.
His final words of advice: "Buy the best you can afford - don't necessarily go with the trend; go against it. If you have £1000 to spend, buy one thing and not ten, and buy something that is easy to live with."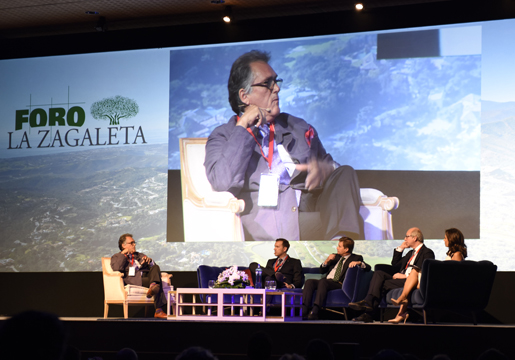 Round Table - TRENDS IN TODAY'S ART MARKET
Round Table - TRENDS IN TODAY'S ART MARKET
Lord Poltimore's presentation led neatly into the round-table moderated by Mara Torres, @maratorres_ who was this (and last) year's forum presenter. Mara did a fantastic job with ample experience as she is the current anchor of Televisión Española's La 2 Noticias, and one of Spain's best known journalists.
The round table - or better described as the familiar round sofa (last year red, this year blue) - the standard light with dark curtains covered in stars glowing provided that cosy night-time chat effect.
It consisted of Armando Andrade, born in Lima in 1952 a renowned artist, graphic designer, publicist and a specialist in communication. Founder and President of Brandgroup.
Juan A. Rodríguez Gamero, @juanrgamero is an online marketing professional who worked as Marketing Manager at Balclis, the leading Spanish auction house, and currently acts as Manager at The Art Market-Agency, a marketing agency that specialises in art. He also represents the auction meta-search engine; Barnebys.com.
Mauricio Álvarez de las Asturias Bohorques, Viscount of Caparacena, is Managing Director of AXA Art Spain & Portugal, the insurance company dedicated exclusively to the protection of works of art. His distinctive experience and know-how acquired over the years make this company a point of reference for all those who look after works of art or antiques.
Some notable quotes from this round table:
Lord Mark: Internet is a change to the art world, but only a small part of Sotheby market is online. The information is great, but you have to be careful.
Armando Andrade: The fundamental question is this: how do you value a work of art? The auction is, of course, the way. It's difficult to work out why there's such change in price from one auction to another within a relatively short time span.
Mara asked: What are the keys to know which artists will be the next success stories?
The brand of the gallery is important.
If a gallery has confidence in the artist and assures a re-evaluation of the work, the client will buy.
Lord Mark: the Saatchi family has had considerable success with British art, but failures with young Russian and Chinese artists. Success shouts louder and such news travels faster and further than failure.
Presentation
Carlos Falcó, Marquis of Griñon @CarlosFalcoMDG was born in Seville. His family vineyards with Denomination Valdepusa (Toledo) have been associated with the title Marquís of Griñon since 1292. The winery is a pioneer at European level in introducing new technologies in viticulture, such as drip irrigation or the use of digital sensors as a control method. Carlos published his first book in June 1999, 'Entender de Vino', (Understanding Wine) which is now in its 16th edition in Spain. Mr. Falco is also President of Círculo Fortuny - the association of Spanish elite brands.
Carlos regaled us with some statistics, "The rise of luxury spend worldwide had risen from 600 billion to 800 billion in the last few years, mainly as a result of the emerging markets. 70% of the world's luxury products come from Europe, and it is the motor of the economy. The EU has 7% of the world's population, 24% of the GDP and 40% in well-being spend. Angela Merkel has said that the only way for the EU to be successful is to do 'excellence'."
Carlos gave us this advice: "The Spanish brand is fine, it is not inferior to anything, but we are selling ourselves short in the world….we need to go abroad more… however in terms of innovation and culture we have nothing to envy in other EU countries."
Carlos criticized the outdated definition of luxury which according to the Real Academy Española refers to something excessive, expensive, little practical and useless.
Lujo (from the Latin: lexus)
Demasía en el adorno, en la pompa y en el regalo.
Abundancia de cosas no necesarias.
Todo aquello que supera los medios normales de alguien para conseguirlo.
I recall a speaker at a previous La Zagaleta forum trying without success to define luxury.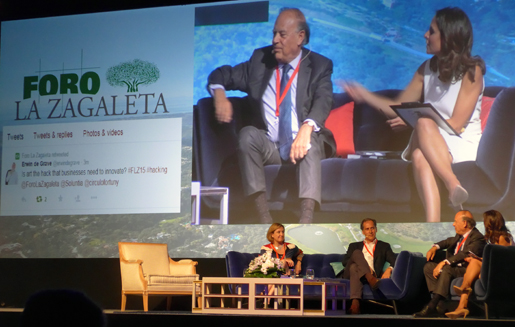 Round Table - CONNECTING WITH THE LUXURY CONSUMER THROUGH ART
Round Table - CONNECTING WITH THE LUXURY CONSUMER THROUGH ART
Carlos Falcó in his role as Executive Chairman of the prestigious Círculo Fortuny led a debate on the role of art within a luxury brand's client outreach strategy. Taking part were.
Arturo Berned @ArturoBerned was born in Madrid in 1966, and is an architect and sculptor whose work is based upon the reinterpretation of both shapes and metal. With an abstract approach, his works are mathematical and geometric and often based on the Golden Ratio named after the Greek letter Phi.
Rosa Lladró @lladro is the daughter of Juan Lladró, the eldest of the Valencian ceramics company's founding brothers. Rosa was appointed a member of the Lladró board in 1984 and Chair in 2003. Currently President of the Spanish Confederation of Glass and Ceramics.
Some notable quotes from this round table:
Rosa Lladró mentioned that their ceramics were "nothing to do with borders, we sell to a hundred countries, it is the personality of the owner that we sell to."
Carlos Falcó quoted Oscar Wilde by stating "The price of everything and the value of nothing" and returning to the definition of luxury he said that "to eat bread soaked in virgin olive oil alfresco with the family was luxury."
Arturo Berned: The value of a piece of art has a lot to do with the feeling of the observer.
Rosa Lladró advised potential art investor to "invest in what you love".
Dani Garcia chatting to Mara Torres
Always a highlight of the forum is the live cooking demonstration by two-Michelin-star chef, Dani García, showed the attendees how cooking can also be art form. Or did he?
Live Demonstration - ART EXPRESSED THROUGH GASTRONOMY
To help the reader decide, here is the definition of 'art' from the Oxford English Dictionary: "The expression or application of human creative skill and imagination, typically in a visual form, such as a painting or a sculpture, producing works to be appreciated primarily for their beauty or emotional power."
Dani said himself "Although the kitchen is in part artistic, philosophical and creative, I don't think that a chef is an artist…..Well the inventor of the tortilla de patatas (Spanish omelette) was a 'crack'."
Dani García @danigarcia_ca, born in 1975, is a local Marbellan hero. He is one of the important figures of the current Spanish gastronomic scene. His gastronomic concept, like his strong accent, is based on Andalucian tradition.
Links to an interview with Dani Garcia and other related blog posts on Andalucia.com:
Interview with Dani Garcia
Andalucia Sabor International Fine Food Exhibition I
Andalucia Sabor International Fine Food Exhibition II
The Ultimate Tapas Experience(s), courtesy of Dani Garcia and other top Andalucian chefs
Dani Garcia heads to New York
TEDx Marbella
Not afraid to experiment with the latest and riskiest techniques, both in the kitchen, and in business or on the stage. A strong supporter of the troubled Málaga catering school, "La Cónsula", where he first studied. Early on he joined the kitchen at Martín Berasategui Restaurant in Lasarte, Guipüzcoa, before returning south to Ronda where he was chef at Tragabuches. He opened Restaurant Calima in 2005, help re-brand La Moraga in Malaga, opened (and closed) Manzanilla in Malaga and New York. His other projects include a bistro called MilMilagros in Marbella; a Dani Garcia cafe in Malaga Airport (just after security), and he currently heads the spectacular Dani Garcia and Restaurant Bibo at the Hotel Puente Romano in Marbella, has two Michelin stars, and the Repsol Guide has awarded him three Sol Awards. His catering support the top events in Marbella.
Mara Torres interviewed Dani whilst the impromptu kitchen was being set up on stage. "What are you next projects?" "To be happy", Dani quipped. "Seriously, when I was younger (and I still am young), I had loads of projects in my mind. Now I don't, because you never know what is round the corner." He continues jokingly "Perhaps open a pizzeria, or even make hamburgers in McDonald's."
This brought a loud laugh: non-Spanish readers might not be aware that the fast food chain has teamed up Dani in Spain to include on the menu for a limited time "Grand McExtrem BiBo Burger by Dani Garcia" We now see Dani's smiling face on every bus stand from Albacete to Zaragoza. Dani's burger is nice, but to me it still is both a McDonald's burger and a textbook example of brand-stretching.
Dani's justification was that many could not afford to eat at his restaurant that 'only' serves 17,000 a year, and this way his McDonald's recipe reaches 70,000 a day.
My prize for the most retweeted (7) and favourited (7) tweeted photo of #FLZ15 goes to @luyk_e with a photo of @DaniGarcia and @maratorres_ talking on stage. Well done!
Dani believes that gastronomy should have an element of seduction which he refers to as 'morbo'.
We enjoyed live demonstrations of his creations that did indeed turn out to look like art. One was chocolate 'lacework', and an edible coral reef.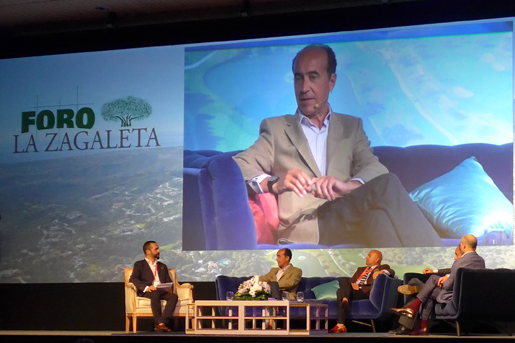 Round Table - SPANISH CRAFTSMANSHIP: CULTURAL HERITAGE AND THE NEW CONSUMER
Round Table - SPANISH CRAFTSMANSHIP: CULTURAL HERITAGE AND THE NEW CONSUMER
The Director of the Fundación MOVEX led a debate among talented artisans who will explore their profession and the challenge of retaining their cultural identity in the midst of a very demanding and modern client base.
Felipe Conde, is a third-generation guitar-maker (luthier) from Madrid. He is the direct descendant and heir of the Conde brothers, and Domingo Esteso, who established his workshop in 1915. Their guitars are 100 per cent handcrafted, lavishing great care upon every detail, from the selection of the finest-toned woods to the impeccable workmanship and finishing. His son Felipe Jr. and daughter Mar have recently joined the family business, representing the fourth generation of the Esteso-Conde luthiers. Celebrated artists like Leonard Cohen, Paco de Lucía, Al di Meola and Enrique de Melchor play or played the guitars built by himself or his late father or grandfather. As the production is unique, Felipe always makes two, just in case.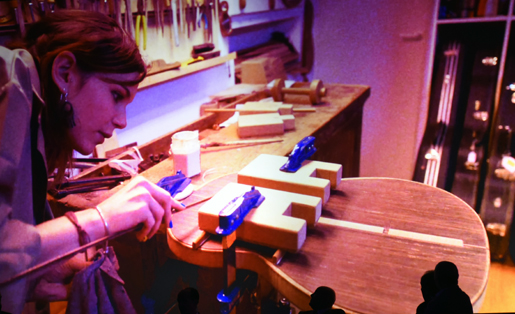 Guitar making
Francisco Carrera Iglesias @paquili1 This gold embroiderer was born in Seville in 1957. He spent six months with the Martín Cruz sisters, which enriched his work in gold embroidery. Francisco's workshop in Seville mainly focuses on works for Semana Santa processions. Major collaborations include a project with Gastón and Daniela to design and hand-embroider fabrics for the decoration of the Royal Theatre of Madrid in 1998. Over the past ten years, he has also participated in the "Fiestas" Collection by Loewe, consisting mainly of work with glass, silk and jewels and has collaborated with brands like Del Pozo International, or designers like Colour Nude, Ca avete, Juan Vara, Antonio García and Victorio & Lucchino.
Jaime Mato G. Ansorena, @AnsorenaArte has been the CEO of Ansorena since 1999. The family business was established in 1845 and in 1860, was named Jeweller and Diamond Merchant to the Royal Household. In 1974 a specialist auction house was set up. Ansorena also manages private sales and has a valuation and expert assessment service.
Javier Gallego, is a leather expert born in Ubrique. He currently presides over the Movex Foundation, a laboratory for experimentation and innovation in the leather industry. He is a member of the Steering Committee of the Piel Design Master program, organized by the Centro Superior de Diseño y Moda de la Universidad Politécnica de Madrid with the support of the Loewe Foundation. He has spoken at events such as: National Meeting of Science and Craft, National Meeting of Craft and Luxury and TEDx Bastion.
Norman Vilalta @normanvilalta Born in Puerto Madryn, Patagonia (Argentina) in 1971, Norman Vilalta went to the Universidad Católica Argentina, where he earned a Law Degree. After working as a lawyer, he decided at the age of 31 to take a shoemaker's apprenticeship at Stefano Bemer's workshop in Florence. He opened his own atelier in Barcelona and in 2010 joined the Cofrade de Maestros Zapateros de San Marcos, a guild of master shoemakers from the 12th century (the oldest master shoemakers' guild in the world). International clientele and renown earned him a coveted slot as one of the best shoemakers in the world in 2015. Vilalta launched his first ready-to-wear shoe collection in 2014 with outlets in NYC, Seoul, Madrid and Barcelona.
Some notable quotes from this round table:
Javier Gallego: More than 3,000 inhabitants (of 17,000 registered inhabitants) in Ubrique make their living from handicrafts.
Francisco Carrera Iglesias: Spain and Andalucia still have potential with lots of handicraft workshops that now don't exist in other places. Chanel in Paris has had to buy three workshops in France in order to guarantee its supply.
One of the reasons for their gold embroidery workshops' survival is the renewed interest in Semana Santa. The skills are passed down from father to son - there is no school that teaches this trade. Francisco is lucky that his children have an interest in the craft.
There is a recent idea to put the name of the craftsman on the product and how many hours it took to create.
Norman Vilalta: The thing that all the craftsmen have in common is that our heart is in our job.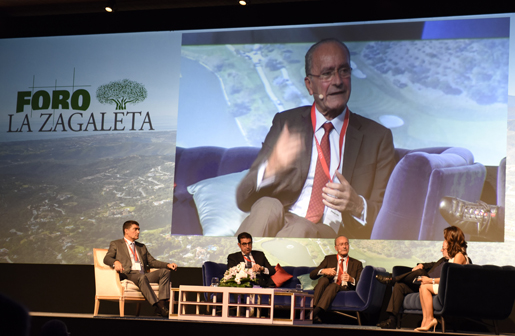 Round Table - MALAGA: TRANSFORMING A CITY THROUGH ART
Round Table - MALAGA: TRANSFORMING A CITY THROUGH ART
Mara Torres moderated a discussion on the economic and cultural impact of art on a city like Málaga.
Fernando Francés @FdoFrances born in Torrelavega in 1961 is the Director of the Centre for Contemporary Art in Málaga, better known as the CAC. He is considered one of the 500 most influential Spaniards, according to newspaper El Mundo, is in the ranking of the top 25 figures of the art world in Spain, as well as in the top 25 of the international art scene, according to Vanity Fair. He has advised and curated numerous national and international artistic projects; has collaborated with major national media as an art critic; has directed prestigious publications and art journals. He guides courses, seminars and lectures in organizations and public and private centers.
Francisco de la Torre was born in Málaga in 1942. Mayor of Málaga since year 2000, he is married with four children. De la Torre has a degree in sociology and a doctorate in agronomy and regional development from the University of Rennes (France).
Francisco Javier Ferrer Morat began his professional career in the Municipal Planning Department of Málaga, where he was Head of the Building Conservation Section and was responsible for the legal consulting aspect of the city's urban ordinance plan. He directly participated in the pedestrianisation of the historic city center, the creation of cultural incentives, such as the Center for Contemporary Art, the Automobile Museum, the Revello de Toro Museum, the collaboration with the Picasso Museum, the Art Natura center, the acquisition of collections for the Picasso Birthplace Foundation, and he also coordinated the founding project of the Museum Carmen Thyssen.
José María Luna has been Director of the Picasso Foundation-Birthplace Museum since 2011, now called the Public Agency for the Management of the Birthplace of Pablo Ruiz Picasso and other cultural facilities, among them, the new Centre Pompidou Málaga and the Russian Museum Collection. Luna has a degree in Philosophy (with a focus on Art History) from the University of Málaga, where he also studied for a PhD in Art History. He was also the Chief Curator at the Museum of Contemporary Spanish Prints of Marbella, and later served as Director, from 2009 to 2011.
Some notable quotes from this round table:
Francisco de la Torre: Malaga has become a cultural city open to the world. The plan was: first, Malaga Picasso museum and then the Thyssen, and then other museums and art galleries; now even more new ones are opening, such as the Automobile, Pompidou etc. it has been a long journey. Next is the expansion and development of the city's port.
People with talent look for a city with art. On the tourism front, Málaga has grown 125% in six years.
Fernando Francés: Art serves to change the world; CAC is the oldest of the new museums.
Javier Ferrer: The art effect is a protection for the city, and apart from this the city develops commercially.
Jose Maria Luna: It also increases the self-esteem of the city's inhabitants.
In answer to Mara's question "Where are the museums headed?"
They are changing. Working on the path to attract younger visitors.
Fernando Francés: And take the museum to people's homes.
Francisco de la Torre: Underlined the importance of SOHO (up-and-coming street art district of Malaga near the CAC)
Fernando Francés: The CAC is not a place to store old things. It is a place to have your mind opened.
Jose Maria Luna: Visitors at the Picasso Birthplace are older than those of the CAC. We have university groups doing acts and presentations.
Javier Ferrer: It is also important to do research on who does not come.
Closing Remarks
Jacabo Celestino, Managing Director, on behalf of the La Zagaleta's management team, closed the forum by thanking the sponsors, speakers and organizing team. "We have all something in common with the houses in La Zagaleta and that is to do things well, more than well." Jacabo explained "La Zagaleta is a very hierarchical organization, everybody from top to bottom understands who is the boss…....the client". A lot of business in Andalucia need to understand this.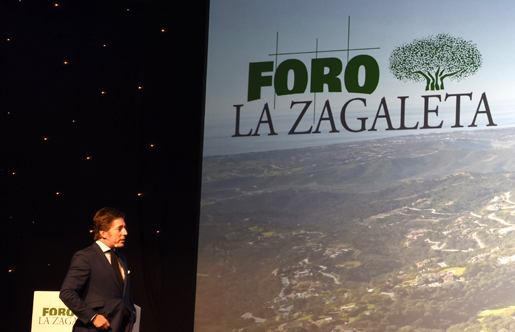 Jacabo Cestino, Managing Director, La Zagaleta closes the foro
Housekeeping
This year there were 22 speakers (8 at the podium and 14 in the round table discussions. This was more than previous editions (except the marathon two-day first edition). So I tip my hat to the organizing team for pulling this off. La Zagaleta have experimented with the format again and there was support amongst the attendees for this year's concept: a longer morning session, with networking lunch and no afternoon session. I think that is more time-efficient, and those who had other commitments simply dropped the lunch and did not miss any presentations. My personal preference would have been for more formal presentations and less round table discussion, but I appreciate the need to 'ring the changes'.
Afterthoughts
We do need to be thankful for La Zagaleta. I was reminded of this the following day when by chance I took a wrong turn into the hinterland west of Estepona. I encountered a huge unfinished development, where roads had been constructed and abandoned, street lamps are rusting and there are big holes where manhole covers had been stolen. A few super-high-density apartment blocks were complete, with vast overgrown unkempt wasteland in between awaiting a similar fate. Surely low-density would have been a better solution for all except the developer. Over the hills in La Zagaleta we have something that is unique and to be proud of; long live the little shepherd girl, long live the La Zagaleta brand.
Links to the previous La Zagaleta Forum reports:
2014 - The Brand of the 21st Century
2013 - Brands & Trends, Management & Leadership in Challenging Times
2012 - Marbella: luxury brands examined