GUEST BLOG POST: REBEKAH THOMPSON
A few months ago I was kindly invited to attend the 10th anniversary edition of the Niños de Mariposa (Butterfly Children) Gala at Aloha Golf Resort in Marbella as a member of the press. In spite of my limited knowledge of the charity, I accepted.
The event took place on Saturday 2 June 2012. Before attending, I did my homework: the Gala, in its tenth year, was being organised by international charity Debra, an organisation that works raising funds all over the world to provide for respite for the families of EB (Epidermolysis Bullosa) sufferers, and for research into cures, medication and treatments.
So what is EB? Most people have probably never heard of this debilitating and painful condition, which has a marked effect on its sufferers' quality of life. EB is a genetic skin-blistering condition which starts at birth. Children are born with extremely delicate skin (the condition is known as
piel de mariposa
, butterfly skin, in Spain, hence the "Butterfly Children") which blisters at the slightest knock or rub, causing painful open wounds. The condition affects 1 in 17,000 live births; it is estimated that there are currently 5,000 EB suffers in the UK, around 1,000 in Spain (of which five are in Málaga province), and 0.5 million in the world. However, no amount of homework could prepare me for the experience I had at the Gala.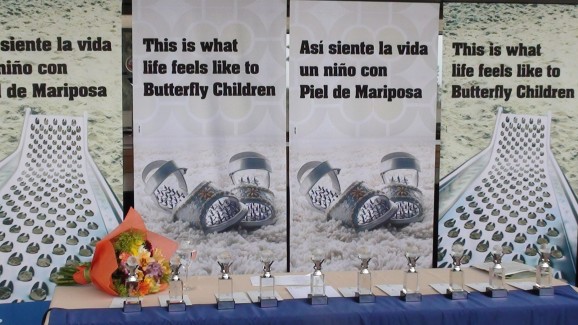 Before attending the event I fussed about what to wear – something which I am sure we all do on certain occasions, but which later made me feel foolish; the butterfly children are caused terrible discomfort simply by wearing clothes. I arrived at the event, received my press accreditation and propped myself in a corner where I waited to meet Minerva Quijera, Head of Communications and Fundraising for Debra, and chatted to a couple of the volunteers. I watched the presentation of the prizes from the earlier golf tournament, dutifully taking pictures of the winners, and to capture the general ambience.
When I finally met Minerva, she informed me that I would be seated with the families so that I could ask them questions throughout the evening. It was there that I finally met Dunia and Luis, "the Butterfly Children".
Dunia, aged 9, is from Alhaurin del Torre in Málaga. She has visible blisters on her face; the rest of her body was completely dressed with bandages, but she still made a fashion statement! She wore a striped multicoloured vest and a white skirt, taking great pride in her two new bracelets. She asked me which one I liked the best; I told her the one with the charms and she agreed because it was her newest one.
During the course of the evening I learned that Dunia loves
mosto
(grape juice) and Coca-Cola, although she is not allowed it because her Mum says she is hyperactive enough as it is. She also hates flies; the squeals and giggles that came from her each time a fly landed on the table were incredible for such a little person. I was very happy to see she had such a healthy appetite; unable to eat dry or completely solid foods because of the damage to her throat and oesophagus, she chose a French omelette and chips, which she polished off entirely with the help of dad, Carlos. I was in awe of her infectious smile, energy, and enthusiasm.
Luis is from Marbella and is 11 years old; he is more severely affected by EB, which prevents him from walking much of the time. He arrived at the event in a wheelchair, and his fingers have become deformed so that holding items is difficult, although that did not stop him playing Super Mario on his Nintendo 3DS and taking pictures of us all when he got bored of the grown-ups' conversations.
Luis likes Maths and Science; he tested Dunia on some sums, but Dunia told me she hates Maths so she quickly tired of that game. He had a chocolate ice-cream but no solid food; his mother, Maria Eugenia, told me that he often doesn't eat because it is too painful to swallow, so she gives him injections of nutrients to keep him healthy. They explained that it can cost them up to 500 euros per month to buy the special puréed foods (designed for the elderly) and supplements. As a result of his lack of appetite, Luis is very thin and his immune system is weak; he grew tired very quickly.
During the meal I was able to speak more extensively with Maria Eugenia. She told me that his bandages are changed every other day; the children are bathed in tepid water, the wounds are cleaned and dressings reapplied. A Debra nurse comes to their house to help with the process, which can take up to three hours and unavoidably causes disruption the children´s lives, although they try to stay as grounded and routine as possible. Both Dunia and Luis attend their local schools, where they say the other children are very kind and helpful during lessons.
Luis has an older brother aged 18, who does not suffer from EB; whilst it is a genetic disease it does not always pass directly to the child. Dunia has no siblings; when I asked her mother Chello, she replied "No, ella es mi vida" (no, she is my life) and smiled proudly at her daughter. I welled up, not for the last time. After the meal Dunia accompanied volunteers and organisers, helping them to sell raffle tickets; she even used the time to practice her English, politely adding "Thank you very much" after each sale, and handing out handmade red butterfly pins to all the ladies.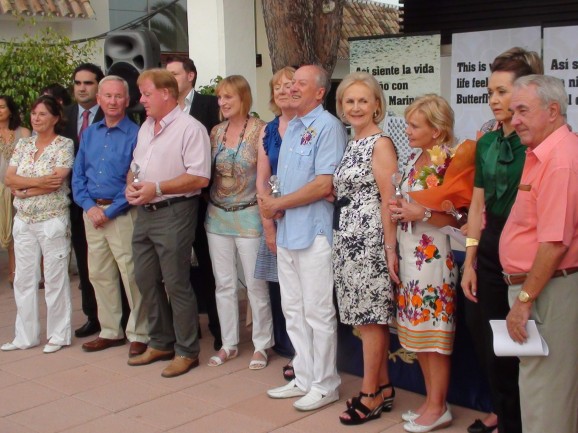 Before the raffle was drawn and the auction commenced, a presentation was shown on a projector screen on the dance floor. I had to move to be able to see, and in the end I was glad I wasn't sitting at the table, as I could no longer hold back my feelings and started to cry. Seeing these inspirational children with such enthusiasm and joie de vivre I felt desperate to help and yet helpless. I composed myself and did the most useful thing I could; bought another raffle ticket and went back to my seat, allowing Dunia and Luis to take the stage to select the winner.
The donations for the raffle and auction were incredible, including: beauty products, spa days, an entire leg of
jamón iberico
and even a golf club signed by Sergio Garcia. In total the Gala and the Golf Tournament raised a staggering €33,400 for Debra.
I later spoke with the president of Debra in Spain, Nieves Montero, whose own son, now aged 24 and studying in Madrid, has EB. When he was born, Nieves travelled to the UK to see if there was any more medication or treatment available, but found that they were doing all they could in Spain, While she was there, she heard about Debra and the help they provide - and so began her work with Debra in Spain. She explained to me how the money is spent: providing weekly respite for parents, carers and family members; research into treatment; items such as shoes and clothing that are the least painful to wear; dressings that are comfortable and breathable; anything to make the children and the families lives easier.
After talking to Nieves, Luis and his family came to say goodbye. He was tired and they had to travel home, so I also decided it was time for me to go, exhausted from an emotional evening. I wondered how these families endured each day, and yet here they were, enjoying life. I was completely humbled by them all. I wish them every happiness and hope that someday somebody will find a cure for this horrendous condition, but in the mean time, I hope that you will
make a donation
(funds are shared internationally).
There is a Debra Respite Centre and shop in Marbella.