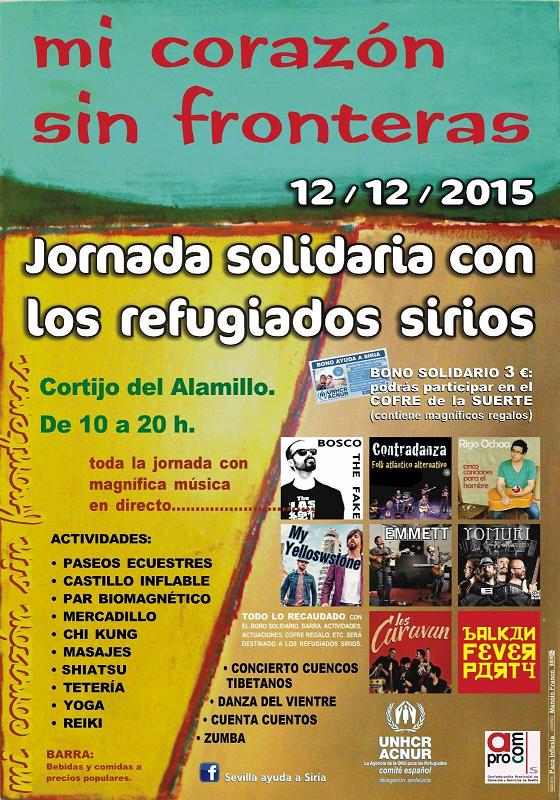 Help Syrian refugees at a fun day in Seville this Saturday
As Christmas draws closer, weekends are full of fun festive attractions like medieval markets and
belenes vivientes
(live nativity scenes). This Saturday, 12 December,  in Seville you can go to an entirely different event, but one which is equally rewarding, as all proceeds go to help Syrian refugees via ACNUR, the Spanish branch of the UN commission for refugees. Featuring live music, children's activities, and alternative therapies,
Sevilla Ayuda a Siria
in the Cortijo del Alamillo (in the park of the same name to the north-west of the city, near the RTVE building) is a whole day out for all the family, from 10am-8pm. Entry, 3 euros, includes one chance at a tombola, which has hundreds of fabulous prizes including a night in a hotel in the Sierra de Aracena, a night in a boutique hotel in Seville, restaurant vouchers, yoga classes, arab baths sessions, gourmet food such as extra virgin olive oil, and much more. An
ambigu
(open-air bar) will offer drinks (you get one free with your ticket) and food - paella (vegetarian available) and bocadillos, so your appetite will be fed, while sartorial desires will be sated by the
mercadillo
, a second-hand clothes market with preloved men's, ladies' and children's wear in excellent condition. Your body and soul, meanwhile, will be soothed and rebalanced by shiatsu, reiki, par-biomagnetic therapy and yoga. Children will love the art workshops, with palm-print painting and making peace doves, plus the ever-popular bouncy castle and face-painting. The event is a great example of an international grass-roots charity project: it is organised by Mi Corazon Sin Fronteras, a group of Sevillanos, Brits, American, Syrians and Nepalese, all of whom live in Seville, which also organised a Nepal benefit day in May, collecting almost 11,000 euros to help Nepalese rebuild their country after the devastating earthquakes. Aiming higher this time, the
plataforma
is hoping to raise closer to 100,000 euro for the four million Syrians who have left their country due to the civil war. The bands you can see are:
Bosco The Fake, Emmett, My Yellowstone, Contradanza, Maria La Serrana, Yomuri, Cute & Cheyennes, Esther Weekes and Lucky Eye, Nandha
Tickets for the event are on sale at various locations in and near Seville and also in Cadiz - see the Facebook pagefor details.