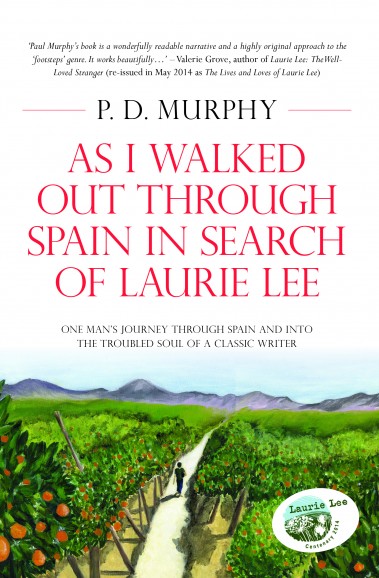 On the 100th anniversary of Laurie Lee's birth, the book takes readers on a revealing journey across 21st-century Spain.
To celebrate the centenary of Laurie Lee's birth, Paul Murphy retraced the writer's journey on foot across pre-war 1930s Spain from Vigo to Almuñecar, as recounted years later in the much-loved classic As I Walked Out One Midsummer Morning. For Paul, the voyage became much more than reliving a favourite memoir, as the ex-civil servant battled his own personal demons during the arduous five-month trek. Fiona Flores Watson talked to Paul Murphy about love, loss and literature.Andalucia.com: Has the idea to write this book been with you for years?
Paul Murphy: I guess the answer to this is: yes and no. Yes, in the sense that I have been fascinated by the book it is based on and its author, and the idea of walking across Spain, since I was 17 and first read
As I Walked Out One Midsummer Morning
. No, in that the first time I seriously considered undertaking the journey as a book project was when I had to pitch an idea for a non-fiction book to my tutor on my MA Professional Writing Course at Falmouth University in February 2012. Somehow I had discovered that June 2014 would be Lee's centenary and I thought my tutor would like the hook. She did, but cautioned me that she had doubts about whether I could do the walk/journey, write the book, and find a publisher, all in time for the centenary. She was right to be cautious, but I did manage to meet the deadline... by a week!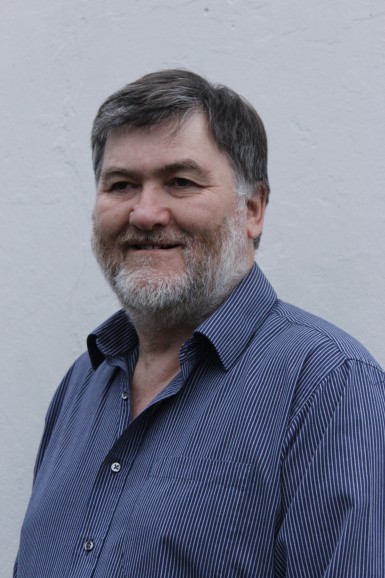 Paul Murphy read Lee's classic Spanish travel memoir at the age of 17, and has been fascinated by the writer, and the country, ever since. Photo credit: Joe Wainwright Photography.

AC: When did you first visit Spain, and why?
PM: I first visited Spain as a 15-year-old in 1970 with my mother and brother. I had my O Level Spanish exam looming and I was supposed to be practising my Spanish. I was sent to do the shopping every day - not many supermarkets then in Estepona, so I had to ask for things by name. Ever since, my specialist Spanish vocabulary subject has been fruits and vegetables.
AC: What drew you to Spain, and what made you want to come back?
PM: After my first visit, I pretty much visited Spain every year as a visitor/student/teacher for the next 14 years. I am not sure why I fell in love with the country in the first place. I was brought up in London of Irish and Welsh parents, and am British by nationality, but do not feel very comfortable in that skin. Perhaps it is my Celtic roots that attracted me to the more emotional, sensual Spanish personality. I love language, so perhaps it was the sound and dialects that attracted me.
AC: What is about Lee and his work which attracts and inspires you?
PM: His lyrical style of writing. He is a poet who writes beautiful prose. I am not a great admirer of his classic childhood memoir
Cider with Rosie
; it is his writing on Spain that has always drawn me in. I think he succeeds in capturing the soul of Spain, its
duende
, in a way that no other English writer has ever done. It is no coincidence I think that Lee, like me, was fascinated by the Spanish poet Lorca, who for me defined the mystery of Spain and its culture. I never did meet Lee and perhaps that was a good thing, as I am not sure we would have clicked. The more I found out about him, the less I liked him as a man. At the end of the day he was an English eccentric, a pillar of a certain type of English establishment, a champagne (or cider) socialist. I admire him for his willingness to fight for the Republican cause and will always love his writing, but I'm not sure that we would have been kindred spirits if we had met.
Paul visited many Spanish towns and villages on his five-month walk. Photo credit: Toma Tours
AC: Why did you choose to make this journey, and write the book, at this point in your life?
PM: I think to a degree it chose me. I was at a low point following redundancy from my 20-year career in local government, and my wife demanding a divorce shortly after. I needed to reinvent myself as a person and choose a new career path. I went back to University and relocated to Cornwall. I needed a challenge, a new journey to complete, I needed to throw caution to the wind, do something unpredictable, something that my wife did not think me capable of doing.
AC: How much of the book (if any) was planned before you set off on your journey?
PM: Essentially the route was pre-determined, as I followed the path taken by Laurie Lee back in June 1935. He arrived at Vigo in Galicia by boat from Tilbury, London - the ticket cost £4. He walked via Zamora, Valladolid and Segovia to Madrid and then down to Malaga via Toledo, Valdepeñas, Cordoba, Seville, Cadiz and Gibraltar. I varied the route slightly by going up to the hilltown of Aracena, north of Seville, going inland to Ronda, and avoiding Gibraltar. I had planned on meeting certain people along the route - like the
Guardian
's former Spain correspondent, Giles Tremlett, in Madrid - but also met people along the way who told me their stories and occasionally took me off the beaten track. What I hadn't planned for was how the journey would affect me emotionally, and this was much harder to deal with.
AC: Had you always intended to write such a deeply personal book? Are you glad you did?
PM: No, originally the book was going to be a biography of Lee based on his Spanish Civil War years; the experience seemed to shape his life significantly and left him with a certain amount of guilt, I think. His actual record of fighting in 1938 is still mired in controversy, and many wonder if he made up his wartime exploits story as he went along. The book was also always going to be a travelogue of Spain, looking back to the 1930s and comparing how much modern Spain had changed since Lee's time here.
The further I walked on my journey, the more I realised that the experience was becoming deeply personal as I battled with the grief of a lost and failed marriage. Also I gradually realised that Lee was, in effect, a surrogate for my father who had died 10 years previously, and with whom I had a difficult relationship. As well as being a hard physical journey, the walk took its toll on me emotionally and changed me for the better. I felt I had to reflect this in the book and found my own experiences led to a changed relationship with Lee and a deeper understanding of the man and the writer.
In the end I learnt a lot about myself as a person, and as a writer, as the journey took me in a direction that I had not foreseen.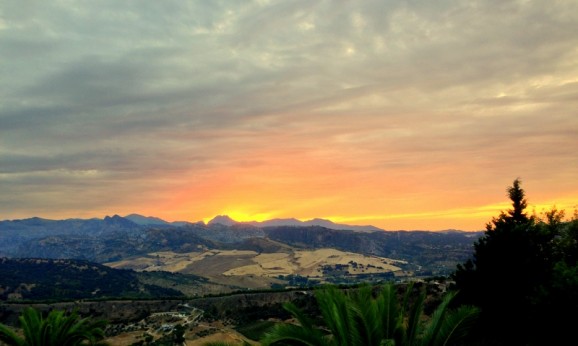 Paul found the journey, which took him to many stunning Spanish landscapes, a tough emotional as well as physical experience. Photo credit: Toma Tours.
AC: While you were walking, how did you record your thoughts? Notebook, dictaphone, photos? Did you keep a daily journal?
PM: I used an iPad and took over a thousand photos, and made occasional notes; I did not keep a diary as such. The journey from start to finish, though, took five months, with a break in the middle to complete my MA Studies. The book took shape in this middle section of the walk as I had to produce a 15,000-word dissertation - essentially an early draft of the first few chapters. The photos served as my memory triggers.
AC: Did you ever find your own opinions and experiences of Spain conflicting with the course or content of the book?
PM: I don't think this happened too often, my aim was to record my experiences as an observer in the main. However, on occasions I was not able to hide my personal views about how Spain seemed to have become a much more conservative society following its transition to democracy and membership of the EU. The country seemed as divided as ever, with the poor having got poorer particularly in the harsh austerity regime of the current and previous governments. The Civil War still seemed a subject that few were prepared to talk about and the "pact of silence" still seemed pretty much in place. I think I wanted to see more passion and fight against the injustice still prevalent in much of society.
I was quite shocked when I visited the Valle de Caídos and heard the commentary of the independent tour guide, who still seemed to respect and uphold the image of Franco as essentially a good man and saviour of the country. Perhaps it was also just the reflections of an older man reliving his youth and finding the world a different place. We all reinvent our memories to synchronise with the internal narrative that we have about our lives.
AC: Did unexpected meetings and unusual characters change the course of the journey (and book)?

PM: Yes, I met the grandson, Pepe, of a communist tank commander who had fought against Franco and then had to live the life of a fugitive after the war had ended. He had children of his own now who could not find work and who were living on the breadline. Indirectly he set me off on a path and caused me to meet Alfonso, whose grandfather and all of his great-uncles, bar one, had fought against the Republicans. The black sheep of the family sided with the Republic and was saved from certain death by his brothers, who smuggled him to safety and bribed Francoist officials to spare his life. The war did set family against family, but sometimes blood is thicker than water.
AC: How did the journey, and the process of writing the book, affect you as a person? Do you think you've changed, and if so, in what way (for better or worse)?
PM: The whole experience did change me. I set aside over 2 years to make the journey and write the book. I started out as a man whose life had been knocked off course by unforeseen events, a man embittered and saddened by his newly impoverished and lonely state. The journey and the book made me confront some long-hidden demons and work my way through the grief and loss of my marriage. In the same way that I changed my view of Laurie Lee, who I came to see as a flawed man who could write like an angel but was no hero, I also discovered a nicer, better version of myself and came to terms with the memory and life of a flawed and unhappy father. I learnt that writers often lie, heroes have feet of clay and fathers aren't all as bad as their sons sometimes think.
The cottage in Slad, Gloucestershire, where Laurie Lee was born and spent his childhood before 'walking out' to Spain. Photo credit: Joe Wainwright Photography
AC: What were the high and low points of the journey for you (including parts afterwards in UK?)
PM: The lows include realising that Lee would often play for his supper in roadside inns that were no more than brothels, and that sometimes his "extras" included sleeping with teenage prostitutes pimped by their grandfathers; and discovering that upright Spanish citizens, pillars of the community, often still gather together in community-run venues to sing the victorious hymns of Franco's fascist troops.
Of the highs, well literally climbing up and over the Guadarrama mountains north of Madrid - breathing in the rarified air as you crest a peak and see the capital sprawled out below you takes some beating. Right at the end of the journey, I finally met Lee's widow and daughter, who were thrilled to hear of my journey, and who told me that if their father were standing by their side at that moment, he would bestow his blessing upon me.
It is painful to realise that a hero is often not what he seems, but I still respect Lee as a writer and a man and try not to stand in judgement of him and his faults - after all, I am no angel - are any of us?
The biggest high came not so long ago, and I will reveal all at the end of our conversation.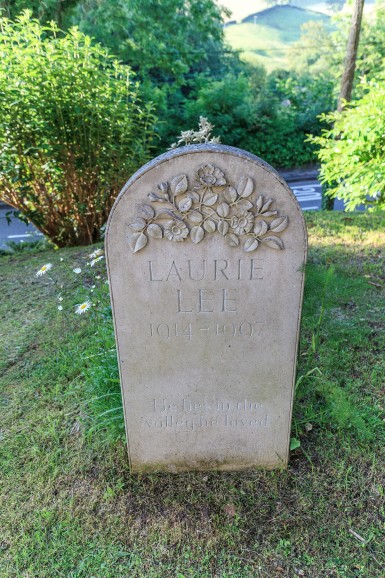 The grave in Slad of Laurie Lee, one of England's best-loved writers. Photo credit: Joe Wainwright Photography
AC: Do you have any unanswered questions after writing the book? Has it left you with the desire to write another one?
PM: Oh yes, there is much that I don't know about Lee, for example whether he fought and killed a man in battle - only he knows that, and the truth has gone with him to his grave. I think I know Spain a bit better, but I have no idea what its new generation of young people, over 50% of whom can find no work, or prospects of work for years to come, will make of their country.
I am still coming to terms with the emotional and physical effort of what writing a book entails - this was my first one. I have ideas and plans for a further book on Spain, but at present am taking stock and replenishing my energy levels. I have discovered that I can write well, I can tell a story, I can deal with rejection and setbacks, and come up smiling the next day. What I am not sure about is, can I continue to do it?

AC: They say biographers/those who write books about people have complicated relationships with their subjects. Do you like Lee more or less after writing the book? Did your opinion of him change over the course of your journey?
I think we have already established that my view of Lee changed a lot over the course of the project and tested my faith in him. I have a more informed view of him now, a different view, perhaps a more balanced view.
AC: Do you have a favourite town or city in Andalucia, and why do you like it?
This is an easy one: I spent a year living in Granada in 1976 as a student and fell in love with its melancholy beauty. A very favourite place is the Plaza de San Nicolás in the Albaícin overlooking the Alhambra. My special time of day in this special place is sunset, when the blood-red skies light up the white teeth of the Sierra Nevada's snowy peaks, as the sun sinks down behind the Moorish palace, with just the African birds singing sweetly to the harem'd princesses of stories from home.
I had my own magical moment after writing the book, when the love of my life, the girl I should have married, found me through the book and we are together again. One day I will bring her to Granada to see the sun go down.
As I Walked Out in Search of Laurie Lee's Spain
by PD Murphy is available from
Silverwood Books
. Paul's blog is
The Little Summer of the Quince
.