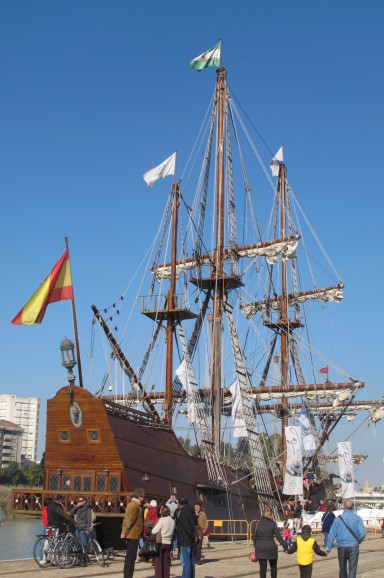 When I saw in the newspaper last week that a replica 17th-century galleon had arrived in the port of Sevilla, I realised it must be the same one I had seen some time previously, just before it left on a 6,000km voyage.
Looking back through my posts, it took me a while to find the one about the
Galeon de Andalucia
. Partly because I wasn't looking far enough back - I couldn't believe that it was two whole years ago. It really doesn't seem like it was that long since I first set eyes on this magnificent wooden galleon pulled up alongside the cobbled quay of Seville's refurbished cruise port. At the time, the queue to visit was long and my children were small, so we contended ourselves with admiring it from a distance.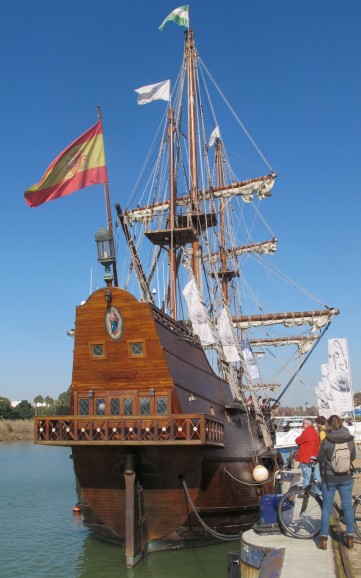 Since then, the ship has been to the Middle East, Sri Lanka, the Phillippines, Shanghai, and back to Spain's northern Atlantic coast. Now named La Pepa, as part of the celebrations of the
200th anniversary of Spain's first democracy
which will take place in March in Cadiz, it is in Seville until 29 January - this Sunday.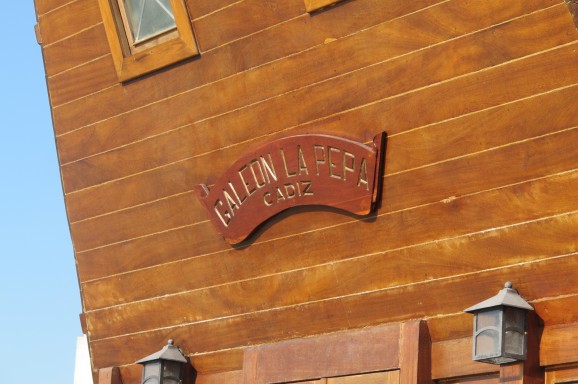 This time, we went aboard and explored the cabins, the Sala del Almirante and the below decks sections too. There were information plaques about the Cadiz of 1812 - its strategic importance as a trading port, as a location for Las Cortes (the parliament-in-exile), and its cosmpolitan and open nature, thanks to visitors from all over the world and its inhabitants' enthusiasm for learning new languages.
When it leaves Seville, the sloop will head for Cadiz, although the crew told me there's a possibility that it will visit Malaga too, if not in February, then after the La Pepa main ceremony on 19 March. But the ship's next confirmed voyage is to the Levantine coast of Spain: Alicante, Valencia and up to Barcelona.
You can visit the ship, which is moored at the Muelle de las Delicias (behind the Pabellon de Argentina on Avenida de las Palmeras, opposite the Parque Maria Luisa) from 3pm-6pm tomorrow and 10am-6pm on Saturday and Sunday. Entrance is free. For more information about Galeon La Pepa's next planned ports of call, check the
Fundacion Nao Victoria website
.