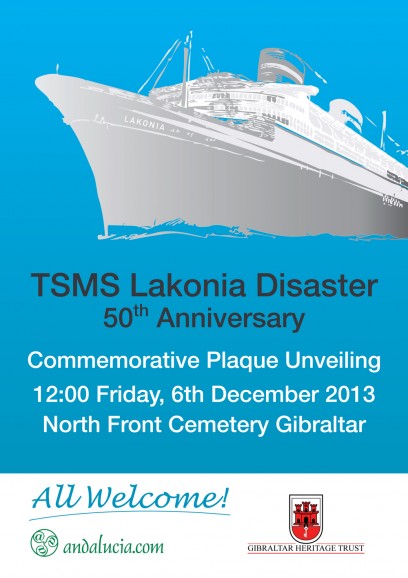 The Lakonia commemoration ceremony will honour those who died when the cruise ship caught fire in December 1963.
Fifty years ago, a tragedy occurred which profoundly affected the inhabitants of Gibraltar, but which has been all but forgotten - until now.
December 1963: a Greek cruise ship, the
TSMS Lakonia
, is carrying hundreds of British and Irish passengers on a Christmas voyage to the Canary Islands. Off the Atlantic island of Madeira, on the night of 22 December, a fire breaks out onboard. Almost 100 passengers perish and many of their bodies are brought back to Gibraltar on a British aircraft carrier, HMS Centaur, arriving on Christmas Day.
Nearly 50 years later the maritime disaster is finally being marked with a plaque in Gibraltar Cemetery, where 13 graves of Lakonia victims remain - most were repatriated. On Friday 6 December at 12 midday the plaque will be officially unveiled in the presence of our own Managing Director, Chris Chaplow - it was
a post on Andalucia.com's Forum
exactly five years ago which triggered the epic, 137-post thread, connecting victims' relatives and friends around the world, with survivors and rescuers, each recounting their emotional memories and stories, and culminating eventually in a request for a memorial.
Guest of honour will be the Hon Steven Linares, the Gibraltar Government's Minister for Sport, Culture, Heritage and Youth; and the plaque has been commissioned by the Gibraltar Heritage Trust, whose chairman Keith Farrell will host the ceremony. The memorial will be located on the wall by the main entrance of the North Front Cemetery.
Also present will be the Forum member who placed that first post - Benidorm, aka Gordon. He will bring his own personal recollections of his role as a 17-year-old in recovering the victims from the scene of the disaster, as so movingly related in the Forum thread. Other rescuers, as well as survivors of the tragedy, will also be attending, and all are welcome.