Sunlight shines on the wall of the Hospital de los Venerables in Seville, where this exhibition is being held.
No civilization left a more profound and lasting legacy in Andalucia than the Moors. From exquisite art and architecture, to advanced scientific and philosophical concepts, and even agriculture - foods introduced, ingenious irrigation systems installed, precise calendars for planting and harvesting produce created - their 700-year-long occupation was a period of rich growth and learning in southern Spain.
For many centuries, Spain was a bridge between Islamic and (largely Christian and Jewish) Western cultures, with new ideas from north Africa and the Middle East being interpreted and translated for a European audience. A religious melting pot, Andalucia was home to cities with large populations from all faiths. Now the Islamic contribution to the fields of art and science is celebrated in a new exbition in Seville, at Focus-Abengoa, the foundation run by the global energy giant with
a major solar plant
near the city and several in the US. Light of knowledge: light from the sun - a neat equation which underscores an exhibition as wide in its scope as the dazzling collection of rays caught by the thousands of mirrors in those fields. Pieces comes from 14 countries - as near as Spain itself, and as far as India.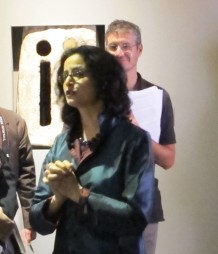 Dr Sabiha al Khemir, director and curator of the 150-piece exhibition of Islamic art and science, with a theme of light, or nur in Arabic.
The curator of this exhibition, Dr Sabiha Al Khemir, is a distinguished Islamic art historian, and the fact that she chose Seville to show this extraordinary grouping of objects, some of which have never been been on public display before, is a cause for pride and celebration for the city. Dr Al Khemir has worked with such world-renowned institutions as the Met in New York, the British Museum in London, and the Louvre in Paris; she is the Founding Director of the Museum of Islamic Art in Doha, Qatar. Tunisian by birth, I'd imagine that she needed a certain determination and strength of character to succeed as a woman, which she appears to have in abundance.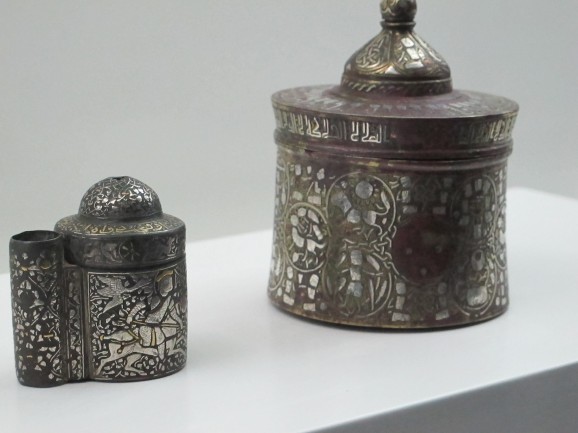 Brass inkwells from Iran, just centimetres high, intricately decorated with a figure on horseback (left) and signs of the zodiac (right) using inlaid silver. The inscription around the top of the one on the right is a blessing.
Dr Al Khemir spent four years planning the show, which will travel to the Dallas Museum of Art next year. She gathered over 150 objects from four continents, from the 9th to 20th centuries, from major museums and private collections. From large wooden ceiling sections, to tiny engraved brass ink wells, all are beautifully designed and crafted, and have some important significance or symbolism. In common with the theme of linking cultures, explanatory texts in the galleries are given in English, Spanish and Arabic.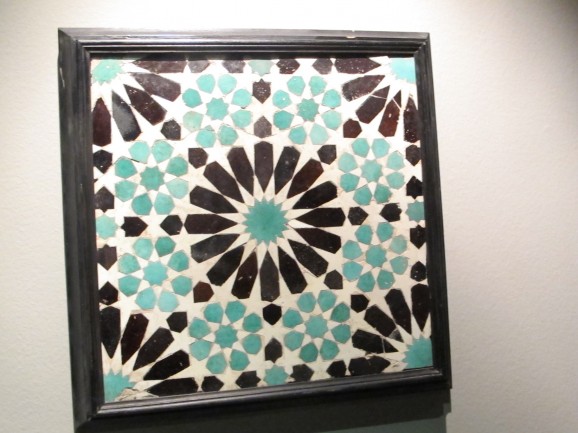 15th-century mosaic glazed earthenware tile with geometric pattern from Seville or Granada.
While few pieces in the exhibition are directly religious, many are influenced by the Koran, often with engravings of holy text. Or take geometry, for example - as Dr Al Khemir says, it is present in every home, mosque and palace - a unifying decorative feature, which has a spiritual element, in its perfect symmetry, but doesn't directly refer to Islam itself. A blue and black mosaic panel form Andalucia uses a pattern which could be repeated into infinity.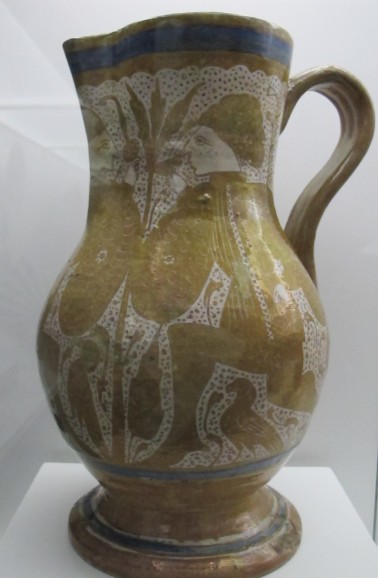 15th-century Nasrid jug from Malaga decorated with luster - metallic paint.
The
nur
(Arabic for light) theme is interpreted in many ways; it is both literal, and metaphysical. Lamps were an essential part of Islamic life; round gilded and enamelled mosque lamps which hung from chains, once commonplace are now rare. Metallic luster glazes catch and reflect light; you can see painted dishes from 9th-century Iraq, 11th-century Egypt, 13th-century Persia (Iran), and 15th-century Spain. These techniques are a perfect illustration of the close relationship between science and art - the correct combination of chemical products used to create the desired gleaming artistic effect on the "canvas" - the ceramic dish, tile or vase.
Luster can be seen on the
azulejos
(ceramic tiles) Seville is famous for. You can see a 16th-century tin-glazed ceiling tile panel with blue and gold luster decoration, as well as two amphora-shaped "Alhambra vases" (an original from the Nasrid era, and an 18th-century copy); and a jug from Malaga, also Nasrid (the dynasty who built the Alhambra).
Stained glass panels, in brilliant jewel colours, show typical geometric patterns, including the ubiquitous eight-pointed star. They're designed to let light through; either sun (
shamsiyya
) or moonlight (
qamariyya
). Glass bowls from 18th-century India show amazing workmanship, inlaid with gold and set with precious stones such as rubies, emeralds and sapphires.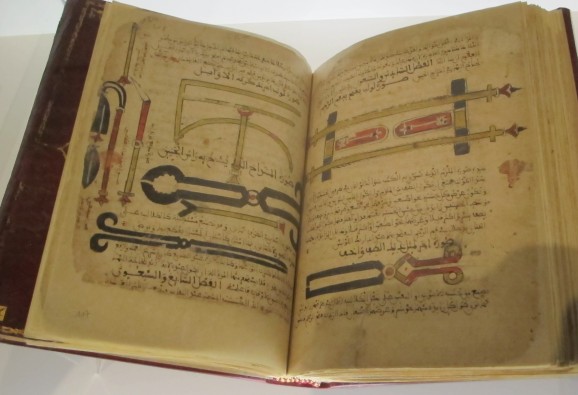 Text from 10th century by surgeon from Cordoba on cosmetic surgery, called ´Medicines of Beauty´.
The light of knowledge is showed through early medical texts, including one by a 10th-century Cordoban surgeon on plastic surgery, displayed next to the tools of the trade from the same era. "Ingenious Devices" include astrolabes, used to locate and predict the position of the planets, and books of mechanical inventions such as a water clock; and closely related are 10th-century texts on astrology.
As you can see, it's a broad-ranging exhibition embracing many disciplines, which I could never do justice to here, so you'll just have to go and see it for yourself. The Hospital de los Venerables is a 17th-century building which used to house old or sick priests. Situated in the heart of Santa Cruz, it has beautiful flower-filled patios, and a collection of Velazquez paintings and sculpture.
Light in Art and Science from the Islamic World
is on at Fundacion Focus-Abengoa, Hospital de los Venerables 8, Plaza de los Venerables, Seville, from 26 October 2013 to 9 February 2014. Open daily 10am-2pm, 4pm-8pm, Price 5.50 euros, 2.75 euros for over-65s and students, children under 12 years free. Note: on Sunday afternoons, admission is free. A programme of family activities based around the exhibition will be announced soon.