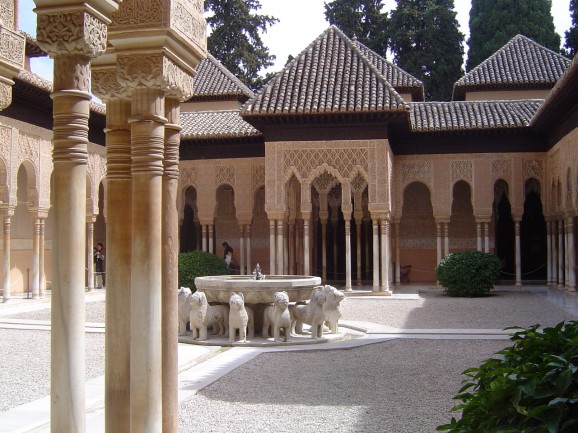 One of the most famous parts of the Alhambra, the Patio de los Leones, has finally got its central feature back in full working order after ten years.
The 14th-century sculpture in its centre, of 12 white marble lions holding a duodecagonal (12-sided) basin, was returned to its rightful spot last month. Now, at the weekend, its fountain was turned on for trials, so that the marble lions were able to resume spouting water as they have done for 700 years. The fountain is considered one of the one most important examples of Muslim architecture, and the return of this much-loved attraction of Granada's magnificent palace has been long awaited and anticipated.
Four white marble channels carried the water from the fountain to various points around the patio; flowing water, fountains and pools were important aesthetic and spiritual features of Moorish gardens and palaces. These channels have been dry for a decade - the first lion (number 4) was removed back in 2002.
So if you've visited the Alhambra in the past five years, since 2007, they were not the original lions you saw, but replicas.
And soon - hopefully in spring - when work on the floor of the patio is completely finished (marble from the same quarry where the original material was mined - Macael in Almeria - is being used), visitors will be able to get closer than ever to these wonderful beasts - although not touch them; traditionally, children used to sit on the lions to have their photo taken.
When this is possible, you will be able to see that each lion's face is different, thanks to the two-million-euro three-year restoration process, which also mended cracks and marks from the water. Since 2010, the lions have been on display in the Palacio Carlos V, while they waited for their home to be finished.
Let's hope that these tests are successful, and the lions will, once more, be able to keep up their gentle flow.