GUEST POST: REBEKAH THOMPSON
Feria has returned to Malaga! The annual
Malaga summer fair
takes place every August - it is a vibrant, energetic, 10-day celebration with all-night street parties, including lashings of flamenco, food and
fino
(dry sherry). The fair is over 500 years old; it commemorates the re-conquest of the city by the Christian monarchs, Isabella and Ferdinand in 1487. This year, the feria takes place from 11-19 August; so if you haven´t had a chance to go yet, the good news is, it´s on until Sunday.
Unfortunately I was unable to attend the grand opening ceremony, with the traditional firework extravaganza. Instead, I took the opportunity to head over to feria on Wednesday 15 August – a national holiday which commemorates La Asuncion de la Virgen.
Having finally learned my lesson about attempting to use public transport to get to major events (Cadiz Carnaval and Seville Feria), I decided to drive to Malaga with my sister, Hannah. We parked (for free) in the Plaza Mayor to avoid traffic, and took the Cercania train to the city centre. I highly recommend this park-and-ride-esque method as it was cheap and saved us many hours of queuing. There is also absolutely no chance of getting lost; you will be heaved along with the thronging crowds, all the way from the station to Calle Larios, where all the action is.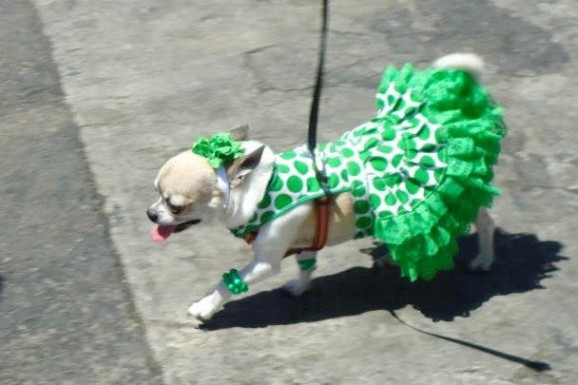 As you wander the streets, keep your eyes peeled for the beautiful traditional costumes - everyone, and I mean everyone, is wearing them: Chihuahuas, men, women and babies alike are wandering around in flurries of ruffled fabric, polka dots and clashing colours. Hannah and I felt a little bit left-out, so we went to the nearest stall and purchased ourselves a large brightly-coloured rose each to pin in our hair: I chose purple and Hannah, yellow.
Feeling festived up, we manouvered our way through the streets, passing beneath the giant
biznagas
at the entrance to Calle Larios. We wound our way slowly through the crowds, stopping every few hundred metres to sample the vast array of street performers: musicians, dancers, mimes and dramatists alike. People swarmed around a brass band and danced with complete strangers to the lively and cheerful music. The way was packed with stalls selling fans, decorative flowers, instruments, classic Sevillana-style aprons, and the official flower of Málaga, the
biznaga
.
In terms of gastronomy, Malaga Feria offered little variety of savoury snacks - pipas and chaskis, and a few nuts. Luckily, though, Malaga has no shortage of tapas bars and cafés offering feria specialities and deals. For sweet-toothed patrons, however, it is a different story; street vendors display tasty traditional treats: candy floss, sugar-coated almonds, popcorn, waffles, donuts, toffee apples and, of course, the scores of heladerías (ice-cream parlours) lining the streets offer flavours for even the most particular customer (lactose and nut allergies included). The combination of sweet smells took me back to days at the circus when I was a little girl - minus the elephant manure, obviously.
After a good scout around the stalls we headed to the Cruzcampo caseta (beer tent) for a
cerveza sin alcohol
, because I was driving, and tried our uncoordinated, rhythmically-challenged hands at flamenco – a word to the wise: a dress and flower in your hair do not a dancer make. Embarrassed but content, receiving looks of "10 out of 10 for effort", we retired from the tent to finish our drinks in the sun and watch troupes of Andalucian horses, decked out in jangling bells, parade their charges up and down the street.
As we prepared ourselves for the journey home, the crowds were still teeming into Malaga in their hundreds; descending the steps to the train station, we were certainly the contra-flow traffic, and in our sobriety we were a definite minority. It was so refreshing to see that the people drinking in the street were making merry and having a good time, instead of causing trouble – maybe one day we Brits will be trusted to behave in the same way.
Exhausted, sated and sunned, we headed home as the rest of the Malagueños prepared themselves for a night filled with fun, ferris wheels,
fino
and flamenco. See the action for yourself until this Sunday, 19 August.