For a number of years - over a decade - the Islamic community has been trying to build a mosque in Seville. As anyone who has ever visited the city will be aware, during the 500-year period when the Seville was an Islamic city, it had a number of mosques, including the Grand Mosque built by the north African muslim dynasty, the Almohads, which was situated where the cathedral is now. The mosque's minaret became the massive Gothic structure's bell tower, the iconic Giralda, while its main entrance, the Puerta del Perdon (Gate of Forgiveness) and Patio de Naranjas still remain today. Since Fernando III reconquered the city from the Almohads in 1248, Seville has been firmly Catholic; its
Semana Santa
(Holy Week) processions attract many hundreds of thousands of visitors from all over the world. A newly-constructed mosque opened in Granada in 2003, the first mosque to be built in the city for more than 500 years. The Great Mosque of Granada is located on a prime site at the top of the Albaicin, opposite the Alhambra and with superb views of one of the greatest existing Islamic monuments in the world.  
The Garden of the Mezquita in Granada.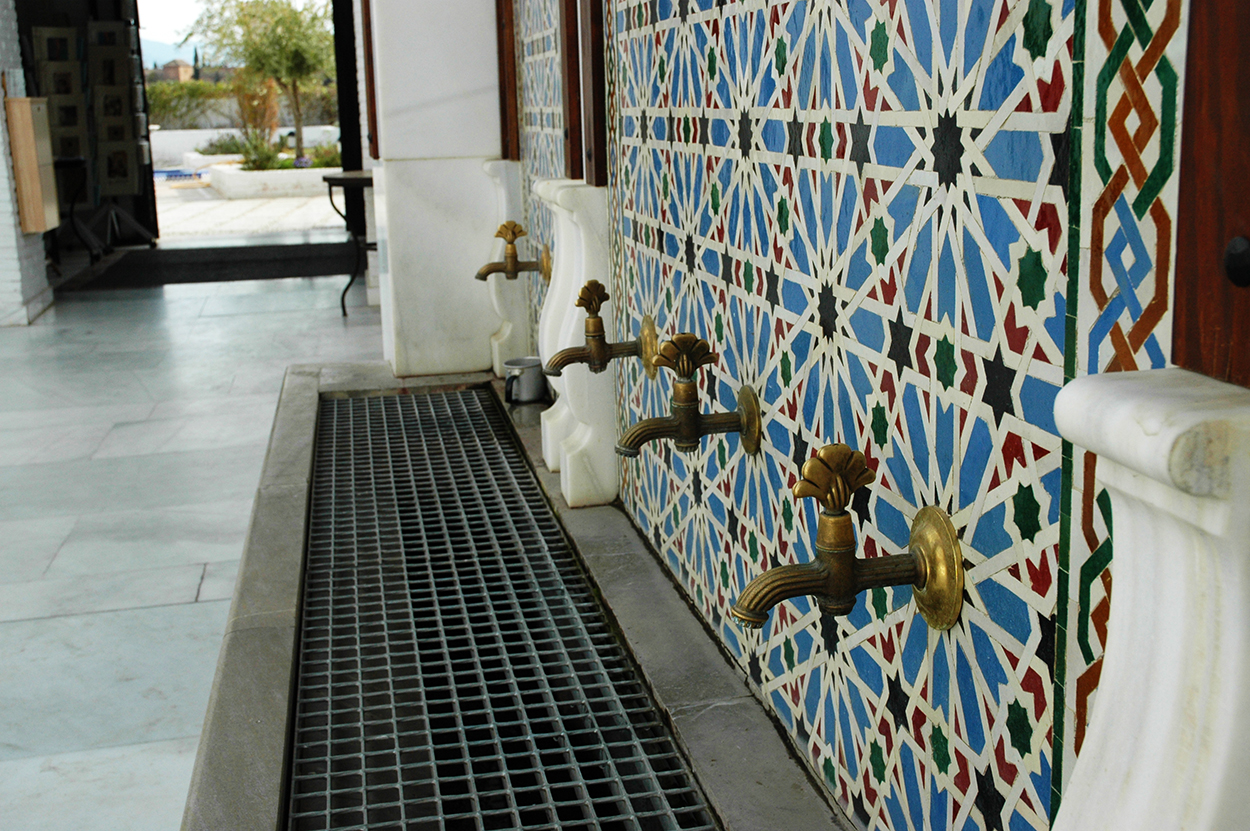 Water Fountains - Mezquita in Granada.
In the 2000s, the CIE (Islamic Community in Spain) backed a proposal to build a mosque in Los Bermejales, a residential district in south-east Seville. This was blocked by local residents, on the grounds that the proposed site, close to the SE30 motorway, was designated for public and social interest, which did not include a mosque. Subsequent attempts in La Cartuja and Sam Jeronimo also failed, and the project stalled for several years. A small space in Plaza Ponce de Leon, on the edge of Seville's historic centre, has been used as a mosque since 2002. This was bought by Sevilla FC footballer Kanoute in 2006 to ensure that it remained open, and the mosque still being used today, as can be seen in the video below. Now the plan has been given a boost by a fundraising campaign in Malaysia. Women celebrities from the Asian country have pledged their support in a video, with a slogan entitled "A Tile for Seville", organised by the Fundacion Mosque de Sevilla and a muslim travel agency called Visita Al Andaluz. A site is still being sought for the new 17-million-euro Seville mosque and Islamic Cultural Centre. According to the Foundation's website: "The framework where our project is inspired is the
Imaret
, traditionally conceived containing spaces for education, health, library and study rooms, communal dining, spiritual center and mosque." There are currently around 1,400 legally-registered mosques in Spain, including 201 in Andalucia, with further makeshift ones. Seven of the mosques are purpose-built, of which four are in Andalucia: in Granada, Malaga, Marbella and Fuengirola - the last three are areas which attract many visitors from the Middle East. There's also a mosque in Gibraltar, at Europea Point - the southernmost mosque in continental Europe - shown in the video. Estimates of the number of Muslims in Spain are around 1.3 million (3-4% of the population). Muslim tourists to Andalucia are a growing market, so a magnificent new mosque would give Seville a valuable multicultural offering, encouraging visitors of the Islamic faith to the city. The video is in Malay, although we're told that a version subtitled in English and/or Spanish is coming soon. [embed]https://youtu.be/VsJoOGOz18I[/embed]