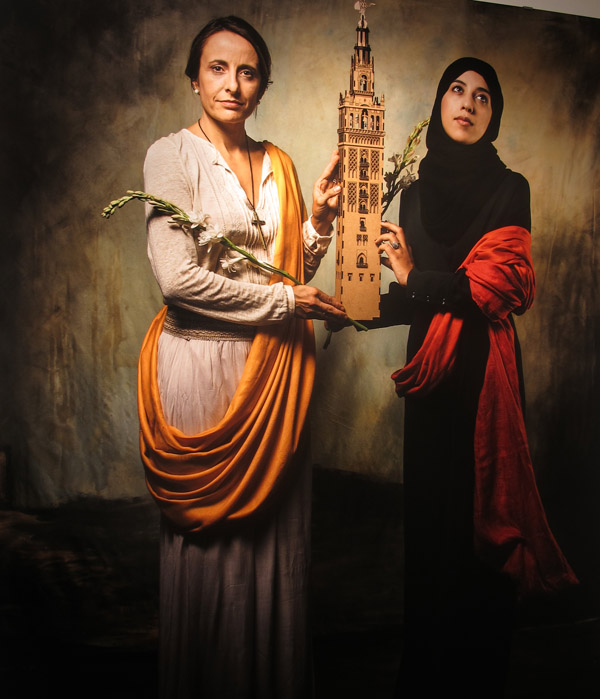 Cristianos y Musulmanes based on Murillos Santa Justa and Santa Rufina
This year Seville celebrates the 400th anniversary of the birth of the baroque painter, Esteban Murillo. His emotive, endearing works feature subjects such as St Joseph with a chubby-cheeked toddler Jesus in a flowing frock, ethereal Virgin Marys in pretty blue dresses, and Seville's patron saints, Santa Justa and Lucia, the martyred potter sisters from Triana, with the Giralda. Murillo's intimate paintings of the Virgin with Jesus - more mother and child than saviour and highly-favoured lady - such as La Virgen de la Servilleta, are held in high affection in Seville.
Several exhibitions have been organised for this year, including two at the Bellas Artes Museum, the first of which finishes this Sunday and recreates the artist's group of paintings commissioned for the altar of the Convent of the Capuchins in Seville. Murillo was highly influential and much copied, his soft and sweet treatments of children emulated by the likes of Gainsborough, while his self-portraits have inspired not one but two entire exhibitions this year - at the Frick in New York, and the National Portrait Gallery in London.
His works are in permanent collections at the Wallace in London, and the Hermitage in St Petersburg. While Murillo is best-known for his naturalistic depictions of the Virgin and child, and beautifully draped clothes in vibrant shades, he also painted more down-to-earth, realistic subjects, such as beggars, street urchins and flower girls. This was unusual for the time, when the church, as the most powerful artistic patron, preferred canvasses filled with angelic cherubs and suffering saints to inspire awe and win over its public.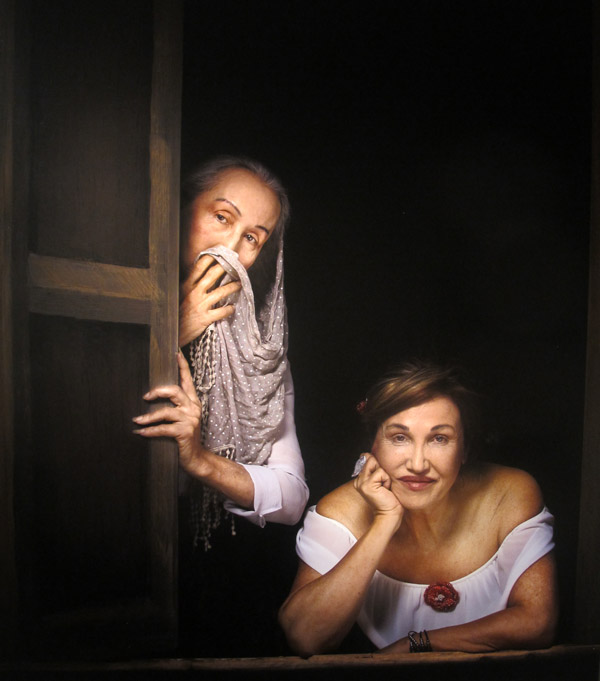 Transexual rights activitists portray Mujeres en la Ventana
So it is exciting to see an exhibition which offers a new take on Murillo's art as social commentary. In Murillo Fotógrafo at Fundacion Cajasol, subtitled, ·Que hubiera retratado en el siglio XXI?" (Murillo the Photographer: What would he have painted in the 21th century?), contemporary topics are cleverly depicted in the style of some of the artist's most famous works.
The photos are by José Antonio de Lamadrid and Laura León, and feature detailed painted backdrops. All of the people featured in the photographs have experienced these situations in real life - they're not just photographic models. In El Desahuicio, a re-examination of Murillo's El Regreso del Hijo Pródigo, a son whose home was repossessed and had to go and live with his grandmother, causing rifts in the family, asks to be reconciled with his father.
With the financial crisis still affecting many in Spain, this is a reminder than life is not rosy for all Andalucians. Two transexual rights activists look coquettishly out at the viewer in Mujeres en la Ventana, while a woman who became pregnant by the modern-day scientific miracle of IVF looks serene and regal with her swollen belly and characteristic sky-blue cloak in La Inmaculada del Escorial.
Two of the most striking photographs are the pair of large tableaus, featuring groups of people: Las Bodas de Caná is a commentary on consumerism, with a structure based on the Last Supper - a couple celebrating their wedding look unconscionably glum. In La Muerte de Santa Clara, young women regard themselves with their mobile phones as the demands for female beauty are considered. Inter-religious harmony is the theme of the Santa Justa and Rufina work, Cristianos y Musulmanes - a Catholic woman and a Muslim woman stand next to the Giralda, to show how different religions can live side by side.
This exhibition is a clever and creative way of bringing Murillo closer to our times, of making his work more relevant and engaging for today's society - personally, call me a baroque-philistine, I can only take so many of the Virgin and saint paintings held in such high esteem around these parts. A study of contemporary life as seen through Murillo's 17th-century eyes offers some cheeky irreverence, as well as being realistic and bringing home the social problems faced by Andalucians.
The exhibitions is on at Sala Murillo, Fundacion Cajasol, calle Francisco Bruna 1, Seville, until 22 April 2018. For more information click here.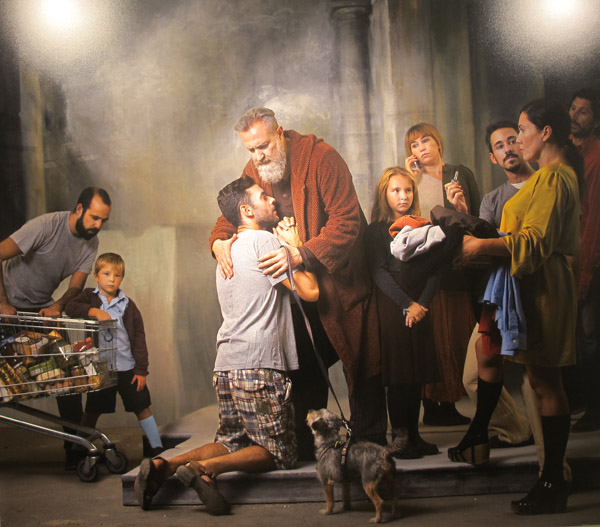 El Desahuicio (the Eviction) is a modern take on El Retorno del Hijo Prodigo