Contents list for the new Seville app.
A large majority of people have smart phones these days, and apps have become part of our everyday lives, especially for finding out information when travelling.
So if you're planning a trip to Seville, you'll be pleased to read that there's a new free official app for the city - simply called
Sevilla
.
Released a few months ago, it covers areas such as events and monuments, as well as museums, churches, and areas of the city such as Triana. The app comes in English and Spanish.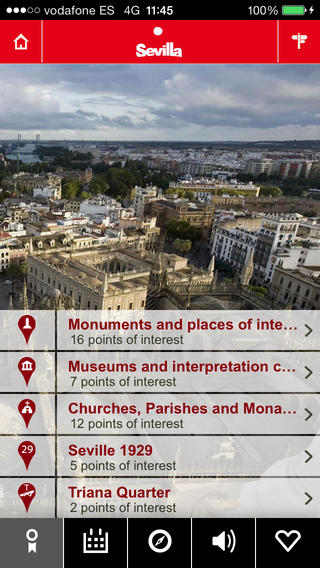 These are the sections covered so far in the new Sevilla app.
While not including by any means all of the wonders which the city has to offer - the two "Points of Interest" listed in Triana are both churches - it is a base to work from, and the information offered, while limited, is mostly useful. Some tends towards the dry, heavy on technical detail - heaven for architecture fans, a little dull for the rest of us.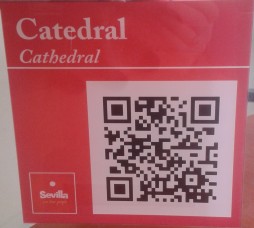 This is one of the plaques with a QR code which will soon be posted outside 100 of Seville's main monuments.
I can also reveal that a programme is underway to install plaques with QR codes on 100 buildings in Seville, with the first 50 of these due to be installed shortly. Square black and white codes which you scan with your smart phone, they take you straight to relevant information (the scanner is, handily, included in the app). There will also be downloadable audio guides available in the future.
Seville's establishments are also well geared-up for other Social Media like foursquare, where you can see tips on restaurants, shops and attractions, and find out if fellow foursquare users (or your own friends using foursquare) have visited a specific establishment, and left tips and photos about their favourite dishes. Find everything from places to go running and settings from the opera Carmen.
These days Social Media can help you get the most out of your visit to Seville, and the rest of Andalucia, with the latest and most up-to-date information, but without having to carry around bulky guidebooks.