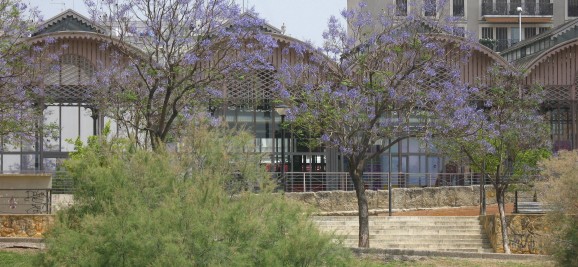 Rear view of the Naves del Barranco, site of Seville's future gourmet food market, as seen from the river. Due to open next summer, the market will have a terrace along this wall.
This weekend it was announced in Seville that go-ahead has finally been given for the Naves del Barranco to be turned into a gourmet market.
As I
first mentioned
in this blog nearly two years ago, this landmark 19th-century riverside building, situated by the Triana Bridge, has lain idle for some time. Promises from both the current and previous mayor that it would take on a new lease of life were starting to be viewed with cynicism.
But now the names of the people who will be holding the reins of this joint project have finally been confirmed: bullfighter
Francisco Rivera Ordoñez
, ex-son-in-law of the Duquesa de Alba, and the much-garlanded journalist
Carlos Herrera
, who hails from Almeria originally. Both already have experience in the hostelry and food sectors.
The new market will provide employment for 130 during the conversion work to adapt it into a market, which will have 25 stalls. The plan also includes revitalising the surrounding area - the space between the Naves and the Puente de Triana will host various temporary stands.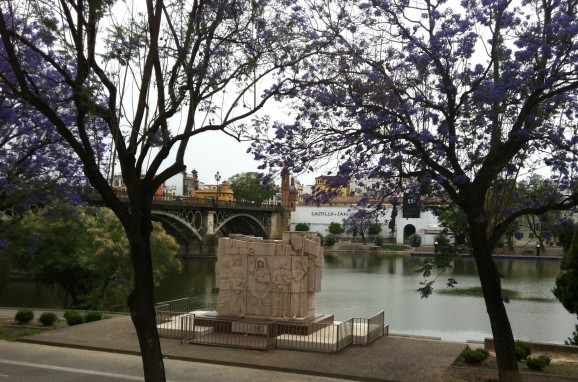 This is the view from the Naves del Barranco across the river to the Castillo San Jorge in Triana.
Behind the market, looking across the river to Triana, there will be a terrace cafe. A tranquil spot, hidden from the road and facing the Castillo San Jorge, this is sure to be a popular offering when the market opens - scheduled for next summer.
The Ordoñez-Herrera team, called Lonja del Barranco, will have to pay 230,000 euros annual rent to the Ayuntamiento. Bids which they beat include proposals from footballer Sergio Ramos and another
torero
, Juan Maria Manzanares; and yet another bullfighter, Francisco's brother Cayetano Rivera Ordoñez along with his girlfriend Eva Gonzalez, and her uncle, retired (guess?) yes, bullfighter, Curro Vazquez.
I think we can safely assume that
rabo de toro
(bull's tail) will be one of the delicacies stocked.