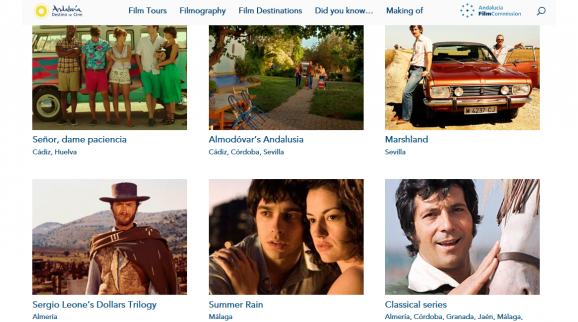 Andalucia has long been a favoured location for TV and film productions, thanks to its wide-ranging landscapes, from mountains and beaches to desert, notably HBO's hugely successful series Game of Thrones.
Scenes from the medieval fantasy series's seventh and final season were shot at Roman site Italica, near Seville earlier this year, and will be aired in 2019.
In addition, legendary movie heroes such as James Bond and Indiana Jones were seen diving, riding or flying across Andalucian coasts and landscapes. Many spaghetti westerns were shot in the Almeria desert - The Good, the Bad and The Ugly, For a Fistful of Dollars and other classics. A new website, andaluciadestinocine.com, takes you around the region, with its vastly varying scenery, to visit locations of films from STar Wars prequel Attack of the Clones to 1492: Conquest of Paradise (about Columbus's discovery of the New World).The website is available in English, Spanish and German.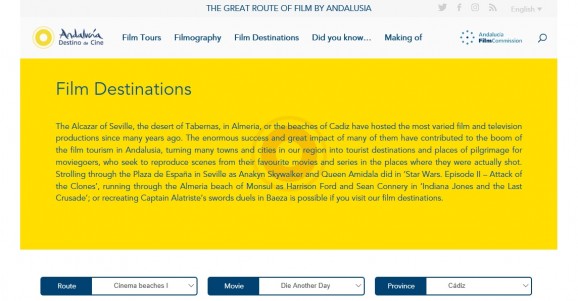 You can search using three criteria: by route (by theme, movie, TV series, or type of location such as beach), by film (over 100 of them), or by Andalucia's eight provinces. You can even find out which films made in Andalucia were nominated for, and won, Oscars - examples include grand-scale epics like Cleopatra, Lawrence of Arabia and Doctor Zhivago.
In addition, filming anecdotes offer interesting titbits about various stars including Peter O'Toole (partying hard), 007 Pierce Brosnan (huge tortillitas de camarones fan) and GoT's Daenerys, Emilia Clarke (birthday party in Osuna complete with Targaryen cake). One of the most recent TV series featured is La Peste, which was aired in Spain earlier this year. This exciting murder-mystery drama, set in 16th-century Seville ravaged by bubonic plague, is now available to UK viewers on BBC 4 as The Plague. If you missed the first two episodes shown last week, you can now watch them on the BBC iPlayer. Watch a trailer below (in Spanish).