King Felipe VI of Spain is sworn in at the Palacio de Congresos de los Diputados in Madrid.
New king of Spain: Felipe VI
Today is a historic day for Spain. The country has a new king: Felipe VI. The abdication of his father, King Juan Carlos, was officially approved as a law yesterday, in the Spanish capital Madrid.
This morning Felipe was proclaimed king, in a ceremony which took place in the Palacio de Congreso de los Diputados, alongside his wife, now Queen Letizia, and their two daughters. Their elder daughter, Leonor, becomes the new Princess of Asturias. Also present were the previous king, Queen Sofia, and King Felipe's sister Doña Elena.
King Felipe VI already has his own Facebook page - a monarch for the Social Media age.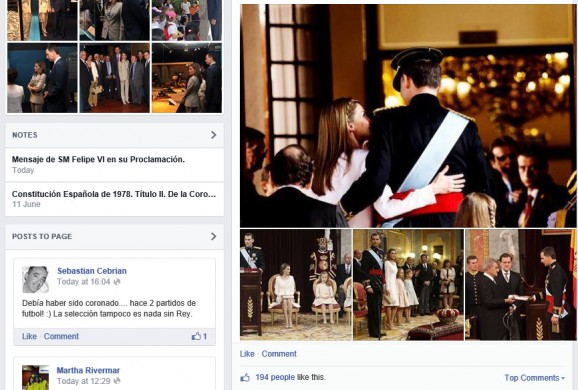 Some pictures of today's ceremonial events from King Felipe VI's Facebook page.
Security in Madrid was tight, with 7000 policeman, and the city's Ayuntamiento handed out 100,000 Spanish flags to people so that the streets would be a sea of red and yellow.