A few weeks ago I went to an event called a "Jelly". No, it wasn't anything to do with food, or kids, or indeed kids' food - it was a get-together of self-employed people to introduce a new workspace in Seville, and a new form of working.
A couple of Sevillano entrepreneurs got together and decided to open a shared workspace, with the idea of not only freelancers working in the same room, each doing their own thing, but also bringing their own areas of expertise together with the aim of fostering of new ideas. WorkINcompany is more like a community with its own pool of talent - talent which is often wasted in times of company redundancies. The idea is that members actively collaborate, sharing their skills and time, and thereby opening up limitless entrepreneurial and creative potential. They call it "co-working".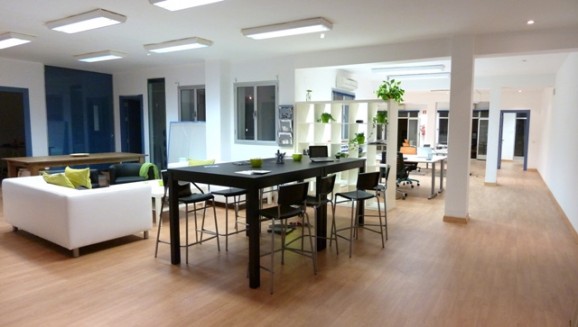 Their workspace is extremely centrally located, bright and airy, with desks featuring desktop Macs, sofas for coffee and chats, as well as a kitchen with fridge for preparing communal meals and table where everyone can eat together. As well as a meeting room, there are even some tables and chairs on the balcony outside. Because, this being Spain, it's as much about being sociable as it is about putting in the hours. With the unemployment situation, many people now work at home - but this can be boring and lonely, so why not work in a shared space, with all the technological connections you need, and like minds to bounce ideas off, and make contacts through? It makes sense.
At the event I attended, many of those interested, or already using the space, were architects; others were photographers, engineers, journalists like me, and translators. Most were in their late 20s, 30s and 40s, and all seemed to be highly articulate, full of ideas, and also keen to enjoy the opportunity to meet like minds. The atmosphere was friendly, fun and stimulating.
You pay by the month, either full-time (9am-9pm), part-time (six-hour shifts), or in
bonos
- buying a chunk of days to use up as you wish. WorkINcompany is also affiliated to other similar organisations in cities around the world, including, in Andalucia, Cordoba, Granada and Malaga.
The next Jelly in Sevilla is this Thursday, and anyone interested should contact workINcompany via their Twitter ID @workINcompany or
Facebook page
. They also have other events and get-togethers, themed around topics you choose when you become a member of the community (which is free to join): English conversation, photography, writing, as well as events such as cooking classes - the next one is Arabic.
This is a rather amusing presentation of the workINcompany concept (it has English subtitles). You can get an idea of their cheeky sense of humour.