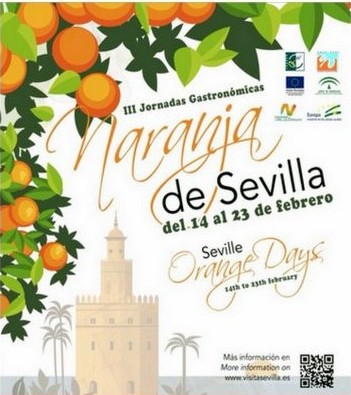 A feast of orangey tapas at over 30 bars and restaurants in Sevilla, until this Sunday.
Every year around this time - January and February - the newspapers are full of recipes featuring Seville oranges, the small, bitter fruit so highly valued by the British for making their beloved marmalade - on toast, for the classic English breakfast. Of course, it's a fruit which is closely associated with the city - not surprising, considering there are 40,000 orange trees in Seville. And at this time of year, they are covered in bright orbs, which stand out against the dark green leaves and azure sky.
Here, the orange season is celebrated in a more typically Spanish fashion - with a tapas festival, called Jornadas Gastronomicas Naranja de Sevilla, or Seville Orange Days. This is now in its third year - I wrote about
the first such festival
, back in 2012. The festival is on until 23 February - this Sunday.
This year, there are just over 30 restaurants and tapas bars taking part; you pay either 2,80 or 4,00 euros for a tapa with a drink. I tried some of the dishes out yesterday, accompanying one of the judges - since, like all
the other tapas events in Seville
, this is also a competition. As I'm a fish-only eater (no meat), we were slightly limited -
bacalao
was ubiquitous. Not that I'm complaining, as cod is a good, firm-textured tasty fish, but a little variety would be most welcome.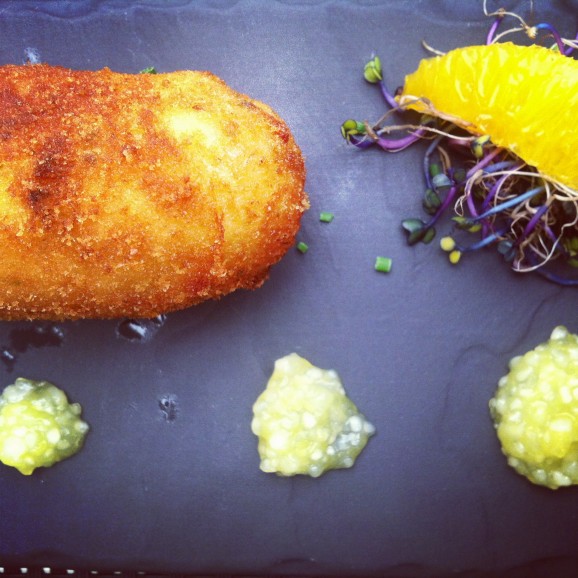 Cod croquette with caviar of orange. Beautifully presented, but short on taste.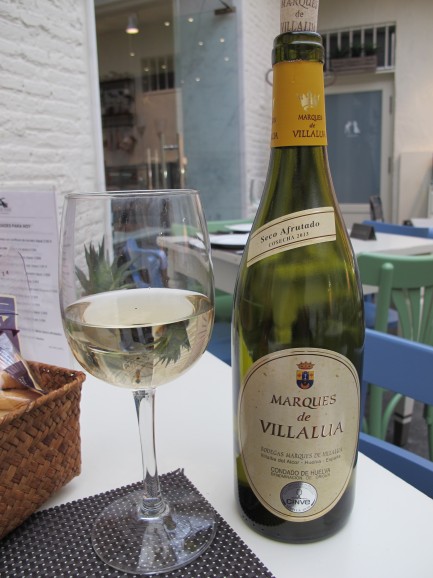 A little underwhelmed by this ´fruity dry´ white wine from neighbouring Huelva province.
First we visited one of the raft of new tapas bars in Seville, situated on the site of the old Irish bar, Flahertys, opposite the Puerta del Perdon of the Cathedral. Don Juan de Alemanes has a beautiful, light patio, decorated with shabby chic mismatched chairs. Their Orange Days special was a croquette (yes, just one) of cod and orange with its caviar. Full marks for presentation and visual impact, but the taste was disappointing. This was one croqueta with a smidgeon of pretty orange-ness on the side, plus a glass of sub-standard white wine (a
seco afrutado
- fruity dry - from Huelva), for 4,00 euros. Not good value, my companion and I decided. Service was reasonable, but the muzak was dire (
Could it be I'm falling in love?
)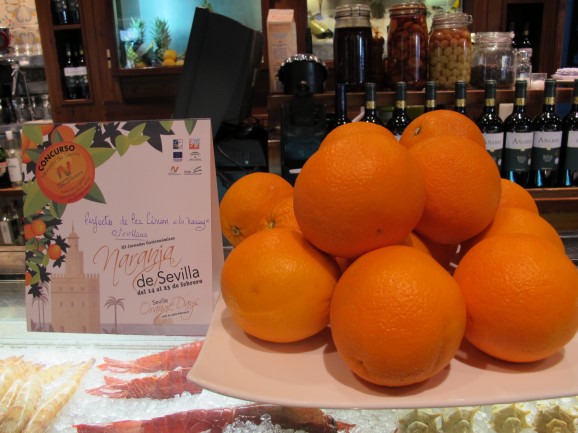 Orange on the bar at Casa Robles, one of the three bars where I sampled the Orange Days tapa yesterday.
Perfecto de pez limon - baked fish.
Then we went round the corner to Casa Robles, one of the most well-established dining options in the city. A warm welcome with smooth, professional service, not to mention one of the best seafood displays in the city:
cigalas
,
carabineros
,
cañaillillas
- from the most enormous prawn-family crustaceans to little curly, spiky whelks. Their tapa was a
pastel
- a small baked egg-based dish, it's hard to translate. But the
pez limon
was light and tasty, and its mousseline was delicious.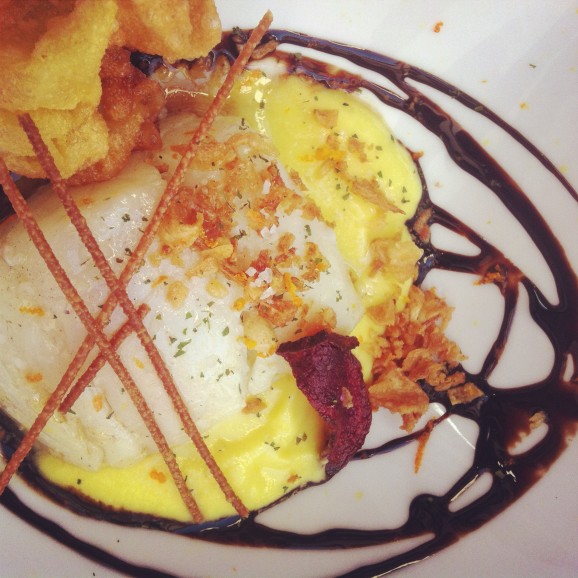 This was the favourite of the three - cod with a tangy orange sauce.
After this, we walked through barrio Santa Cruz - always a delight - to a street just off the Plaza de los Venerables, where we ate at a table in the street. This tapa was another cod one, but this time it was confitado - stewed - in orange juice, with a creamy sauce. The bright yellow colour put me off, but the flavour was the most orangey of the three - with a sharp tang of bitter orange. It was unapologetically citrussy, but not in an unpleasant way; quite the opposite, in fact. And the crispy, sweet onion bits were the perfect foil. Not a fan of balsamic drizzled all over my plate - so 2010, my dear - but this was a properly orangey tapas. We had an excellent albariño to accompany it. Well done, El Jardin de las Tapas!
There are 28 other bars taking part in the Jornadas Gastronomicas Naranja de Sevilla, so you can find them all over the centre of Seville. Here is
a list of the participating restaurants
, with the tapa each is offering, so you can plan ahead according to your meat/fish preference, where appropriate.