Living in Seville, considered by many to be the cradle of flamenco, I have written quite often about such a very Andalucian music and dance form in 'La Bienal de Flamenco 2014 - A Preview' on this blog. Two years ago I had the good fortune to attend the premiere of the movie Flamenco Flamenco in the Seville Film Festival. This documentary depicted the top stars of today's scene, largely in terms of dancing (baile) and singing (cante).
In the recent 11 edition of the Seville Film Festival Seville European Film Festival 2014, another film on this entrancing and intriguing topic had its premiere: Mas Alla del Flamenco (Beyond Flamenco), directed by Javier Vila.
My interest, and love for, this musical form means that I'll always try to see any film about it. Aficionados would say you should only see it live, and I have done many times  The Duquesa and the bobadas but the beauty of these documentaries is that they bring together the absolute cream of today's stars, all in one 90-minute feast.
In the case of this feast, it was a delectation of the most cutting-edge, out-there contemporary performers who are pushing the boundaries of the form - turning it inside out and upside down. Rocio Molina, described by the Guardian as "exceptional for the spectrum of her ideas", and by the New York Times as "one of the best dancers in the world", Eva Yerbabuena, and Israel Galvan, all impressed with their creativity and originality.
The film was recorded at the 10th Sadlers Wells Flamenco Festival, an annual event which is considered one of the most important showcases for musicians, dancers and singers in the world. It also features insightful comments from critics such as Donald Hutera of The Times and Neil Norman of The Stage. Norman says that he reckons the reason why the English love flamenco so much is that it personifies the kind of intense emotion which we shy away from. It's like being "fed and nourished," he says. "Something deep down we can never express because we're too reserved - flamenco is like a  dream come true." He certainly has a point.
One of the most fascinating aspects of the film, for me, was seeing the creative process of the artists, as they work at coming up with sequences for their shows. Israel experiments with dancing on top of a wobbly table, using the rhythmic rocking as part of his performance, while working with a French contemporary composer and pianist. Rocio collaborates with a Berlin-based Korean hip-hop artist – the resulting performance was, for me, one of the high points of the film, a work of extraordinary skill and subtlety involving the use of shadows.
Her style of dancing is less elegant than traditional flamenco, and has outraged the more conservative strands of the establishment, but she is extremely communicative and quite fascinating to watch. Eva Yerbabuena stands on a platform which is also used as an instrument of percussion, showing a series of dramatic, moving gestures.
When you see them finally performing their artistic creations, by turns frenzied and contemplative, in front of an audience in the festival, these seemingly random movements suddenly make perfect sense. Having an inside view on how these new performances, new combinations and collaborations, come together, was a privilege. Where else could you see Estrella Morente singing in the corridor, or Farruquito rehearsing with his dance partner?
The film is beautifully shot - Tomatito from behind, so you can only see the back of his guitar, the curve edged with light, and his black, curly hair backlit. Another wonderful visual image is the Korean dancer, Honi Wang - just her loose trousers with light catching their outline. Very simple, but striking.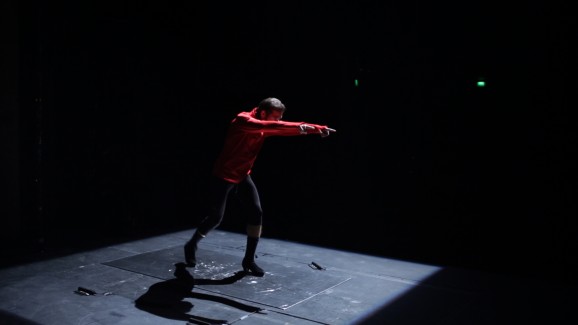 In more comments from the film, which were infinitely more interesting and useful than those in many such documentaries, one choreographer said that the young flamenco dancers are "allowing flamenco to be relevant to our world today", which I think is an important point - perhaps some purists are shocked, but a new generation of fans may be more receptive to dancers who wear less classical costume and have different, more  types of moves. Obviously it's not just about appearance, and some dancers in the film do adhere to a more familiar form, in couples, wearing typical flouncy dresses.
It's about moving away from uniform styles, but not leaving them behind altogether - the festival embraces a wide variety of treatments. As Donald Hutera puts it: "The younger generation is taking it to places it hasn't been before, playing with form, and that keeps it alive." Another comment which spoke volumes about the power of flamenco  was: "The emotion and visceral impact lasts, and gets under your skin. Flamenco touches through sight, sound and soul."
Whether or not you are familiar with traditional flamenco, if you like being privy to the most ground-breaking developments of an art form with a rich heritage going back a century, I'd highly recommend this film.
Mas Alla Del Flamenco is showing tonight at the Festival de Cine Iberoamericano de Huelva. Here is a trailer of Beyond Flamenco.