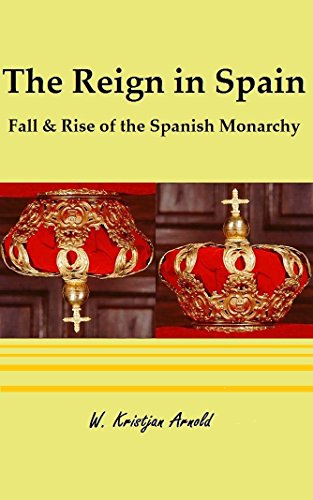 This fascinating book ofers an in-depth look at the Spanish monarchy, from Alfonso XII to King Felipe.
For anyone with an interest in modern Spanish history - the ups and downs, the trials and tribulations of the Spanish Royal Family, from Alfonso XII in the late 19th century, through his son Alfonso XIII, exiled as the Second Republic is declared in the 1930s; the Civil War and Dictatorship, and Juan de Borbon's court-in-exile; to Juan's son King Juan Carlos and the Transition in the 1970s and 1980s, and his grandson, our current King Felipe - this book is highly recommended.
The Reign in Spain: Fall & Rise of the Spanish Monarchy is written by dedicated US hispanophile, W Kristjan Arnold. He penned this self-published book after being unable to recommend a tome on Spain's recent history, especially in regards to the monarchy, when asked for one by friends and family. "You should write a book!", they told him. So he did - and it took him 10 years, plus four more to edit.
The result of this labour of love is an extraordinarily detailed and comprehensive, in some cases hour-by-hour, telling based around the conflict between Spain's two heads of state in the 20th century - the royal family and Dictator Franco. It doesn't go into great detail on King Juan Carlos's abdication in 2014 and the events leading up to it, about which I'd love to hear more, but that's another whole book in itself.
As ever such books, we see themes like duty and loyalty, betrayal and courage, intricate plotting and diplomacy. A monarchy divested of all its official power and authority - Juan de Borbon, Count of Barcelona, exiled king-in-waiting held court in Italy, then Portugal - yet by playing cautious, carefully-planned, chess-like moves, restored after decades thanks to the patience, skill and dedication of Juan. The story is narrated from the point of view of one of the king-in-waiting's most trusted advisors, and gives us a behind-the-scenes insight into the machinations of his council in exile, with the action starting as an ailing Generalisimo (referred to by this courtier, in frequently colourful language, as "the Prick") prepares to name his heir.
It is an extremely dense book, with much detail, which is rather heavy-going in some places (the letters from Juan, Count of Barcelona to Franco go on for many pages). Also, some of the phrasing is odd, and in my own view the book could have been further edited to reduce its 450-0dd pages. Having said that, reading the actual missives between the king-in-exile and his nemesis, General Francisco Franco, is illuminating in how they subtly score points against each other, push their own agendas, and negotiate for Juan's son, Juan Carlos, to be educated in Madrid and effectively prepared and groomed as Franco's successor.
The most gripping sections are the dramatic parts, which were the decisive moments in the country's history.



Alfonso XIII (of the eponymous Seville hotel) and his English queen - Victoria Eugenia, grand-daughter of Queen Victoria, and known as Ena - flee into exile with their children as the First Republic is declared in 1931.


Juan and Franco finally agree terms for Juan Carlos to be declared formally as Franco's heir.


Juan Carlos weighs up carefully what to say in his first, crucial speech as King, setting out his values, beliefs and aims, taking the first steps to establish a democracy, and subsequently ousting his first Prime Minister.


The attempted Coup d'Etat by various generals in 1981, and Juan Carlos's calm handling of the potentially explosive crisis, which won him the support of many Spaniards.


My own knowledge of recent Spanish history is reasonable, if nothing special, but this book filled in the gaps, and fleshed out those key periods. The main characters, with their strengths and flaws, are vividly brought to life. Whatever his later misjudgements and indiscretions, Juan Carlos` deft and delicate handling of highly sensitive situations, and a sense of political acuteness, were instrumental in Spain's return to a peaceful democracy.
This is not a quick beach read, but is for history lovers, hispanophiles, and Spanish residents who want to know more about the turbulent recent past of their adopted home country.