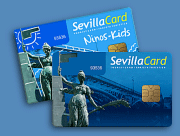 When you come to a city, you want make sure to see all the main sights and experience all the culture - monuments, museums, shows; maybe take a few hours checking it out, and getting orientated, from the comfort of a bus (top deck, back row); or get an alternative view, from a boat - also much cooler in summer.
Now there's a way to buy entry to all of these together, with one ingenious little card: the Sevilla Card.
Being launched later this month, the Sevilla Card is the first practical and useful idea to appear in the city since the Metro. With the all money being spent/wasted (depending on your point of view) on new projects, this is an initiative which will be of undeniable usefulness to visitors to the city.
The cards come in four different versions, depending on the length of your stay (or period allocated to hardcore sightseeing, as opposed to chilling out): 24 hours, 48 hours, 72 hours, 120 hours (5 days). Each card comes with a map showing all participating establishments, and also buys you a free tapa and drink. (NOTE: I haven't tried out one of these cards yet, so I can't vouch for the quality of the complimentary refreshments.)
This is what you get:
24 hours (adults 33 euros, children 19 euros): free entry to two museums or monuments*; a river cruise on the Guadalquivir
48 hours (53 euros, children 19 euros): free entry to all museums and monuments; a river cruise or a bus tour
72 hours (71 euros, children 19 euros): free entry to all museums and monuments; a river cruise and a bus tour, plus entry to Isla Magica theme park (April to October, after 2.30pm )
120 hours (77 euros, children 25 euros): free entry to all museums and monuments; a river cruise and a bus tour, plus entry to Isla Magica (April to October, after 2.30pm )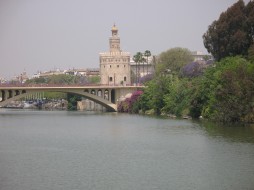 The card also includes discounts, or free drinks, at various restaurants around the city; discounts or free gifts at shops (handicrafts, shawls and fans); a discount at Aire de Sevilla (Arab baths); discounts at four flamenco tablaos; as well as priority entrance (ie you get to jump the queue) at the Cathedral. Noone could claim these place are top locals' hang-outs - they are tourist-orientated places - but the free entrance to monuments is worth it, to save the hassle.
There is also talk of transport being included: bus, local trains, metro and tram, as well as cycle hire (Sevici), and even important sites outside the city, such as the Roman ruins of Italica and the Monasterio de San Isidoro del Campo in Santiponce, although this hasn't been confirmed yet.
*The monuments and museums include in the Sevilla Card (some, mostly the churches -
iglesia, capilla, parroquia, basilica
- don't charge admission anyway, but it's a comprehensive list of what there is to see) are:
Cathedral
Real Alcazar of Seville
Archivo de Indias
Hospital de los Venerables
Museo del Baile Flamenco
Casa de Pilatos
Palacio de la Condesa de Lebrija
Iglesia del Convento de San Leandro
Iglesia del Salvador
Capilla de San José
Parque de María Luisa
Plaza de España
Costurero de la Reina
Museo Arqueológico
Museo de Artes y Costumbres Populares
Museo Militar Regional
Palacio de San Telmo
Universidad. Fábrica de Tabacos
Hospital de la Santa Caridad
Reales Atarazanas (Royal Shipyards)
Museo Marítimo (Torre del Oro)
Plaza de Toros and Museo Taurino (Bullring and Bullfighting Museum)
Centro de Interpretación Castillo de San Jorge (otherwise known as the Inquisition Museum)
Museo de Carruajes
Capilla de los Marineros
Parroquia de Santa Ana
Parroquia de la Magdalena
Basílica de la Macarena y Museo-Tesoro
Hospital de las Cinco Llagas
Murallas and Arco de la Macarena
Iglesia de Santa Marina
Parroquia de Omnium Sanctorum
Museo de Bellas Artes
Centro Andaluz de Arte Contemporáneo
For me, the glaring omissions are the Metropol Parasol Walkway, the city's newest and most exciting attraction, and the Antiquarium, a museum containing Roman houses in MP's basement, discovered when the site was being prepared initially (a real life version of Stumble Upon). Not for the financial savings, but because it's a monument, albeit a modern one.
You will be able to buy your
Sevilla Card
online or from the Cathedral; INFHOR at Santa Justa train station; INFHOR at Seville airport; ICONOS at Avda. de la Constitución, 21 (if you order your card online, you can collect it from INFHOR or ICONOS).
I'd love to hear from anyone who tries it out - did it work? Did all the places accept it? Do you think it's good value for money?