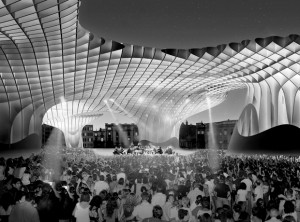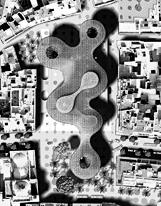 So, they're finished! At last, the 123-million-euro
mushrooms
were officially unveiled yesterday to an excited public here in Seville. 600,000 people (apparently - I wasn't there, can't stand crowds) turned out to hear our outgoing mayor, Alfredo Sanchez Monteseirin, call his
obra maestra
a "secular symbol", saying that the
obra
(building? project? development? complex? it kind of defies definition) will be part of "
Sevilla eterna
". Gushing hyperbole from a Spanish politician? Well I never. Bigging up his legacy, a vanity project which noone likes? Can't be the first time. He also had a message for those who feel that the Metropol Parasol goes against their vision of Seville: "don't be afraid of change." I think their objections are as much financial as anything else, Señor Alcalde: the project finished four years late and 70% over budget. It's the worst possible time for such a massive, extravagant, over-the-top, if publicity-drawing (world's largest wooden structure; one of heaviest; largest building held together by glue, etc etc), building. Monteseirin stated - promised - that it would more than recoup the money invested within just one year. That's easy for him to say, he won't be around to see it happen - or not. The project's German architect, Jurgen Mayer H (sic), echoed his view, saying that in terms of tourism, the city's image and attracting other industries, it will easily get back what had been spent. So what is it? Six "mushrooms", parasols offering shade from the fierce Andalucian sun, stretching across Plaza de Encarnacion, and over Calle Imagen (see aerial view, above) - bang in the centre of town. There are five levels: in the basement is the Antiquarium, the archaeological museum, with Roman and Moorish remains, spanning 14 centuries; level one is the market and two commercial spaces, probably restaurants; level two is Plaza Mayor, the concert space (see photo, top), reached by stairs and escalators; level three is four panoramic restaurants with terraces (one Japanese) in the two central mushrooms, which are still be to finished, awaiting final safety checks - fine by me, reached by stairs and a central lift. They're the diagonal white 8-shaped blob on the picture above. There's also a
mirador
, viewing point, here. But the main attraction is level four: a walkway, with views of the city, around five of the six mushrooms (the one over calle Imagen was not deemed safe, at bottom of aerial view, above). You're 30 metres up; it doesn't get more bird's eye than this. Residents of Seville will be able to enjoy the Skywalk (is the architect a
Star Wars
fan, perchance?) for free, while outsiders - that means someone who lives 5km outside the city in Seville province, ie me, or a Japanese visitor - will have to pay for the privilege. The facts are staggering, whatever your opinion of the wisdom of constructing such an extraordinary building in this place, at this time. These are some of the materials used, just to give you an idea of the project's scale: 1.3 million kilos of wood 3,500 pieces of wood 15 million nails (sadly, I couldn't find out how much glue was used) 90,000m3 of scaffolding This gives you an idea of the size and capacity of the finished space: 3,000m2 concert space (see photo, top) 844m2 of panoramic restaurants 400,000 visitors expected annually to museum; 200,000 to viewing point Now, I'm no architecture expert or critic, so I thought I'd mention what the Guardian had to say. "Daring, inventive, determined, impressively consistent..." "a late work of bubble baroque". They quote Mayer as saying he was inspired by Seville's cathedral and the trees in the square, great fat-trunked ficus, and that he wanted to create a "cathedral without walls". The article says that there isn't enough synergy between the different elements: the mushrooms, the market, the museum; and that the quality of the surrounding materials - fascias, ceiling panels and paving, are shabby and ill-thought-out. Whatever, presuming it's all safe - a major concern, and cause of delay, was that the posts weren't strong enough to support the weight of the timbers - if it brings more people to Seville, that has got to be good news. If it drags the city (and its residents) kicking and screaming into the 21st century, that's no bad thing either. If it puts us on the map as a place which welcomes avant-guarde architecture, that will be, er, hilarious and not altogether accurate. It's a miracle the project was finished at all; two years ago, noone in Seville (except the Ayuntamiento) thought it would ever be. What I want to know is what a certain (British) royal visitor who's coming to the city this Friday will make of it. Prince Charles, an outspoken critic of contemporary architecture, is making a whistle-stop official visit to Seville along with Camilla, after his stay in Madrid this week. I'd give anything to hear his comments when he drives past our magic mushrooms - and the edited version if he meets their progenitor, the mayor.