Last week, I was lucky enough to be invited to a sherry tasting by Bodegas Gonzalez Byass, which took place here in Seville. I know little about
sherry
, and was recently won over by the marriage-made-in-heaven between
Tio Pepe en Rama
and the
Feria de Jerez
. So I would like to learn more, and attending
World Sherry Day
in Jerez further piqued my interest. After all, how can you live in Andalucia and not know about sherry?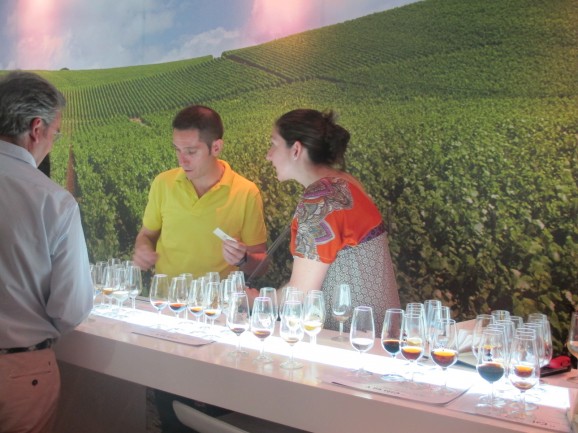 This event took place at
Catador
, a tasting room in Barrio Santa Cruz. Decor wise, it has a backdrop of blown-up photos of the wine cellars, lined with Tio Pepe barrels, and fields of verdant green vines against a blue sky, designed to transport you to
that special corner of Cadiz province
where sherry is made, of which Jerez city is the unofficial capital. Three long, narrow worktops were supplied with neatly-arranged groups of glasses - ten per person. They were placed on a sheet of paper with ten circles, each labelled with the wine that glass would hold, the grape and the percentage proof. (Having made copious notes on mine, needless to say I left it behind!)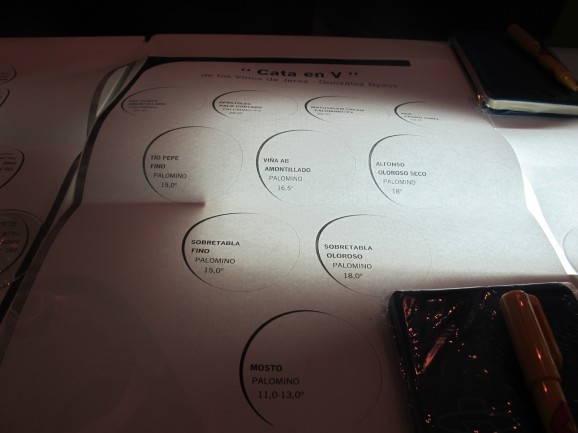 The glasses were arranged in a V, with the driest sherry closest to each guest, and the older, sweeter sherries across the wider part of the V. The theme of the tasting was "Jerez en V". Along the centre of the worktop was a strip of light to show off the colours of the glasses' contents more effectively.
We were guided through the tasting by Gonzalez Byass Master Wine-maker and Blender, Antonio Flores. Nothing short of a legend in the wine-making world, this is the man who decides exactly which proportion of which sherries should be blended, in the complex
solera
process which produces these fortified wines. As well as his encyclopaedic knowledge of sherry, and his deep love for the subject ("
un mundo maravailloso
", he calls it), Antonio has a third inestimably important quality - that of communication. He conveys his sacred message about the
vinos de jerez
clearly and with great passion, in his deep, mellifluous voice - what a pleasure to listen to.
Antonio explained that sherry is the product of a unique combination of elements - the dry, chalky
albarizo
soil, the grapes (mostly palomino), the sun, and the American oak used to make the barrels, which absorb the flavours and continue to emit their fruity odour for years afterwards. When you taste a sherry, first you look at it, swirling it around the glass to see the colour and texture, how the liquid moves against the glass; then smell it, inhaling the complex aroma; and finally, you sip it, and hold it in your mouth, savouring the layers of taste.
We started off with
Mosto
, a young wine with a pale colour and light flavour - fresh, floral and fruity. As Antonio says, this an
hombrecito
(a little man) - you have to look at him to decide his potential - what he can do in life, what he will become.
The second sherry was a
Sobretabla Fino
, which is four years old - this is also a fresh wine, pale gold-coloured.
Fino
is what many people think of when they talk about sherry; like
mosto
, it is served chilled;
fino
is very popular at
ferias
. Antonio describes it as "
El sol de Andalucia, embotellado
" - the Andalucian sun in a bottle. It has a more yeasty flavour than
mosto
, since the
flor
has had time to develop.
The third was the famous
Tio Pepe Fino
- you'll recognise the familiar icon wearing a black suit, red jacket and red hat - which was of the same character, with a similar light colour but a stronger flavour as it is aged for four years; the flavour is crisp and fresh. After that came
Viña AB Amontillado
, which was darker in colour, more of a deep golden - described as being between
fino
and
amontillado
. This wine has no
flor
, unlike
fino
- the yeast dies during the first four years. It has flavours of hazelnut, and goes perfectly with
atun de almadraba
.
Number five was
Amontillado del Duque
, which is aged for 8 years. This has a denser flavour, a darker colour - a bit like brandy, and has an aroma (to me, at least) of whisky - but then I'm a novice. At this point - the halfway stage, on a steamy July evening in Seville, at the end of a looong day - I was feeling a little the worse for wear.
But I battled on - the sixth sherry was
Sobretable Oloroso
; I wasn't keeping up too well, though I remember this had a vanilla colour. We followed this with
Alfonso Oloroso Seco
, which was eight years old, with a rich, reddish-amber colour. Its aroma and flavour were dense, very raisiny, like
moscatel
, the sweet wine which Malaga is famous for. Number eight,
Apostoles Palo Cortado
, was a 30-year-old sherry which tasted of honey, and had an intense dark colour; unlike the previous seven sherries, this wine is made partly with Pedro Ximenez grapes. It had a similar aroma to
amontillado
. The last three sherries, as well as Amontillado del Duque, were all VORS, which means Very Old Rare Sherry.
Our ninth sherry was a
Matalusem Cream
, which also used a combination of palomino and Pedro Ximenez grapes; this one is also 30 years in the barrel. Antonio, ever the poet-philosopher, said that this was "like life: bitter and sweet at the same time". This sherry, which has aromas of fig and raisin, goes well with desserts, Antonio informed us.
Our final sherry was a Pedro Ximenez - the 30-year-old
Noe
. This was a very dark brown, mahogany colour, almost like coffee, and had rich notes of vanilla and figs.
Once our tasting session was over, we were offered some tapas to provide a much-needed complement to all that alcohol: cheese,
jamon
and other meaty goodies, as well as glass of chilled fino.
As the piece de resistance, Antonio produced two century-old bottles which he had brought from the bodega: Cuatro Cortados and Gonzalez-Romano, a moscatel. What a privilege to taste these early 20th-century vintages! I learned a lot that evening, the first wine tasting I've ever been to in my 40-something years. Most of all, how little I know, and how much I still have to learn.
Poco a poco
, as they say here.