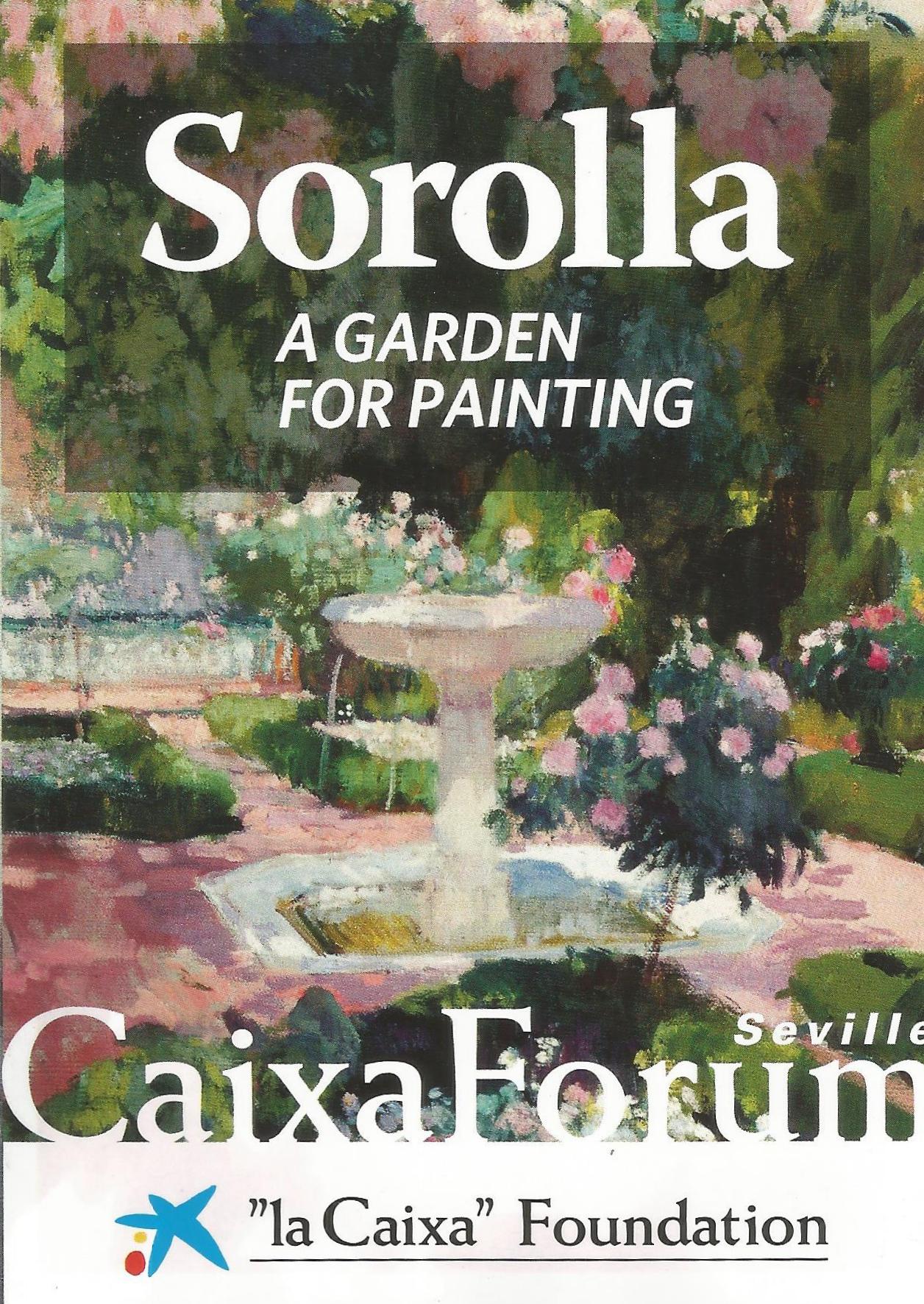 The exhibition is on until 15 October.
  For all garden lovers, this art exhibition -
Sorolla: Un Jardin Para Pintar -
 is a treat
.
The show of paintings by the Valencian artist, which has just opened at
CaixaForum
, a major new cultural centre in Seville. runs until 15 October. Joaquin Sorolla was an internationally-renowned post-impressionist painter who worked in the late 19th and early 20th century, with many exhibitions in Paris, London and the US. Sorolla loved gardens, and often visited the
Alhambra
and
Alcazar of Seville
; his paintings are known for their exquisite use of colour and light.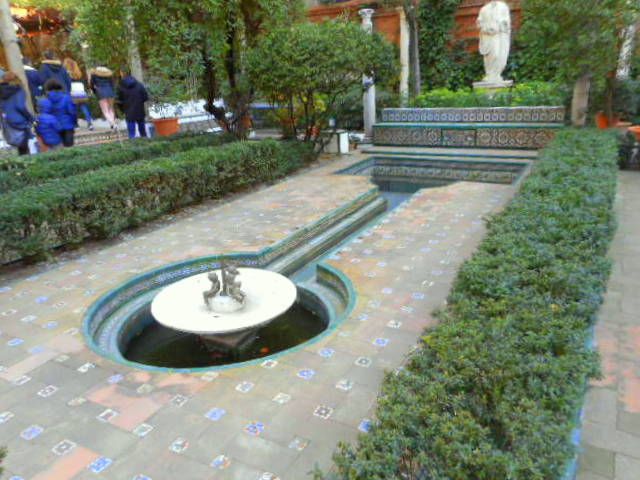 A tiled bench with pool in Sorolla's garden in Madrid.
  In 1911, the artist decided to design his own house and garden in Madrid. He wanted to bring together his studio, living quarters, family and a beautiful outside space. In the heart of Madrid, on Paseo de General Martinez Campos, he built a house with a wonderful garden consisting of several Andalucian patios, inspired by his favourite spots in Granada and Seville, complete with fruit trees, Moorish-style pools and fountains, and tiled benches. Plants were chosen carefully for their colours - rose, oleander, azalea, hydrangea and lilac - with many shades of white, pink and blue. Many of the plants, trees, tiles and statues were brought from Andalucia. You can visit his house and garden, now the Museo Sorolla, an oasis of tranquillity in the vibrant Spanish capital - which is exactly as the painter envisaged it, for himself and those closest to him.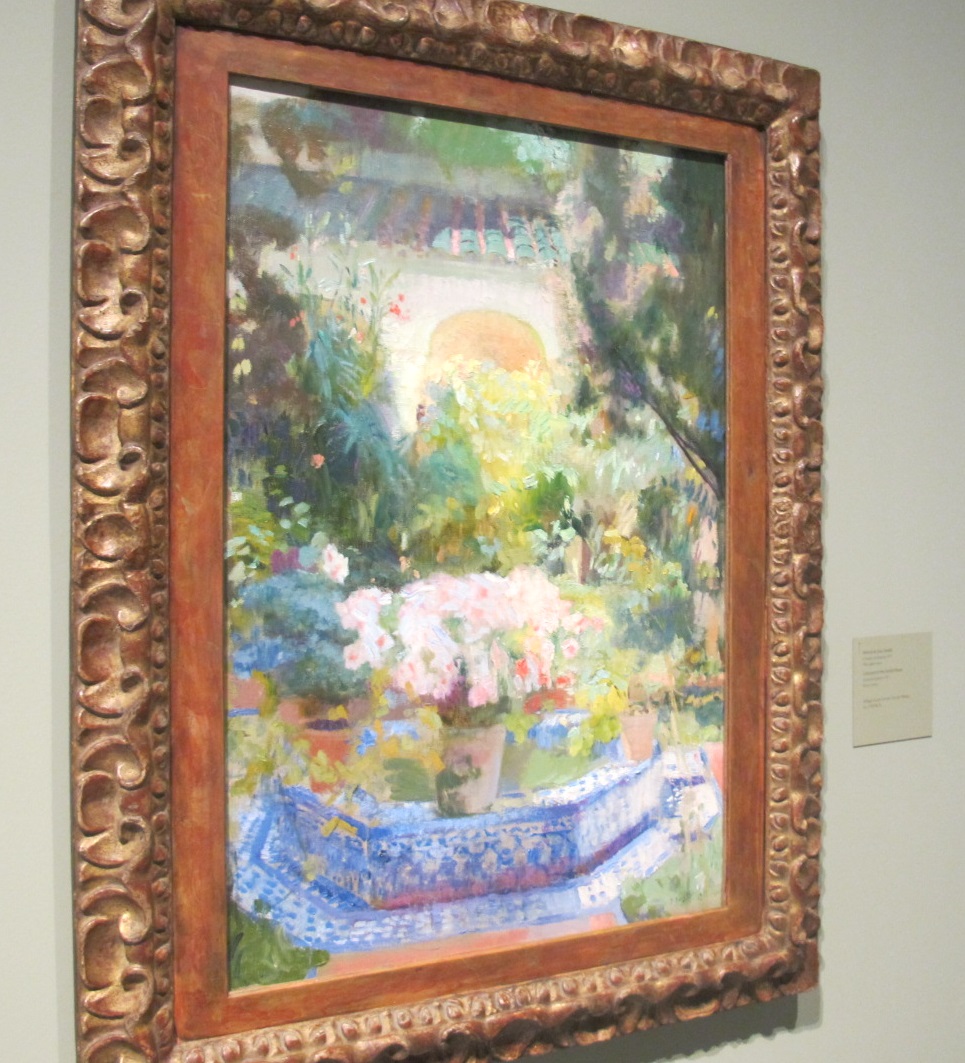 The Patio Andaluz in Sorolla's house in Madrid, by Sorolla.
  Painting his garden became a source of great pleasure to Sorolla, and this exhibition in Seville portrays his love for this very personal sanctuary, right up until 1920 when illness prevented him from continuing to paint. The exhibition consists of more than 170 paintings, drawings, sketches and photographs, mostly from the Museo Sorolla in Madrid.  It's fascinating to see how his vision for the garden developed through from rough scribbled notes, to careful detailed plans.  
Handwritten note from Clotilde and Maria, Sorolla's wife and daughter, to the painter, with pressed flowers.
  Other delightfully personal exhibits include hand-written notes with pressed flowers from the painter's wife and daughter to him - a deeply thoughtful and touching gesture in these days of instant messaging across the globe. Although many of the paintings of Sorolla's own garden are similar - or at least variations on a theme - it is fascinating to see how he drew from the famous Moorish gardens of Andalucia's greatest monuments, continuing the Moorish style. If you go as a family, don't miss the excellent hands-on children's activities within the gallery, themed around the exhibition.
CaixaForum is open daily from 10am-8pm. It is located next to the Torre Sevilla, on Camino de los Descubrimientos, with the entrance on Calle Jeronimo de Aguilar. There's an underground car park; street parking is difficult on weekdays during the day, but easy in the evenings and at weekends.
Family visits to the exhibition are available at weekends, while guided tours take place daily on Monday and Thursday to Sunday. In September there are poetry readings and concerts.