Beautiful Estepona Beach
For a large majority of Europeans, Spain is still the top country of choice for the big annual holiday, according to YouGov. And among the Brits, one favourite area is Andalucia. The survey asked 7,562 people in seven different European countries, both northern and southern - the UK, Spain, France, Germany, Holland, Italy and Sweden - where they would spend their summer holidays. Spain was first choice amongst those staying in Europe. In the UK, a quarter of holidaymakers were heading for Spain, while 28% of French will travel here, plus 18% of Italians, 17% of Germans, 16% of Swedes, and from the Netherlands, 15%. Most Spaniards will holiday in their own country. And why not, with all the fabulous places to see? In fact, one in ten Spaniards has never taken a holiday abroad.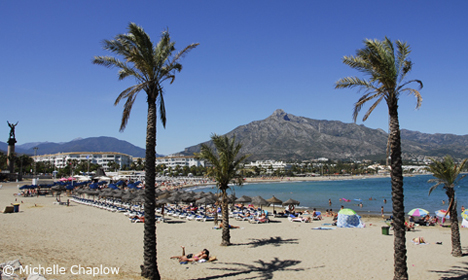 The Stunning Puerto Banus
For those surveyed in the UK, the Canary Islands, Balearics and Andalucia were the favourite destinations; for Brits, guaranteed good weather is a crucial factor when booking their holiday. After decades of heading for our cloudless blue skies and gorgeous beaches, crowds of families and other holidaymakers continue to escape the dire British weather for a week or so every year, to enjoy a perfect combination of sun, sea and sand. Of the total tourists coming to Spain, a whopping 20% are British, followed by the French. As well as the sunshine, Europeans holidaymakers travelling to Spain are sure to be attracted by the fabulous gastronomy - tapas made with wonderful fresh local ingredients, like cheese, tomatoes and olives - plus olive oil,
jamon iberico
, and wines. Spain has so much to offer as a holiday destination - and its prices are invariably competitive, offering superb value.