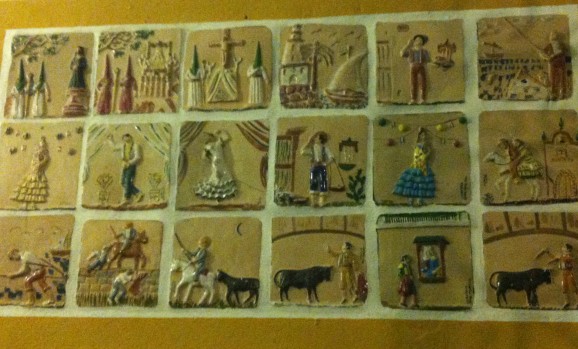 Relief ceramic tiles showing Spanish traditions such as bullfighting and flamenco. In El Pimpi, Malaga
Spain's economy may still be struggling, but tourism continues to establish itself as one of the country's main driving forces in keeping the wheels rolling. In fact, this particular Iberian industry is healthier than ever. Spain, the holiday destination, goes from strength to strength, with the Brits still the biggest customers.
According to figures released a few days ago, Spain received more than
60.6 million international tourists
in 2013,
a 5.6% increase on 2012
. Domestic tourism is going through a challenging time, so visitors from abroad are manna from heaven.
It was also announced that Spain is now
the third-most popular country for tourism in the world
, after France (83m) and the US (67m). The country which Spain pushed off the number three spot was China.
And even more good news: foreign visitors to Spain splashed more cash than ever in 2013, with a
total of over 59 billion euros spent, up 9.6% on last year
. The average spend per trip went up to €976 (a 3.7% increase) with a daily outgoing of €109 (up 3.3%). Visitors from cooler northern European countries such as Britain, France and Scandinavian countries were the highest-spending in Spain last year.
More than 14.3m Brits visited Spain in 2013
- 23.6% of all visitors and up 5.2% on the previous year. British visitors aren't feeling the pinch on their holidays:
they accounted for one-fifth of money spent while in Spain
last year, an increase of 7.8% on 2012, representing a contribution to the Spanish economy of more than 12 billion euros in 2013.
Two other countries which also saw a notable increase in tourism to Spain - both up over 20% - were Sweden and Norway. Together they accounted for 5.3% of total visitors.
The Russian market continues to grow apace, with a 31.6% increase on 2012's numbers.