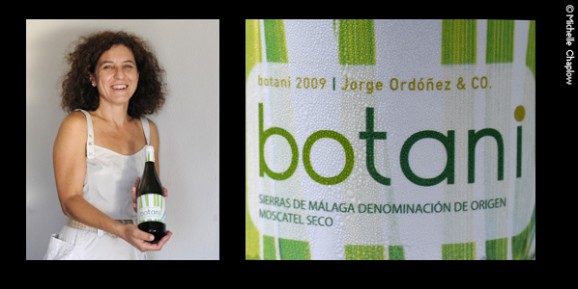 Botani Wines Victoria Ordoñez
Malaga's newest and most fashionable wine is a white - try it alongside an exquisite gastronomic menu at the Malaga Gibralfaro Parador.
Lovers of fine wine and creative cuisine at a reasonable price will be delighted to hear that the Malaga Parador has prepared a special menu this week. Starting today until 8 September, for just 35 euros you can enjoy a four-course meal accompanied by wines from the bodega of Jorge Ordoñez, the largest exporter of Spanish wines to the US. Paradors often showcase new Spanish wines.
Malaga, previously known for its sweet dessert wines, now has a white to be proud of. The word on everyone's lips is "Botani". A dry muscatel from the bodegas of Jorge and Victoria (pictured above) Ordoñez, with an aroma of fruits and wild flowers and just a hint of citrus, this young wine accompanies the aperitif and main course. The word "Botani"· was inspired by the many historic botanical gardens of Malaga, its striking, minimalist green and white label inspired by nature, making the fresh, fruity wine stand out from the crowds. It's the newest hippest and most fashionable addition to Spanish whites; renowned wine critic Jancis Robinson said, "Botani stopped me in my tracks the first time I tasted it. It had shape and personality combined with great finesse and delicacy, which I found totally arresting and full of palate-refreshing, fragrant pleasure."
The two sweet wines featured are Jorge Ordonez & Co No 1 Seleccion, grown in the vineyards of Axarquia, from vines are around 30 years old. The harvesting technique is traditional, with grapes carefully gathered by hand, and the final result is an elegant wine with hints of orange and spices.
The Jorge Ordoñez & Co No 2 Victoria is grown from 50 year old vines grown at a higher altitude in the mountainous terrain of Almáchar. A harmonious sweet wine, its flavour is of literally pure-pressed grapes, a delicate, memorable sweet wine, offering the perfect end to this gastronomic menu.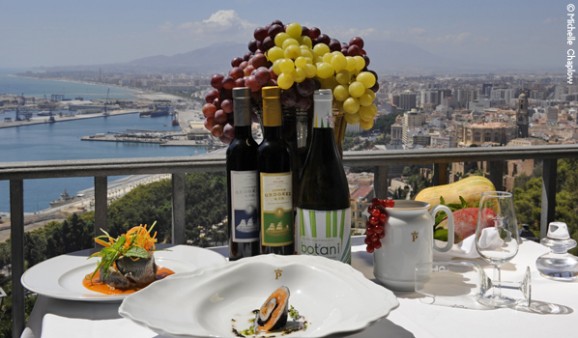 Botani Wines Malaga Parador
The four-course gastronomic menu consists of:
Aperitifs
Marinated breast of duck with foie and a delicate sweet white wine jelly
served with No 1 Seleccion
Salon Sushi with Ajo Blanco
complemented with Botani muscatel
Main course
Sea bass with king prawns and seafood sauce
Dessert
Goat's cheese, quince jam, and cheesecake.
The Malaga Parador restaurant has fantastic panoramic views over the city, the sea and cathedral. You can book your gastronomic meal directly with the
Parador
Why not stay the night and make it into a short break?