Andalucia is well-known for
its fascinating past
: this region has been colonised by Phoenicians, Romans and Moors over the centuries. Evidence of their settlements is constantly being discovered, from Roman houses and mosaics, to Moorish water channels. You can visit whole towns, such as Medina Azahara, Italica and Baelo Claudia. One of the most important finds from the Tartessian era - Tartessus was a Phoenician settlement where modern-day Seville is - is the Carambolo treasure. This consists of 21 pieces of gold jewellery, which were discovered on a hill outside the town of Camas, to the west of Sevilla, in 1958. For most of the time since then, it has been stored safely in a bank vault, with reproductions on display at the
Archaeological Museum
in Seville.
Now you can see this extraordinary hoard of finely-wrought gold jewellery - the original 6th century BC pieces - at the museum, where it has its own new room, apart from the main Roman collection on the ground floor. The Carambolo is displayed alongside other treasure found in nearby towns such as Coria del Rio, Lebrija and Mairena del Aljarafe. Bronze adornments, candlesticks and other metal and ceramic treasures were found in these places, all of which are located close to the area that was, at that time, the salts flats of the Guadalquivir estuary.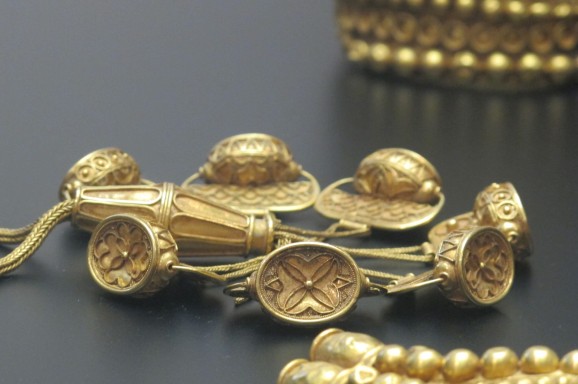 These pieces show clear influence of eastern Mediterranean cultures, such as the Egyptians, further east across the sea, evidence of the close links between the Tartessians and other civilisations. The workmanship is impressive, with delicate details almost invisible to the human eye.
It's well worth going to see this new exhibit at the Archaeological Museum, which is housed in the beautiful Pabellon de Bellas Artes from the 1929 Ibero-American Expo, in the Parque Maria Luisa.
The Carambolo is considered to be one of the most important prehistoric finds in the Iberian Peninsula. Get thee to the Parque Maria Luisa. And the best part? It's free to EU citizens (1.50 euro for those with sounder economies). Opening hours are impressively long and without a lunch break, which makes visiting considerably easier - so you've no excuse. Tuesday to Saturday 9am-8.30pm, Sunday 9am-2.30pm.