She is already a high-profile character in both the art world and the
prensa rosa
, and today Tita Cervera, more formally known as the Baronesa Thyssen Bornemisza, former beauty queen, now one of the world's foremost art collectors, came to Malaga to open her new museum. And it really is hers - the paintings are from her own personal collection, amassed over the past 30 years, and the museum is called Museo Carmen Thyssen - she's even more personally name-tagged than Mr Guggenheim; she's Spain's JP Getty.
The Baroness, along with Malaga mayor Francisco de la Torre, was there to unveil the museum to the press yesterday morning (it was all over the TV news last night, and look out for it in today's papers). He described her as "
la gran protagonista de este acto
" - by choosing Malaga for her museum, she has guaranteed more visitors to
the city
, or at least more time spent there. The estimates for visitor numbers for the museum's first year are 200-250,000. The collection consists of 230 paintings, mainly by 19th-century Spanish artists, with the subject matter being, unsurprisingly, largely Andalucia: Cordoba, Malaga, Sevilla. You can see many landmarks or scenes which have changed very little, which tells you something about Andalucia: these places are still as they were nearly 200 years ago (OK, apart from some of the clothes - not all, mind), and probably - hopefully - will be for another 200.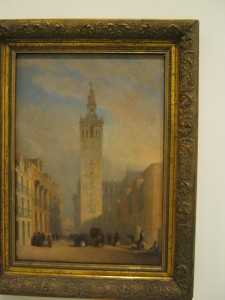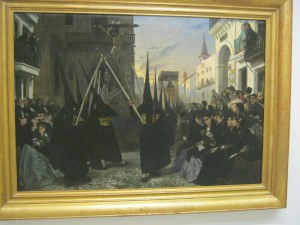 Art is very subjective, and while I can see the value and interest in these paintings, in terms of an invaluable record of their time, to learn about how life in Andalucia was a couple of centuries back, their artistic merit for me is far outweighed by their historic and social importance. Indeed The Baroness herself described the collection, in response to a question asking why someone should come to her museum, as "the most essential part of Spanish history... You'll feel what is Andalucia." I personally was vey excited to see a painting of my local pilgrimage, the
Romeria de Torrijos
, in the new museum. Here it is, with a detail of the Hacienda itself.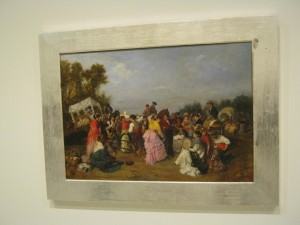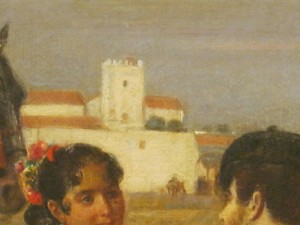 Here are some more images, to whet your appetite: the Feria, and a beautiful impressionistic bay in Mallorca (OK, so it's not Andalucia, but it's very pretty, and has shades of Cezanne).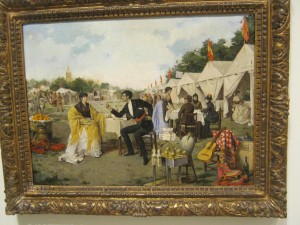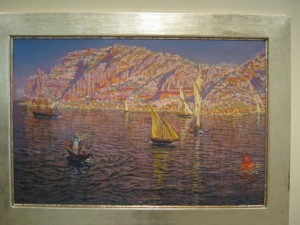 The most famous painters in this collection are
Zurbaran
, Sorolla, Zuloaga, and
Romero Torres
. Antonio Muñoz Degrain (the Mallorca painting above) was a new discovery for me, but otherwise one soft-focus scene or portrait painter is very much like another. In terms of the building itself, the Palacio de Villalon is a 16th century palace with a traditional patio, which has been refurbished at a cost of 20 million euros -the stone glows its natural, warm, cream colour. The glass roof is partly open, around the edges, to allow air to enter, while the main entrance has the original family coat of arms; we couldn't try the other entrance as it's still being worked on.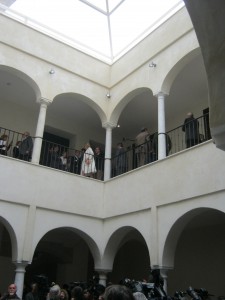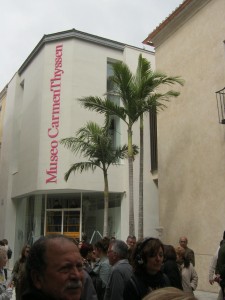 The official opening is tonight, and Malaga's favourite son Antonio Banderas will be in attendance. From 11 April you can see the first temporary exhibition - From Picasso to Tapies, 20th century Spanish art. With the
Picasso museum
itself is five minutes' walk away, Malaga continues its reinvention as Andalucia's leading cultural centre. In the meantime, the museum is free for the first three days, over this weekend, so Malagueños - save yourselves the 6 euro entry fee and get in there, though be warned: there may be queues.